"There Needs To Be Real Consequences"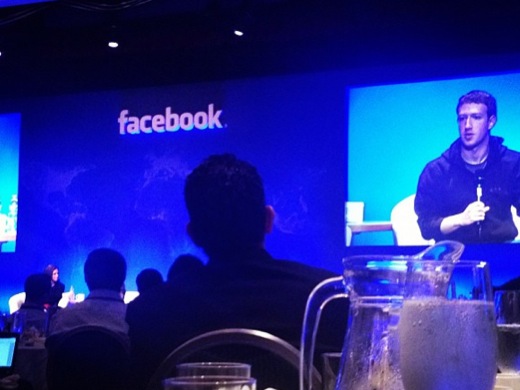 I was critical last month of a line in a Nick Bilton article I otherwise liked. The Vanity Fair "Hive" writer offered this assessment of Mark Zuckerberg: "His skills and experience have put him in a rare position to remedy so much of what ails us." I don't think that's so, and even if it were, the Facebook co-founder, multi-billionaire and perhaps Presidential aspirant wouldn't likely be suited for the role. Despite his stated goal to divest himself of nearly his entire fortune to causes bettering humanity, Zuck has been from the start a morally dubious person who knowingly rose to prominence on the back of a company dedicated to mass surveillance, surreptitious "social experiments" and profiting from neo-Nazi social networking. The dishonest narrative about Facebook being a means of improving the world makes the reality worse. The company has always been about the accumulation of money and power.
It's not that there's no hope for Zuckerberg. There have been few bigger assholes than Bill Gates during his Microsoft heyday, and now the sweater-clad 2.0 version is actually eradicating diseases. (Truth be told, however, several people I've met who work for the Gates Foundation still don't have great things to say about him as a boss.) But the social network CEO's nation-wide "listening tour" and photo-ops in cow pastures and on shrimp boats aren't convincing evidence he's learned from mistakes, nor was his recent "Building Global Community" manifesto, which essentially just promised more of the same. Like many Facebook users, Zuckerberg seems to be presenting an image of what he'd like people to see rather than what's really there. 
In the two excerpts below, Bilton takes a more skeptical look at Facebook in wake of this week's anti-Semitic advertising scandal, and Matt Haig of the Guardianargues that social media is an unhappiness-making machine.
______________________________
From Bilton:
Since the election (and even leading up to it), it's become abundantly clear that social media presented itself as a profoundly useful tool for the Russians, extremists, and possiblyeven people within the Trump campaign, to potentially disfigure our electoral process. Before Trump co-opted the term "fake news" to describe entirely accurate, if unfavorable, stories about him, real fake news was being created and proliferated at scale. Algorithms on Facebook didn't work to try to stop this from happening, but rather to ensure that these fake stories landed right on the digital doorsteps of the people who might find them most interesting, and who might change their votes as a result of that content. Twitter's problem with political bots has existed for as long as I can remember. Earlier this year,a data researcher noticedthat there were hundreds of Twitter accounts ending with a string of eight numbers (like @DavidJo52951945) that only tweeted about hot-button political topics, all of which followed each other. This might seem harmless on some level, but these accounts had been disseminating incredibly divisive (and oftentimes fake) stories about Brexit, Ukraine, and Syria, plus anti-immigration articles from outlets like Breitbart and excessively schismatic articles from the Daily Mail. The researcher also found that these accounts only tweetedbetween 8 a.m. and 8 p.m. Moscow time, and only during the week—almost as if it were someone's job in Russia to do so. The accounts have tens of thousands of followers, and the suspected propagandists behind themstoked the flames of dissentby creating far-left bots which would go after Trump and his supporters.

I don't actually see these issues as massive problems within themselves. Of course people are going to try to manipulate these technologies. The larger issue, however, is that these enormous, profoundly wealthy companies aren't doing enough to stop them, and are not being held accountable. (Twitter andFacebookhave attempted to crackdown on trolls in some ways since the election.) Curiously, Wall Street, which still remains oddly buoyant in the Trump era (it's amazing what the rich will sacrifice for tax reform) is not chastising Silicon Valley for the extensive role it played in the mess we find ourselves in today. Facebook is worth $ 491 billion, despite months' worth of news stories indicating it allowed Russian accounts to buy and target pages and adson its network during the election, which estimates say could have reached 70 million Americans. Twitter's stock, while bumpy, has barely moved since news definitively broke about all of the"fake Americans"that Russia created and operated on the social network during the election. (Here's a fun game: go look at Donald Trump's latest followers on Twitter and see how long it takes you to find a real human being who has recently joined and followed him. Most accounts have names like @N4wapWLVHmeYKAq and @Aiana37481266.)

Earlier this week, Sam Biddle argued on The Intercept that Mark Zuckerberg should be forced to go before Congress about the role Facebook played in Russia's propaganda efforts. "Zuckerberg should publicly testify under oath before Congress on his company's capabilities to influence the political process, be it Russian meddling or anything else," Biddle wrote. "If the company is as powerful as it promises advertisers, it should be held accountable." There are also reports that there is now a "red-hot" focus on social media by special counsel Robert Mueller's investigation into the 2016 election. But in both of these instances, there needs to be real consequences. It doesn't take 20,000 employees to see the apathy and neglect these platforms have played, and continue to play, in the attacks against democracy by the people who want to see it fall.•
______________________________
From Haig:
Even the internet activist and former Google employee Wael Ghonim – one of the initiators of the Arab spring and one-time poster boy for internet-inspired revolution – who once saw social media as a social cure – now saw it as a negative force. In his eyes it went from being a place for crowdsourcing and sharing, during the initial wave of demonstrations against the Egyptian regime, to a fractious battleground full of "echo chambers" and "hate speech": "The same tool that united us to topple dictators eventually tore us apart." Ghonim saw social media polarising people into angry opposing camps – army supporters and Islamists – leaving centrists such as himself stuck in the middle, powerless.

And this isn't just politics. It's health too. A survey conducted by the Royal Society of Public Health asked 1,500 young people to keep track of their moods while on the five most popular social media sites. Instagram and Snapchat came out worst, often inspiring feelings of inadequacy, anxiety and self-loathing. And according to another survey carried out by the youth charity Plan International UK, half of girls and two-fifths of boys have been the victims of online bullying.

The evidence is growing that social media can be a health risk, particularly for young people who now have all the normal pressures of youth (fitting in, looking good, being popular) being exploited by the multibillion-dollar companies that own the platforms they spend much of their lives on.

Kurt Vonnegut said: "We are what we pretend to be, so we must be careful who we pretend to be." This seems especially true now we have reached a new stage of marketing where we are not just consumers, but also the thing consumed.•