"They Are In The Trump Camp"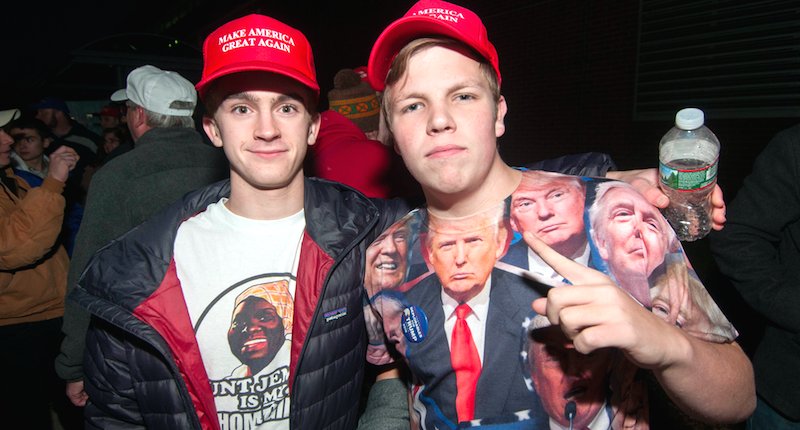 I've criticized Malcolm Gladwell for his oft-repeated claim that satire can't be very valuable in the face of emergent tyranny because it didn't prevent the rise of Nazism. Yes, that's so, but you could say the same of diplomacy, protest, government, media and other forces that also couldn't stem its rise. All those entities and actions retain potency despite their inability to curb the horrors of '30s and '40s Europe and so does satire. 
Sometimes a series of accidents and incidents defy the odds, and history finds itself adrift on a disastrous course. Given enough time and chances, that will eventually occur, and our ever-more-powerful tools and technologies will wind up in the wrong hands. From a 1996 Psychology Todayinterview of Carl Sagan:
Psychology Today:

You point to the statistical likelihood of people in power periodically showing up in the guise of a Stalin or a Hitler. Given this probability, and given nuclear proliferation, what are your feelings about the future?

Carl Sagan:

Well, it's a very serious issue. We are, fortunately, in a time when the United States and the former Soviet Union are divesting their nuclear arsenals. According to the present treaties, agreed to if not ratified, each side will go down to something like 3,000 strategic weapons and delivery systems by the first decade of the 21st century, from 10 times that number. So that's very good news. On the other hand, there are only about 2,300 cities on the planet, so if each side gets 3,000 weapons, that means that each side retains the ability to annihilate every city on earth. That is certainly not comfortable news, because if you wait long enough you are bound to have a madman at the helm in one of these countries.

Psychology Today:

Are you saying it's inevitable?

Carl Sagan:

If you look at the history of the world, such people regularly come to power. We may comfort ourselves in the United States that it hasn't happened to us, but even here I would say that a number of times in our recent history we've come close to having somebody dangerously incompetent or drunk or crazy in power in a time of crisis. Hitler and Stalin are reminders that the most advanced countries on earth can have such leaders.•
In order to reach that tipping point, however, it takes a village of citizens pulling in the wrong direction, and MAGA caps were the symbols of those dark energies at work in America in 2016. Donald Trump wasn't the cause of our fall from grace but merely the perfect messenger to activate and embolden the ugliness that had been building for decades. It's now overwhelmingly clear that what the Republican Party has become since Goldwater is a dirty pool.
Ronald Brownstein's Atlanticarticle about young GOP pollster Kristen Soltis Anderson looks at how some people who should know better still cling to the party even after decades of welfare queens, Willie Hortons, racist push polling, Fox News, Cliven Bundy, Trump's white-nationalist campaign and Charlottesville, not believing what's been in their eyes and ears forever. Anderson's looked at the depressing numbers but still hasn't completely gotten the memo, though she's now considering leaving the roost for more moderate third-party options. An excerpt:
Anderson's fear is that in a rapidly diversifying America, Trump is stamping the GOP as a party of white racial backlash—and that too much of the party's base is comfortable with that. Trump's morally stunted response to the violence in Charlottesville, Virginia, this month unsettled her. But she was even more unnerved by polls showing that most Republican voters defended his remarks.

"What has really shaken me in recent weeks is the consistency in polling where I see Republican voters excusing really bad things because their leader has excused them," she told me. "[Massachusetts Governor] Charlie Baker, [UN Ambassador] Nikki Haley, [Illinois Representative] Adam Kinzinger—I want to be in the party with them. But in the last few weeks it has become increasingly clear to me that most Republican voters are not in that camp. They are in the Trump camp."

The portion of the party coalition willing to tolerate, if not actively embrace, white nationalism "is larger than most mainstream Republicans have ever been willing to grapple with," she added.

Anderson's gloom is understandable. Even before Trump's emergence, the GOP relied mostly on the elements of American society most uneasy with cultural and demographic change—the primarily older, blue-collar, rural, and evangelical whites who make up what I've called the "coalition of restoration." As a candidate and as president, Trump has yoked the party even more tightly to those voters' priorities—a tilt evident in everything from his "very fine people" remarks about the white-supremacist protesters in Charlottesville to his recent pardon of former Arizona sheriff Joe Arpaio.•