Monthly Archives:
June 2015
In American cities across the country, malls have shuttered their doors after years of operation. These empty behemoths have become the prey of vandalism until the last of the windows have been smashed and copper wiring pilfered. It's a far cry from their heyday, when malls were teeming with consumers looking for the latest gadget or fashion.
Sometimes referred to as the "death of the mall," this trend has gathered steam since the 1990s. No enclosed malls have been built since 2006 and some experts predict that as much as half of the 1,200 existing malls may close over the next decade. There are several reasons for this, from changing demographics to the 2008 recession that put a stranglehold on consumer spending.
Technology has been a key player in the death of the mall, say industry observers. Online shopping, the increasing power of the consumer and the use of mobile devices in e-commerce have undercut the allure of the enclosed mall. And of course, preferences have changed: Teenagers are less likely to gather at the mall and their parents are more likely to frequent the gym, putting traditional retail is in crisis.
Just as traditional malls have fallen out of favor, so-called lifestyle centers are gaining popularity. These open-air, high-end shopping centers mix entertainment and leisure activities, restaurants and retail, residential housing and office space to create a gathering place that transcends "hard-core shirts and shoes retail," as Fran Reiner, a senior urban designer and development consultant at DMR Architects in Hasbrouck Heights, N.J. characterized it. These mixed-use locations focus on creating a unique experience for consumers and a diversity of reasons to frequent them. Lifestyle centers, say some, are the key to resurrecting retail in an era where simple purchases are no longer a draw.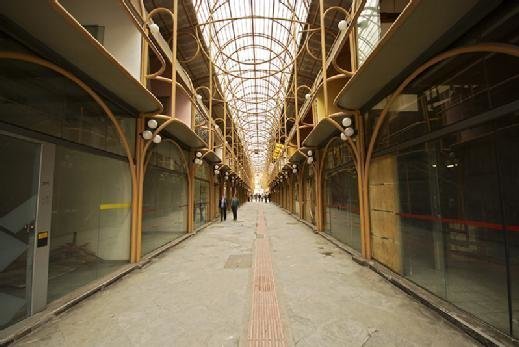 A once-thriving mall that is now vacant
"If [retail] wants to survive, you have to be out of the commodity business and in the experience business," said Brian Sciera of WS Development, a retail development firm, in a PBS special on the shift from malls to these so-called lifestyle centers.
Using mobile retail to create unique experiences
While e-commerce made up less than 10% of retail sales in 2015, the Internet, online sales and now mobile sales have, undeniably, changed the dynamic between retailers and consumers. Between 2007 and 2014, for example, online sales doubled; in 2013, mobile sales also overtook PC sales. And according to data from InReality, a retail marketing and strategy firm, 25% of store shoppers who use their mobile devices in stores make a purchase on those devices while in the store.
In the next chapter of retail, technology may play an even more prominent role. Technology shifts have forced retailers to reduce their footprint in physical stores, where rent is high and foot traffic low. They have also compelled retailers to use digital technologies such as Beacon sensors and consumer personalization to drive consumers back into the store. Based on device location, Beacon sensors can detect when a consumer is near or in a store and send coupons, messages or other relevant offers based on prior purchases and customer profile. Mobile wallet technologies can also send consumers relevant offers and discounts on their mobile phones and enable them to pay directly from their phones through services like Apple Pay.
[Retail has] to be out of the commodity business and in the experience business. Brian ScieraWS Development
Retailers like In the Pink, a series of high-end retail stores in eastern Massachusetts, are capitalizing on mobile technologies to create unique in-store experiences. Gordon Russell, CEO of In the Pink, has launched the Springboard Retail application, a cloud-based mobile retail management system to help drive foot traffic to stores — and provide incentive for customers to stay and buy in them. That goal requires bridging the gap between the digital and in-store experience, Russell said, and then providing a unique customer experience.
So, for example, Springboard can identify that a high-end customer has browsed online and placed a few dresses in her shopping cart. If the customer is proximal to a store, Springboard can send her a message, saying, "We know you have these items in your shopping cart. We happen to have them in stock at our Newbury Street location. Would you like to schedule a fitting today?" That kind of personalized service, Russell said, is more than just shopping.
Bringing customer data into the store
Arming sales associates with tablets in the store means they can access customer data and sales intelligence that boosts insights. "On a handheld," Russell said, "they can know who is in the store and make product recommendations that are more accurate by factors of 10. [Springboard has] a customer dashboard so an associate can understand how to interact with a customer based on data. The associate will know the customer's average spending is high, return rate is low, and that she buys a lot of sweaters and shoes. So [the associate] can make recommendations based on that data," he said. Using these mobile tools means that sales associates can provide added value to the experience of shopping in a physical store, Russell said.
Other retailers also recognize that they need to use technology to create customer experiences in the store. At Nordstrom, a high-end retailer based in Seattle, Aaron Smith, director of mobile applications, has piloted a program that uses mobile devices and a "smart mirror" in fitting rooms — a mirror with various options to get product information as customers try on inventory — to augment sales associates' service.
With the mirror and a smartphone, customers can scan an item to see its price, look at the item on a model, check availability in other colors and sizes in the store, or view other items that complement a dress or pair of shoes.
"By having the  salesperson providing recommendations and the mirror providing recommendations, there is a symbiotic relationship … where they complement each other," Smith said. "It provides that context that is valuable for the salesperson, instead of having the associate go to the back room trying to troll around finding stuff; customers can check the mirror and send a message to the associate to go grab it."
Creating customer experience; creating community
But technology alone can't create the unique experiences consumers now demand. So developers, said DMR Architects' Reiner, need to consider more than just how many stores to stuff into a given location. They need to consider the kinds of communities and environments they are creating.
Reiner also emphasized that mixed-use developments can improve quality of life in cities and suburbs. However, this requires residents advocate for more than simply a retail haven, but a community experience as well.
"Too many towns are reactionary in how they approach the type of communities they want," Reiner said. "Too often, developers come to a town and say, 'This is what we want to build.' And then the town has to react to it. As communities, we should more proactively state what we want for our downtown. Residents should say, 'This is what we expect for you to be a part of our community.'"
This entry passed through the Full-Text RSS service – if this is your content and you're reading it on someone else's site, please read the FAQ at fivefilters.org/content-only/faq.php#publishers.