Adobe unveils new visual data discovery tool
Each quarter, the editors at SearchBusinessAnalytics seek to recognize a new piece of software for innovation or market impact. This quarter, that product is Adobe Analysis Workspace from Adobe Systems Inc.
Product: Adobe Analysis Workspace
Release date: Sept. 24, 2015
What it does
Adobe Analysis Workspace is officially a part of the broader Adobe Marketing Cloud. It's geared toward marketing teams and as such, its prebuilt visual data discovery features include campaign performance analysis, customer segmentation, customer behavior analysis and other customer-centric analyses.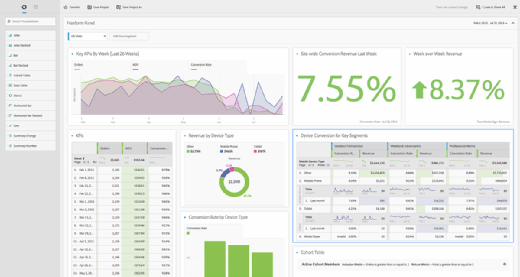 Adobe Analysis Workspace
Users manipulate data through the software's data "canvas," which allows users to drag and drop in data files, and then layer on top charts, graphs and other visualizations. Users can apply the analysis for real-time decision making or publish and share visualizations as static reports with their co-workers.
Why it matters
In the last few years, visual data discovery has largely fallen under the purview of self-service business intelligence and analytics applications. In fact, the two technology disciples have almost become synonymous. But there's a growing number of niche options that tackle data exploration specifically, and Analysis Workspace is the latest.
While Analysis Workspace can be used to publish and share reports, Adobe executives said exploration is its sweet spot. In fact, they said it can complement reporting tools, such as Tableau or Qlik. This focus on exploration for driving real-time actions makes it similar in some ways to Salesforce's Wave, but the different audiences — marketers for Analysis Workspace and sales teams for Wave — mean the two products aren't likely to compete directly for many customers.  
What users say
It takes out some of the guessing. We're not just shooting in the dark. We've gotten better at knowing what our readers are looking for. Anna Fielerexecutive vice president of marketing at Popsugar
Anna Fieler, executive vice president of marketing at New York-based online publishing company Popsugar Inc., said Analysis Workspace has helped the company's content producers become more data-driven in their work. In the past, they had access to data dashboards that retrospectively told them what did well and how users engaged with their work.
But now, each editor has the ability to look at data in real time and current trends, allowing them to jump on those trends while they're still hot. The software is designed to be simple enough that users don't have to be trained analysts. Fieler said the product has increased the number of editors who use data to drive their decisions.
"It takes out some of the guessing," Fieler said. "We're not just shooting in the dark. We've gotten better at knowing what our readers are looking for."
The price
Pricing for Analysis Workspace depends on specific Marketing Cloud packages, which are based, in part, on the number of components the customer chooses. Pricing is done on a case-by-case basis.
Ed Burns is site editor of SearchBusinessAnalytics. Email him at eburns@techtarget.com and follow him on Twitter: @EdBurnsTT.
This entry passed through the Full-Text RSS service – if this is your content and you're reading it on someone else's site, please read the FAQ at fivefilters.org/content-only/faq.php#publishers.

SearchBusinessAnalytics: BI, CPM and analytics news, tips and resources