Marketers: It's time to own the sales funnel
BOSTON — Sales and marketing teams both have helped break down the sales process by perpetuating leads from poor-quality customers who will never buy anything.
Sales teams often dump erroneous information into the customer relationship management system without running it through marketing software to scrub the data for authenticity and other data problems. But marketers, too, have been known to pass leads on to sales departments without knowing whether they are prospects who are ready to buy.
At a previous job, recalled Brian Glover, director of product marketing at San Mateo, Calif.-based Marketo, he was passing leads on to sales and getting them bounced back.
"'These leads are no good,' a salesperson would say, and I would say, 'What are you talking about? These are great names: Look at the titles, look at the companies,' Glover recounted. "And she'd say, 'Yeah, but you know what? They're not ready to buy.'"
"Oh, they will be. You just need to keep calling them," Glover would suggest. "'But I don't have time to keep calling them'" Glover said his sales director would retort. "'Can't you just keep them warm?'"
Keeping customer prospects at various stages of the buying process — known as the sales funnel — warm and pushing them closer toward a buying decision is a careful science. And how this responsibility should be shared between sales and marketing teams was the subject of much discussion at the Inbound Marketing Summit this week in Boston.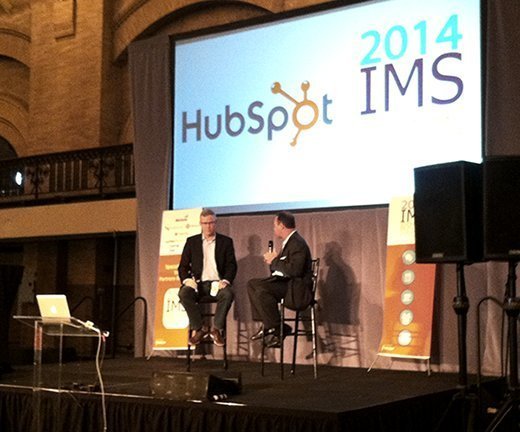 HubSpot CEO Brian Halligan and Butch Stearns of the Pulse Network at the Inbound Marketing Summit in Boston.
While those at the top of the funnel — the prospects to be initially educated about products — have been the domain of marketing, the conventional wisdom in today's digital universe is that marketers need to move downstream, to help sales cultivate prospects at lower levels of the funnel who may not have their hands on the Buy button but could benefit from the skilled prodding of a digital marketer who can encourage a sale through informative content. Marketers now need to use a variety of methods, including inbound marketing, to help move leads closer to the buying phase.
"In the old days, marketers focused on the top of the funnel, and sales managed the middle and the bottom," Glover said. "But that's changed. Marketing now owns — depending on which analyst you talk to — 50%, 60%, 80% of the funnel, so that comes with some new responsibilities."
Digital era melds marketing and sales
According to Glover, the digital era places new demands on marketing teams. Most consumers — anywhere from 65% to 80%, according to various studies — research companies and products online before ever engaging a company to make a purchase. Because of this, marketers are now more responsible for educating consumers as they move from the top to the middle of the sales funnel. Moreover, trends like personalization and geolocation-based services have raised the bar for marketers to deliver content to consumers based on their preferences, demographics and the devices they are using in that moment.
"Personalization [recognizes that] different people want different things at different times," said Jason Thibeault, senior director of marketing strategy at Limelight Networks in Tempe, Ariz. "It's also about context. Giving people what they want, when they want, it, how they want it, and where they want it."
In the old days, marketers focused on the top of the funnel, and sales managed the middle and the bottom. Brian Gloverdirector of product marketing, Marketo
Glover said that marketing can take a much more assertive role in moving sales along. At Marketo, for example, the company recognized that middle-funnel prospects weren't becoming customers as quickly as they expected. After a bit of analysis, the company realized it didn't have enough content to address those middle-funnel prospects.
"This is how we isolated a problem, put together more programs and generated new content at the buying phase," Glover recalled. "It's using data like this that helps marketers know where to focus their time." Glover noted that it also helps marketers justify their budget and their roles among executives — and helps them participate in the strategic discussions about company direction.
But others at the conference patently rejected the sales funnel as the right focus for marketing. According to Limelight Networks' Thibeault, devices like the sales funnel divert teams from their true mission.
"It's not about sales, it's not about the sales funnel, and it's not about technology," said Thibeault. "It's about relationships."
Dig deeper on Marketing management and strategy
Lauren Horwitz asks:

Has your marketing team had to adjust its tactics, and why?
This entry passed through the Full-Text RSS service – if this is your content and you're reading it on someone else's site, please read the FAQ at fivefilters.org/content-only/faq.php#publishers.