Mobile devices could end retail's 'race to the bottom' on Black Friday
As Black Friday approaches, industry observers say consumer spending may experience an uptick this holiday season. But, they note, retailers need to use technologies like mobile devices to stop the "race to the bottom" of deep discounting and start providing real value to customers.
In October, the National Retail Federation (NRF) predicted that November and December sales would grow 4.1% (excluding oil, gas and restaurants) to $ 616.9 billion. But the organization indicated that consumers are still cautious, given the slow economic recovery.
"The lagging economic recovery, though improving, is still top of mind for many Americans," said NRF President Matthew Shay.
The NRF cited several favorable factors in the positive outlook for consumer spending: the relatively warm weather, lower oil prices, momentum in the U.S. economy and consumer excitement about technology launches like the Apple iPhone 6. But optimistic predictions are tempered by the reality of a still-unsteady consumer base.
At the same time, Retail Systems Research (RSR) noted that the retail industry is stuck in a downward spiral of doing anything to get customers in the door, from deeply discounting goods in the hope of generating more foot traffic to extending deals and shopping hours throughout "Black Thanksgiving week," not just on Black Friday. These strategies are simply promoting a race to the bottom among retailers, and often backfiring anyway, said Brian Kilcourse, managing partner at RSR.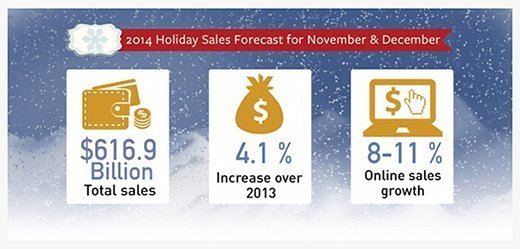 The National Retail Federation's outlook for holiday spending, 2014
"The purpose of a sale is to build traffic," Kilcourse said. "But retailers are selling things at deep discount, and if consumers aren't [making up the difference with other purchases], then what good is the sale? What would happen if Walmart decided not to open until 8:00 on Friday morning?"
Mobility could add value to commoditized products
But, Kilcourse said, retailers can stop the downward spiral by wrapping real value around products instead of engaging in pricing and open-hours wars with competitors. Consumers are increasingly using mobile devices to investigate and select purchases at home and at the store, for example, as well as using online forums to do research. Retailers have an opportunity to use mobile devices to add value through information, Kilcourse said, either through product reviews or through processes like Click and Collect, where consumers can purchase a product online, then pick it up in the store.
"Retailers are coming to understand that mobile isn't a way to extend e-commerce onto a new platform; it's a way for the consumer to extend himself into the brand," he said.
Retailers have an opportunity to use mobile devices to add value by providing information to consumers.
Kilcourse noted that other emerging trends, such as Beacon technology, can help retailers add value by giving customers additional product information and promotional offers via mobile devices while they are in a store. By enabling customers to do research and receive offers, retailers can help engage customers and enhance the sales experience.
"Now retailers have an opportunity to influence how consumers use that domain, where they go and how they search in the real world," Kilcourse said.
Kilcourse noted that communities have also provided a key forum to wrap information and value around commoditized products. He recently spoke at a company that sells cloth diapers, a commoditized product. What has made the company prosper, Kilcourse said, is its ability to build a community around the principles of eco-friendly business.
"There is a generation of young moms who object to filling landfills with plastic diapers," he said. The company has a thriving community on its website as well as live consumer events to promote its products and an eco-friendly lifestyle. "The company figured out how to survive in this mass-production world by wrapping value around a highly commoditized product and doing it in a meaningful way that engages like-minded people," he said.
Ultimately, Kilcourse said, retailers have to use the information assets — product reviews, online communities and mobile promotions — to educate consumers and add value to products.
"Retailers have not thought of the information asset as important as their products, their physical assets," Kilcourse said. "But you know what? They are."
Dig deeper on Commerce technology and strategy
This entry passed through the Full-Text RSS service – if this is your content and you're reading it on someone else's site, please read the FAQ at fivefilters.org/content-only/faq.php#publishers.