San Diego Union-Tribune Names Teradata a "2018 Top Workplace"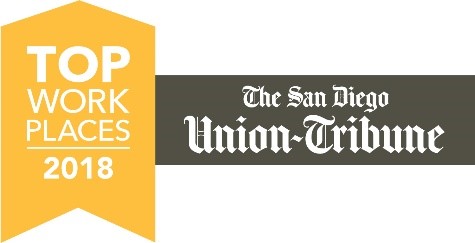 Teradata (NYSE: TDC), the industry's only pervasive data intelligence company, today announced that it has been awarded a "2018 Top Workplaces" honor by the San Diego Union-Tribune.
The Union-Tribune, San Diego's largest media company, produces the annual list of the best places to work in the region based solely on employee feedback gathered through a third-party survey administered by research partner Energage. The anonymous survey measures several aspects of workplace culture, including alignment, execution and connection.
In addition to being added to the list of San Diego's top workplaces, Teradata was also honored with a "Spotlight Award for Professional Development," which was based on positive employee feedback about providing the training they need to be successful in their jobs.
"Teradata's legacy and its continuing success is built on the power of its people, who help us rise as one to create innovative products and services that help uncover answers to the biggest business problems in the world," said Laura Nyquist, Teradata's general counsel and chief human resource officer. "We are incredibly proud and thankful that our employees voted us one of the best large employers to work for in San Diego. We look forward to expanding our presence in the region as we work to attract world-class talent to our organization and transform how businesses work and people live through the power of data."

Teradata was founded almost 40 years ago inside a Brentwood, Calif. garage in 1979. Today, it has grown to serve the largest and most visionary enterprises in the world. The company is made up of a community of more than 10,000 people worldwide who believe in the power of data to change the world and are ready to challenge the complexity and inadequacy of conventional approaches in pursuit of better answers.
In early October, Teradata announced that it had completed the relocation of its global corporate headquarters from Ohio to San Diego, where it owns a four-building, 460,000-square-foot campus. Recently completed renovations to 65,000 square feet of office space within the Teradata campus added workstations and employee comforts. Teradata has hired more than 300 new employees in San Diego so far this year, with another 200 jobs expected to be filled by early 2019.
The new headquarters includes world-class amenities that are designed to help attract and retain top talent in the highly competitive high-tech industry, including:
• Paid time off to volunteer in the community
• Competitive pay and benefits
• On-site dining options including a grill, café and juice bar
• Basketball courts
• Free fresh-ground coffee machines
• Games and activities throughout the campus
• Eight weeks paid paternity leave (beginning in 2019)
• A full, state-of-the-art fitness center
• An on-site employee wellness center, including medical staff
• A yoga room
• Indoor and outdoor collaboration and work spaces
• The ability to participate in "Inventathons" and a patent award program