Teradata's Customer Journey Analytic Solution Creates Behavioral Insights to Deliver a Distinct Customer Experience
Data Science meets marketing as companies connect interactions to ensure a personalized and relevant customer journey
Teradata (NYSE: TDC), a leading analytics solutions company, today announced the Teradata Customer Journey Analytic Solution, a complete set of capabilities for discerning the behavioral paths of each individual customer, determining the next best interaction and delivering a consistent, personalized brand experience through every channel and touch point. The solution uses Teradata's proven consulting services, as well as technologies that enable real-time customer data integration, advanced behavioral analytics and multi-channel marketing automation. It enables CMOs who want to truly understand each individual customer experience to move beyond old school one-to-one marketing tactics that rely on purchases and traditional customer profiling. The insights resulting from Teradata's Customer Journey Analytic Solution enable marketers to optimize objectives such as response and conversion rates, service delivery, churn, and customer satisfaction – leading directly to high-impact business outcomes such as increased revenue and customer retention.
Customers today require every interaction with a brand to be consistent, but also personalized and relevant. This is despite the ever-expanding range of channels that make building a complete picture of each individual customer extremely challenging. Delivering a better customer experience requires the integration of data from all customer touch-points, whether online or offline, and often in real time. In practice, most companies struggle to blend the technologies and siloed data to understand, anticipate and engage each individual customer holistically.
"Managing every customer as an individual, based on their interactions with your company, requires not only the integration of different types of data but understanding it through the application of complex multi-genre analytics. Even the best-known companies feel this is a 'boil the ocean' project – making sense of billions of events for millions of customers, in real time. This challenging situation is where Teradata alone thrives," said Dan Harrington, EVP, Consulting and Support Services, Teradata Corporation. "Our Customer Journey Analytic Solution is the embodiment of Teradata's proven experience in the field with some of the world's largest and most innovative customer-centric companies. It gives marketers a comprehensive view of their customers, based on each person's individual interactions, so that they can provide the right help at the right time."
Gartner Research says that by 2018, organizations that have fully invested in all types of online personalization will outsell companies that have not by 30 percent. According to the research firm, key areas of differentiation between vendors include the channels on which the solutions focus, the manner in which seemingly anonymous interactions are stitched together, the tools in place to provide visualization of journeys, and the outputs to other systems.
"With Teradata we were able to accurately combine detailed customer interactions and tie them back to a unique customer identifier in Teradata," said Alick Rocca, Head of Management Information/Business Intelligence, JD Williams. "Teradata Aster Analytics helped us see the bigger picture within this connected data. For example, we found customers would use a mobile device to browse, then come back and purchase through another channel later. Insights like this helped generate better marketing attribution models to make smarter decisions about how we advertise, generating return on our marketing investment."
The typical experience for companies using Teradata's Customer Journey Analytic Solution is: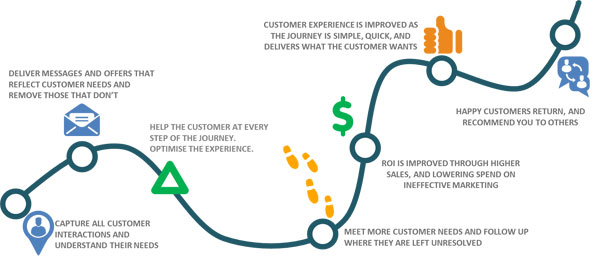 ¹"Market Guide for Customer Journey Analytics" published June 9, 2016 by analysts Jason Daigler, Brian Manusama, Gareth Herschel, Jim Davies and Shubhangi Vashisth
The Teradata Customer Journey Analytic Solution accomplishes this using the following capabilities:
Intelligently Integrating Data in Real Time
Provides a complete view of each individual customer by integrating their data regardless of where the data is generated or stored

Captures digital and offline interactions, from the Web, mobile or payment systems, in real time

Combines distributed data, from the cloud, the data lake and the data warehouse

Accepts new data, channels and campaigns quickly and easily
Multi-genre Analytics
Enables a wide range of advanced predictive, descriptive and prescriptive analytic techniques, with machine learning for real-time decisioning

Allows marketers to utilize these advanced analytic solutions, regardless of where their data lives

Stitches together customer events using pathing analytics to give marketers a unique behavioral view of each customer – augmenting the traditional customer profile with personalized, individual messages that help customers achieve their goals
Interaction Management
Delivers multi-channel campaign management capability with real time-decisioning and automation that scales for both volume and communication type

Provides sophisticated and flexible customer segmentation, customer journey planning and decisioning capabilities

Supports open source technology that allows for the incorporation of data from any source to drive decisions, and integration with any inbound or outbound channel (including digital)

Empowers marketing leaders to also drive key improvements on processes and tools to ensure maximum productivity of the marketing efforts
Each of these capabilities enhances a company's capacity to flex and scale as the business grows. The Teradata Customer Journey Analytic Solution scales to support increasing volumes of data, more analytic models and progression in the myriad of ways a growing customer base will engage with the brand via new channels.
Teradata's Customer Journey Analytic Solution is available immediately.
Relevant News Links