Spark-Plugs for Real-Time Retail Mainframe Apps
Suddenly no one in retail is saying, "We have too much data already."
Big Data is a big reason for that. Much of the storytelling about retail analytics has focused on e-commerce, and while e-commerce is still hugely important, companies increasingly realize that more is required in a world where Amazon thrives. It requires more agility across the full spectrum of the retail ecosystem. Greater agility requires more data, faster.
The Palisades Mall in New York, for example, has 400 stores occupying 2.2 million square feet of retail space attracting 20 million visitors annually (including those from Syncsort, whose headquarters is right over the border in New Jersey). Its owner, The Pyramid Companies, operates some 17 properties in three eastern U.S. states. To retain its customer base, it needs to (1) understand who likes to visit its malls, (2) identify them, and (3) cater to their needs. Customers vary tremendously across the 400 stores, but they also share some common characteristics. Location-specific considerations also are likely, such as types of transportation available and the influence of weather on brick-and-mortar visitations.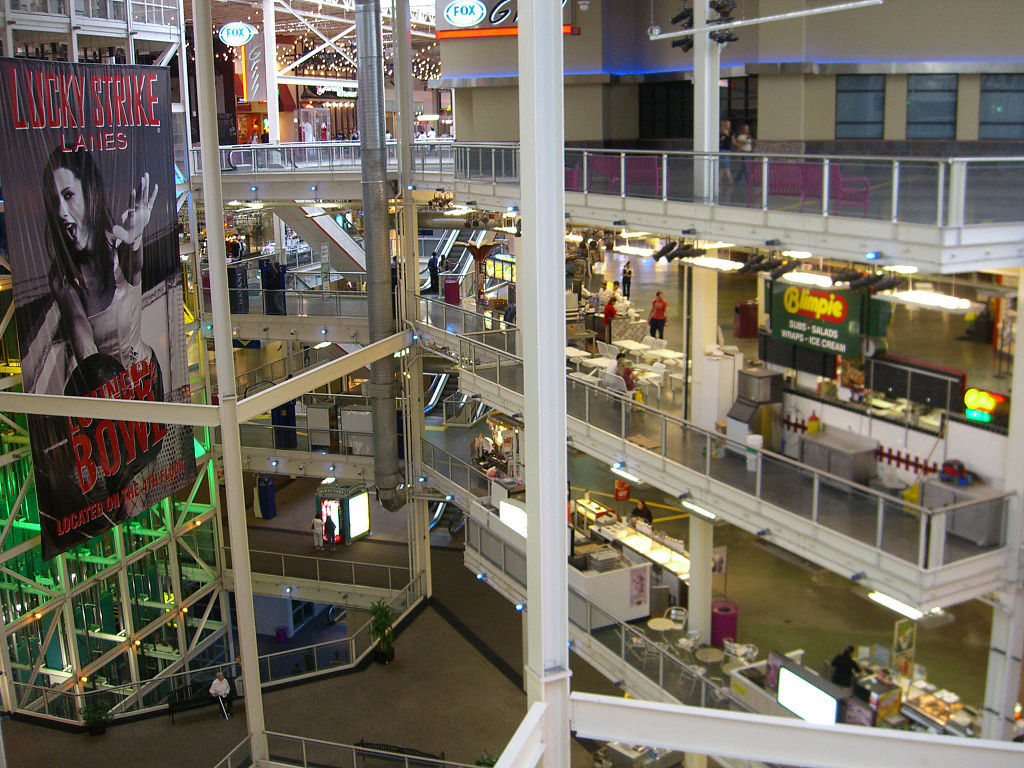 Complex retail settings call for complex, big-data analytics (Credit: Luigi Novi photo of Palisades Mall in West Nyack NY, via Wikipedia Commons)
Can Pyramid and its retailers accomplish what Nieman Marcus has done? That is, build an extensive, multi-level database for sales and marketing, and tie all that to real-time, in-store interactions?
More than Foot Traffic and Clicks
Besides volume and velocity, variety is the third "V" in the Big Data "V" triad. Retailers will need to think creatively to get a firm grasp on newfound data streams, and to better leverage existing sources, and to combine the two.
Bryan Wargo, head of Worldwide Sales at RetailNext, acknowledges, for instance, that most retailers are good with front-door traffic counting, but the thinking often stops there. Wargo encourages retail analysts to think beyond easy metrics:
Where do my shoppers go after they reach my front door? How many pass by my shop but don't come in? Which products do they browse but don't purchase? How do I optimize the performance of my store? Retailers need to think broadly about understanding in-store behavior and ensure they have a platform that will scale with the types of questions to which they need answers — today and tomorrow.
Yes, but many brick-and-mortar retailers still haven't instrumented their floor space to collect much-needed data.
New "Boxes and Arrows"
To build new Big Data retail apps will take some retooling as well as some new products. A mix of new and old is, in the mainframe world, old school. How, then, to mix the new and old?
Applications architects tend to operate with flow diagrams consisting of "boxes and arrows," as illustrated by a peer-reviewed journal of the same name. Something new in the world of boxes and arrows is the addition of Apache Spark processing to IBM mainframe data centers. Spark is on its way to transforming that boxes-and-arrows world by including more processing boxes (volume) and more arrows (data in motion).
Retail applications will need to be re-architected accordingly.
► Read "From Store to Big Data Storage: Interview with George Shaw of RetailNext on Retail Big Data" (October 2014)
Sparks to Ignite Real-Time Analytics
Past information architects did not lack the desire for insight into consumer behavior, retail products, market, and spaces. But the scope of inquiry was limited. In traditional transaction-processing systems (think ERP), data was sometimes not available in time to act upon it. Or, even if available, there was no way to use that information to reach prospects more effectively — or, better still, to have B2C interactions that actually benefit customers.
Where to start? There are numerous academic models through which retail operations can be studied. Analyses can intentionally limit themselves to studying just one perspective, whereas deeper analytics could be developed. Different perspectives might include:
Customer demographics
Customer behavior (loyalty programs, product preferences, customer experience)
Products
Space utilization
E-commerce
Mobility
Social networks
New depth and complexity will be driven by greater big-data velocity, which in turn drives volume.
Seven Spark-Plugs
Let's assume that the enterprise already has a fairly rich repository of data on the mainframe. Call it a data warehouse if you like; perhaps data from existing z/OS Cognos or SPSS projects.
Here are seven "spark-plugs" to fire all cylinders of a retail big-data engine:
Connect smartphone apps in real time to mainframe repositories for improved on-premises, in-store consumer experiences.
Connect brick-and-mortar data with e-commerce data in real time, such as accessing mainframe purchase history and product configurators.
Take an existing predictive-analytics application with SPSS Modeler in DB2 and extend it using data from Spark, such as in-store data streams.
Connect Spark to z/OS Decision Server Rules to use mainframe data to optimize real time in-store kiosk interactions with customers.
Work with in-house product and service teams to build real-time simulations of store layouts or feature enhancements, guided by predictive analytics.
Collect real-time sentiment analysis from social-media channels and summarize on mainframe-hosted decision-support dashboards in sales and customer support.
Combine IBM's new Watson Trend iPhone app with an existing z/OS data warehouse processing data stream through Spark.
Adapting any one of these ideas will take more than just a big-data software engineer or a visit to GitHub, or z/OS privileges.
Spark to Sparkle
While no guarantee in these fast-moving waters, IBM's own investment in Spark suggests that working with Spark is a good pairing with other mainframe assets. In a recent Fortune story, Derrick Harris called Apache Spark "the Taylor Swift of big data software." He noted that Spark Summit 2015 drew nearly 3,000 attendees. All this makes Syncsort's Spark contribution to z/OS connectivity all the sweeter.  Retail data of one sort or another has been "must have" for decades. The changes Big Data is bringing to this scenario are seismic. Product-line managers will want every "sale transaction" to be real time, and that situational data surrounding the sale also be available. For one thing, geotagging of every sale transaction — e-commerce, in-store, or mobile — will be de rigueur.  In some sense, Big Data trends in retail suggest the eventual demise of anonymous, isolated sales events, to be replaced by richer, more robust sales and marketing business processes.  And it's not only retailers who crave this sort of intelligence.
Increasingly, customers expect recommendations on products and services that better meet their needs. No more showing diaper service ads to one-person households. No more size "S" T-shirts for six-foot-six running backs. If a customer tells a retailer that she prefers the Model Y lawnmower to Model Z, she expects the retailer to remember that and to behave accordingly in every subsequent interaction — the sales department, in customer service, and in promotions across all media channels.
Meeting those ever-expanding expectations for real-time customer interactions with deep computational resources — and data — is a classic mainframe use case.
Git to Get: The Syncsort contribution to Apache Spark enables bigger data volume and velocity for retail analytics in mainframe data centers.
This entry passed through the Full-Text RSS service – if this is your content and you're reading it on someone else's site, please read the FAQ at fivefilters.org/content-only/faq.php#publishers.