Will Salesforce Wave Analytics' upgrade be persuasive for users?
SAN FRANCISCO – After a year on the market, Salesforce Wave Analytics, Salesforce's business intelligence platform, has gotten spruced up. But there are continuing question marks among customers and partners about where Wave fits into enterprises' broader analytics toolbox and the partner ecosystem.
The upgrades to Wave announced today aim to make the analytics tool even easier for business users and more native to Salesforce1, Salesforce's customer relationship management (CRM) platform, as well as partner applications. Users can take action directly from any Wave dashboard and use the application in tandem with other applications in the Salesforce1 platform, or with third-party applications.
The enhancements come on the heels of announcements about Wave apps designed specifically for the Sales and Service Clouds. New development underlying Wave creates greater consistency between its user interface and that of other Salesforce1 components. The UI is powered by Salesforce Lightning, the development platform Salesforce announced at Dreamforce last year.
Salesforce executives say that these improvements turn data insight into business action (see Figure 1).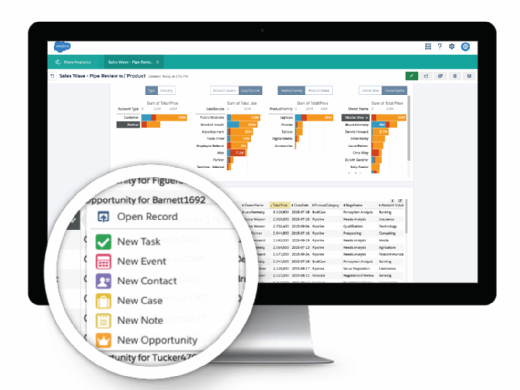 Salesforce Wave enables users to take action, such as create a task for a colleague, directly from the Wave dashboard, which prevents clicking back and forth between applications.
"What we've been working toward since launch is turning data into insights," said Anna Rosenman, senior director of product marketing for the Salesforce Wave Analytics Cloud. "What's next is closing the loop. How can we turn that information into action?"
From fits and starts to critical mass?
In development for two years, Salesforce Wave launched in 2014, after the company acquired BI tools EdgeSpring and RelateIQ. Prior to Wave's release, Salesforce suffered some false starts in the analytics market and was criticized for its weakness in the BI space. Its customers were clamoring for a native tool in Salesforce1 that made data business user-friendly, mobile-ready and fast.
At Dreamforce 2014, Salesforce answered that call with Wave, a mobile-ready analytics platform that shuns schemas in favor of the more intuitive search-based system. This architecture enables business users to easily query data sets and analyze the findings without the assistance of data analysts. At the time, Salesforce touted Wave as democratizing BI, characterizing it as "analytics for everyone." With the ability to handle various data formats and crunch large volumes of data in seconds, the market welcomed Wave with piqued interest.
Some customers aren't sure they want to give up [other tools] for Wave. Jeff KaplanManaging Director, THINKStrategies Inc.
Experts say that the Wave upgrades demonstrate Salesforce's continuing commitment to making data actionable and digestible for the business side. "Salesforce is investing a lot of time and effort into making it a reality and making it of value for customers and ISV partners to build upon," said Jeff Kaplan, managing director at THINKStrategies Inc., an IT consultancy.
Promise and pitfalls in Wave's first year
At the same time, customers and partners are cautious about Wave. Customers may be hesitant to pay the steep price ($ 125 per month or $ 250 per month for the Explorer User and Builder User licenses, respectively), particularly if they have already invested in alternative BI tools.
At Dreamforce last year, while some companies said they were considering Wave, they also noted they were hesitant to dump other BI tools in favor of Wave given its cost and their existing investments.
In 2014, Matt Estes, director of enterprise CRM technology at Managed Health Care Associates Inc. in Florham Park, N.J., said that a major issue was Wave's cost. While MHCA used the Sales Cloud and the Service Cloud, Estes was concerned about spending thousands of dollars for an adequate number of Wave licenses. "The price is too steep at this point," Estes said.
Partners continue to watch Wave's development with circumspection, in some cases because it could unseat their own position in the Salesforce ecosystem.
Recent developments at Salesforce also suggest the company may be modifying its Wave strategy to boost adoption. Salesforce's head of Wave, Keith Bigelow, who was hired from SAP in 2014 to preside over the analytics platform, stepped down in early September. And in August, according to a Morgan Stanley note, Salesforce was entertaining the prospect of Wave discounts.
"On Wave Analytics," the report said, "Salesforce.com is experimenting with pricing and thinking of removing the upfront platform license, leaving just the monthly subscription fees, as a way to drive wider adoption." Both moves suggest a rocky first year for Wave.
Experts agree that pricing and existing tool sets will continue to dictate Wave's adoption curve. "There are customers," Kaplan said, "who aren't sure they want to give up [other applications] in favor of Wave, and partners [who] are apprehensive about how far Wave is going to go. Is it just a modest enhancement to what SF offers, or is it really a competitive threat to what they are offering as partners?"
Kaplan said adoption may continue to be incremental. "Momentum may build only in a modest fashion over the coming months," he said.
For more, check out all our SearchCRM Dreamforce 2015 coverage.
This entry passed through the Full-Text RSS service – if this is your content and you're reading it on someone else's site, please read the FAQ at fivefilters.org/content-only/faq.php#publishers.