How to Explode Your Email Marketing ROI With Your CRM
This could be you! If only you'd replied to the "millionaires" email with your credit card details, NI number & mothers maiden name!
With unsubscribe rates increasing, open rates decreasing and our inboxes being filled with more and more noise (source – Signupto.com) how can you stand out in a crowd of offers, free trials and the promises of grand riches from millionaire princes?

More to the point, what does this have to do with your CRM?
With multiple technological advancements in CRM systems, there are now multiple strategies you can implement for explosive growth in your email marketing ROI.
Let's explore these strategies:
Table of contents
---
If you already have a relationship with your customers they're substantially more likely to purchase from you compared to cold leads.
Think of the time you purchased your first Apple product, it probably took some convincing to nudge you over to a customer, but once you were… did you later go on to purchase an additional iPhone/iMac/Mac book/ iPad with a lot less convincing?).
Studies even go as far as claiming it costs 90% more to acquire a new customer than to retain one (source – Marketing Donut).
So what does this have to do with a CRM?
Most common CRM systems now offer the ability to integrate with your finance and customer service platforms, this enables you to match purchases against customers and identify which customers have slowed down spending, are due an upgrade or are perfectly aligned for your new offering.
As an example, as a CRM provider ourselves we are interested in customers who have or are approaching their database limit. This offers us a potential opportunity to cross-sell additional database storage.
Live Example 1 – Customers Exceeding Storage Report
In the image above you can see Atlantic Computer Services are using double their allotted database size whilst other companies are rapidly approaching their database limits.
So how can we wrap this into our email marketing efforts?
By sending an event-based automated email the moment these customers are within 2MB of their max data storage offers an automated upselling opportunity almost guaranteed to provide a high ROI, easily achieved with an email template & PHP script (we'll cover how to do this later on).
Don't have access to PHP developers or on a tight budget? Simply send a pre-created mail template (explained further on, or hire us).
Live Example 2 – Customers not using Workbooks
Our second report above highlights which percentage of organisations are regularly logging in. Only 8% of Atlantic Computer Services users have logged in over the last 30 days, this should be used as an event trigger to send out emails showcasing features to help customers such as Atlantic.
Live Example 3 – Customers reducing spending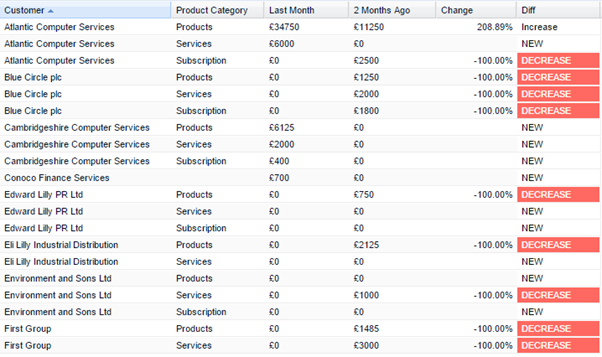 In our final example, we've mapped our customers spending over time and colour coded the difference in spending.
You can rapidly see which customers have stopped purchasing (in this example First Group would be an ideal candidate to contact due to having the highest financial difference in spending again this could easily be automated through an email workflow showcasing features the customer has yet to explore.
---
Now your reports have been set-up we'll cover how to convert these reports into automated emails using your CRM
The following examples are taken from our CRM (Workbooks.com) but can be replicated in most major CRM systems.
Begin by creating the report (in this case this has already been created – see above examples) then create the email template to be sent out automatically, below we've created a template to send to existing customers triggered when they are at or above database storage levels:
Creating an Email Template
The next step is to create your Marketing campaign, we will use this to report on later.
Creating a marketing campaign
You'll now need to write a script (in Workbooks.com this is done through PHP) or hire us to write it for you, essentially the script retrieves your report over the API, looping over the results.
Example Script
Now your script has been written (need help with this step?), you can schedule the script to run using a scheduled process:
Scheduled Process
In this example, you can see the script has been scheduled (via this scheduled process) to run on Mondays at 8 am.
---
Now you've automated multiple email marketing campaigns using your CRM, how will you know if they're actually making your company money?
By reporting on and benchmarking your separate marketing campaigns, it's possible to compare email marketing campaigns against each other or even directly against trade shows and PPC campaigns to clearly see how the performance of each marketing campaign/channel compares.
This is done by matching new leads or opportunities against the appropriate campaign (this can also be done automatically).
Matching Lead Records to Correct Marketing Campaigns
You then create a report and filter to just show the reports you wish to compare, drilling down to related transaction documents and opportunities whilst adding in a cost and calculated field to show the ROI.
In the following report we're comparing our email campaigns performance against our trade shows and PPC campaigns:
Benchmarking Campaigns
We can see in the example above, the Upselling Databases campaign has an ROI of 575% at a cost of £242, whilst the Black Friday campaign has a lower ROI and higher outlay but likely higher overall cash profit.
Taking this example I would recommend scaling the database campaign by rolling it out across all your customers and working to identify further cross-selling opportunities and using Gap Analysis to highlight products/services your existing client base would be looking to purchase but you're not already selling (there's a reason why TESCO now sells loans, current accounts and car insurance!).
---
By reducing your email marketing spend you can dramatically improve your email marketing ROI, this is essentially done through the following ways:
Removing customers no longer purchasing

Previously (live example 3), we reported on which customers are no longer purchasing from you, if you've reached out and determined a customer is now lost, you should keep these customers within your CRM but export and remove them from your email marketing provider.

Use your CRM's pre-built email marketing tools

Can your emailing marketing already be handled within your CRM system, by migrating solely to your CRM system you can both reduce the need for expensive email marketing solutions and reduce the amount of data silos you are using.

Effective segmentation

By effectively segmenting your data you can better target prospects you wish to email. For example, internally at Workbooks.com, we are running a webinar with one of our customers on how membership organisations are benefiting from our CRM system. Naturally we only want to email leads whose industry is 'membership'. This substantially reduced the number of emails we needed to send (reducing our costs) which contributed to substantially increased targeting and thus open, click through and attendance rates all skyrocketed.

---

If your CRM provider can't handle your email marketing efforts internally, most CRM systems (including Workbooks.com) now integrate with popular email marketing tools such as Hubspot, MailChimp, Constant Contact, dotmailer and Campaign Master.

This allows you to track and report on the effectiveness of each email campaign alongside identifying which leads are interested in your messaging.

In the following example, you can see your email marketing statistics including open, click and unsubscribe rates. These can then be taken and reported on to benchmark one email marketing campaign against another.

Email Marketing Results

Below we are benchmarking our email marketing campaigns, you can see whilst the Upselling Databases campaign had a Click rate of almost 22% appearing the 'winner', since it was only sent to 142 people and clicked by 9, its effectiveness was beaten 2000% by the New Product Launch campaign (sent to over 50,000 and had a total click count of 186 despite only having a Click Rate % of 9%.)

Benchmarketing email campaigns




---

By combining the power of email marketing and up/cross-selling with a well managed CRM system you can exponentially increase your email marketing ROI.

Whilst you may not wish to follow all of the ideas mentioned above, even by moving forward with a select few you can make big changes to your marketing efforts.

Did you find this blog post helpful? If so, tell us which idea you're going to move forward with in the comments below:

"It is really useful to be able to monitor the success of our email shots in Workbooks.com. We can track which contacts have opened the email and which ones have clicked on the links within it.

It has empowered us to send out follow-up emails to anyone who didn't open the email and it is really comforting to know that any unsubscribes are fed back into Workbooks automatically." – Pam Cowburn, Head of Communications, Index on Censorship

Sign up for a free trial of Workbooks.com – here.
This entry passed through the Full-Text RSS service – if this is your content and you're reading it on someone else's site, please read the FAQ at fivefilters.org/content-only/faq.php#publishers.