3 Videos: John McAfee (2015), Jackie Stewart (1973), Yuval Noah Harari (2015)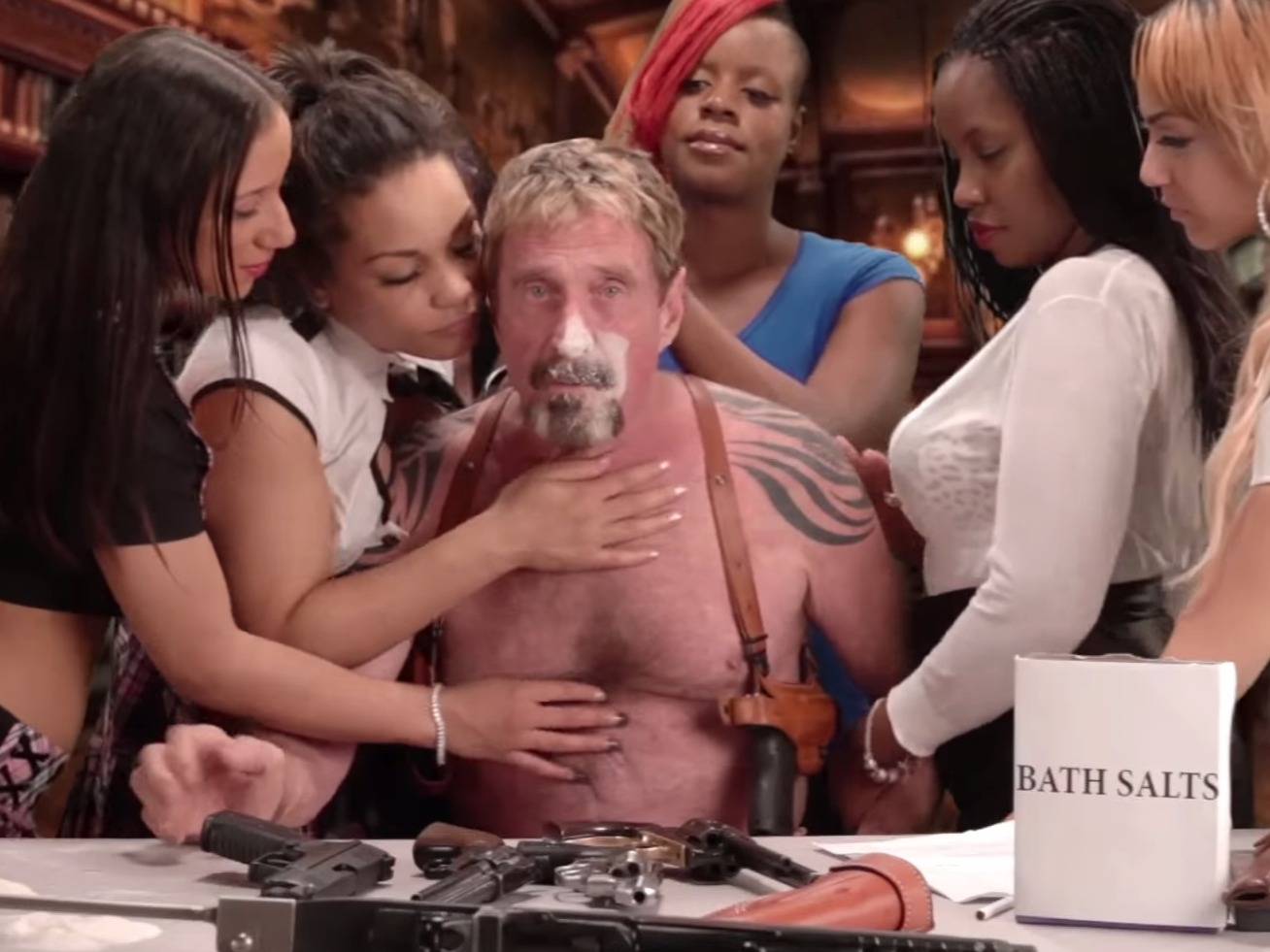 There's nothing quite like the IBT columns of antisocial antivirus expert John McAfee, pieces that read like PKD-esque fever dreams propelled by acute paranoia, actual knowledge and perhaps pharmaceuticals. In a recent article, he warned that Electromagnetic Pulse generators (or EMPs) could be used to destroy an American city at any moment. An excerpt:
EMPs can be generated in many ways. Much has been said about nuclear EMPs, but that threat concerns me far less than other, more specific means of generating EMPs. The US recently announced our own EMP weapon, which can be carried aboard a missile. Using a technology based on hydraulically compressing and decompressing rods made of specific elements, the device is able to create multiple EMPs very quickly.

The weapon can be focused to take out individual buildings within a city and can take out dozens of individual buildings in a single pass of the missile. I will admit that such technology is beyond the reach of the average individual. But what if the individual is not concerned with precision strikes and merely wants to take out an entire city block or the entire city? Well, that technology is readily available, cheap, and simple to construct.

…

I am not going to give a course on constructing EMP weapons. I am only trying to raise the awareness of the world to a real and imminent threat.

I also received many questions about how an EMP could kill people. The answer is easy. A large-scale localized attack that involved all of our power stations would leave us all permanently without power. An attack that included our water processing plants would leave us without potable water, except that which we could purchase at the supermarket.

Localized attacks on food processing plants, attacks on mass transportation and attacks on centralized communication organizations would leave us without food and communications. Attacks on oil processing plants would ultimately leave us without individual transportation. What percentage of the population do you think would survive such a catastrophe? And all of this without a single nuclear explosion.•
In our facacta political season, McAfee is, of course, running for President, decrying the cyber illiteracy of the average Washington representative. Despite being an erstwhile murder suspect, he's not even close to the most deplorable candidate. Here he is in September announcing his campaign to Greta Van Susteren, a Scientologist with an unsustainable face.
___________________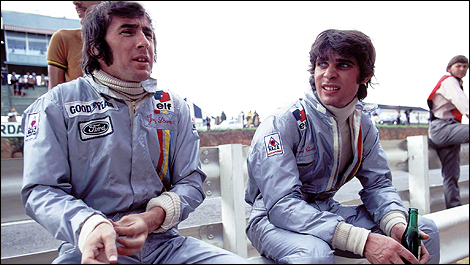 Racing legend Jackie Stewart was king of a sport in which his competitors–his friends–kept dying, one after another on the dangerous-as-can be-courses of the '60s and early '70s. The opening of Robert F. Jones 1973 Sport Illustrated article "There Are Two Kinds of Death":
Contrasted with the current woes of the real world—the new Arab-Israeli war, the old Watergate maunder-ings—it might have seemed a week of minor tragedy on the Grand Prix circuit. But for John Young Stewart, 34, the finest road racer in the game, it was perhaps the most agonizing week of his life. A month earlier, at the Italian Grand Prix at Monza, Stewart had captured his third world driving championship in five years. During the course of this racing season he had become the most successful Formula I driver ever, with 27 Grand Prix victories to his credit (compared with 25 for his late Scottish countryman, Jim Clark, and 24 for his idol, Argentina's Juan Manuel Fangio). And certainly Stewart had outdone both of them in the main chance of racing: money.

Jackie Stewart is the canniest man ever to don a fireproof balaclava—and certainly the gutsiest ever to con a sponsor. Earning close to $ 1 million a season in prize money and other emoluments, Stewart seemed to have turned motor racing into some kind of a private treasure trove—and survived to enjoy it. Then why not retire?

That was the first source of his agony last weekend. At Watkins Glen for the 15th running of the U.S. Grand Prix, Stewart played coy with the question. Indeed, even his business agent claimed that the wee Scot was hung on the horns of that old sportsman's dilemma: quit on a peak of success, or press on to try for even greater rewards? The business agent also was well aware that the timing of a retirement statement by a figure so prominent as Stewart could bring in lots of bucks, and perhaps the coyness was merely a question of timing to suck up more cash. "If Jackie were single," said his lovely wife Helen, "there would be no question. He would continue to race. I would like to see him retire, but I cannot press him. No, there is nothing that could fill the role of racing for him if he were to quit."

Stewart himself was brusque on the question. He sidestepped it with every slick word at his command—and they are as many and as evasive as the black grouse of Scotland's moors. But still it all seemed a game.

Then, on qualifying day before the race, Stewart's good friend and teammate, Francois Cevert, was killed in a smashup during practice. Stewart had already lost three close friends to the sport: Clark in 1968, Piers Courage and.Jochen Rindt in 1970. In his poignant account of that last tragic season in his recent book, Faster! A Racer's Diary, Stewart had likened Grand Prix racing to a disease and wondered in painful print if he himself were not a victim. With Cevert's death last Saturday, it seemed to many that Stewart must at last accept the prognosis. He must—finally—retire and let sad enough alone.•
A 1973 documentary about Formula One racing, known at various times as One by One, Quick and the Dead, and Champions Forever, this interesting period piece with a funked-up score focuses on Stewart, Peter Revson and their peers. Stacy Keach is the cool-as-can-be narrator, but Cévert sums it up simply and best, admitting, "steering is hard."
___________________

My favorite book published in the U.S. in 2015 is Sapiens, a brilliant work about our past (and future) by Israeli historian Yuval Noah Harari. In a New Statesman essay, the author argues that if we're on the precipice of a grand human revolution–in which we commandeer evolutionary forces and create a post-scarcity world–it's being driven by private-sector technocracy, not politics, that attenuated, polarized thing. The next Lenins, the new visionaries focused on large-scale societal reorganization, Harari argues, live in Silicon Valley, and even if they don't succeed, their efforts may significantly impact our lives. An excerpt:
Whatever their disagreements about long-term visions, communists, fascists and liberals all combined forces to create a new state-run leviathan. Within a surprisingly short time, they engineered all-encompassing systems of mass education, mass health and mass welfare, which were supposed to realise the utopian aspirations of the ruling party. These mass systems became the main employers in the job market and the main regulators of human life. In this sense, at least, the grand political visions of the past century have succeeded in creating an entirely new world. The society of 1800 was completely destroyed and we are living in a new reality altogether.

In 1900 or 1950 politicians of all hues thought big, talked big and acted even bigger. Today it seems that politicians have a chance to pursue even grander visions than those of Lenin, Hitler or Mao. While the latter tried to create a new society and a new human being with the help of steam engines and typewriters, today's prophets could rely on biotechnology and supercomputers. In the coming decades, technological breakthroughs are likely to change human society, human bodies and human minds in far more drastic ways than ever before.

Whereas the Nazis sought to create superhumans through selective breeding, we now have an increasing arsenal of bioengineering tools at our disposal. These could be used to redesign the shapes, abilities and even desires of human beings, so as to fulfil this or that political ideal. Bioengineering starts with the understanding that we are far from realising the full potential of organic bodies. For four billion years natural selection has been tinkering and tweaking with these bodies, so that we have gone from amoebae to reptiles to mammals to Homo sapiens. Yet there is no reason to think that sapiens is the last station. Relatively small changes in the genome, the neural system and the skeleton were enough to upgrade Homo erectus – who could produce nothing more impressive than flint knives – to Homo sapiens, who produces spaceships and computers. Who knows what the outcome of a few more changes to our genome, neural system and skeleton might be? Bioengineering is not going to wait patiently for natural selection to work its magic. Instead, bioengineers will take the old sapiens body and intentionally rewrite its genetic code, rewire its brain circuits, alter its biochemical balance and grow entirely new body parts.

On top of that, we are also developing the ability to create cyborgs.•
In a London TED Talk from earlier this year, Harari details why Homo sapiens came to rule the world, and why that development wasn't always such a sure bet.
This entry passed through the Full-Text RSS service – if this is your content and you're reading it on someone else's site, please read the FAQ at fivefilters.org/content-only/faq.php#publishers.