"Advances In Weaponry And Equipment Had Rendered Traditional Tactics Obsolete"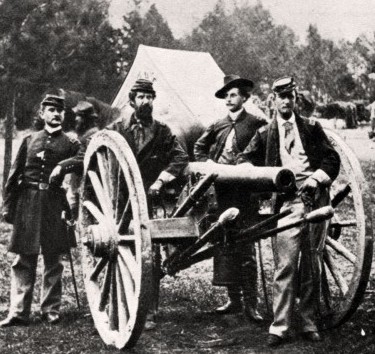 John McAfee may be a little crazy, but that doesn't mean he's wrong: The sky, sooner or later, will fall. In a recent IBT column he co-wrote with Rob Loggia, the online security expert asserts that "World War 3 will be a cyberwar," which doesn't seem a farfetched prognostication. In explaining our lack of preparedness for the new normal of battle, McAfee draws an analogy to the Civil War, when weapons had quietly become so advanced that timeworn strategies were rendered surprisingly useless. An excerpt:
Machines Turned Against Us

So what happens when an army or nation, even a seemingly well prepared army or nation, enters or is drawn into conflict unaware that the rules of engagement have changed?

One thing that happens can be seen by looking at the American Civil War. Advances in weaponry and equipment had rendered traditional tactics obsolete, and neither side was aware of it. The result of them not realizing this was tremendous bloodshed.

When the Civil War erupted, both sides entered into the engagement assuming an outmoded form of conflict. Generals on both sides had rigorously studied tactics and strategy manuals based in the Napoleonic era, and followed them during the first part of the war. The result was bloodbaths like Antietam and Fredericksburg.

What happened was that the weapons they had, though they looked much like weapons from Napoleon's era, were in many cases far more advanced, accurate and deadly. Previously sound offensive tactics were now literally suicidal. Both armies had to learn this the hard way. As the war developed, later battles were characterized more by trenches and fortifications than open battlefields.•
This entry passed through the Full-Text RSS service – if this is your content and you're reading it on someone else's site, please read the FAQ at fivefilters.org/content-only/faq.php#publishers.