Ann Coulter, with Berkeley speech canceled, appears on "radical thuggish institution" to kvetch
Fascinating fascism in the society of the spectacle … as of yesterday Coultergeist claimed she would go to Berkeley on Thursday and attempt to speak on Sproul Plaza, time to be determined. From Twitter, it seems that she could have had in attendance some of the same RWNJ thugs from the recent confrontations in Berkeley.
Her absence is not because of university police concern about a repeat of the Milo Yiannopolos incident. She wanted to appear because it manipulates the image of "Free Speech" and reinforces stereotypes about colleges with the possibility of confrontations and violence. She won't appear because she won't get paid to speak about "immigration", although she gets "press", regardless.
She wasn't being paid $ 20,000 to speak in the public space of Sproul Plaza, but rather for the offer of a rescheduled speaking engagement in a "safe" UC Berkeley venue. When YAF pulled its sponsorship, presumably it pulled its money as well. Darn those speech rights funded by the Koch Brothers and the DeVos family.
Pseudo-events and alternative facts will continue as she planned to appear Wednesday on Hannity's program to perhaps offset the continuing saga of sexual misconduct at Fox News.
in other irony…
and in other thuggery…

 Mike Cernovich, conspiracy theorist who promoted Pizzagate and routinely accuses random people of being pedophiles sans evidence, threatened to sue the White House press office after he was not given a White House press day pass.

Applying for a day pass to cover a White House press conference is actually pretty easy and awarded to most bloggers and journalists who apply, even from small outlets. Day passes are awarded directly by the administration. A day pass is much different then a "hard pass," which allows for a permanent spot in the White House press corp.

Cernovich claimed on Periscope that the press office was giving him a bureaucratic rigamarole, saying they lost his papers or were behind in the process.  The mindset expert then did what he did best: video stream live on Periscope, ranting for hours.

On video, he claimed he would sue the White House press office and subpoena all their communications about him if his day pass was not given out.

Update 2: Cernovich's press pass was approved. Crisis averted!
https://twitter.com/Cernovich/status/856942376736116736

Update: Since publication Cernovich deleted his tweets about being rejected a White House day pass. A White House source said Cernovich missed the deadline for a weekly or daily pass and was asked to re-apply.
heatst.com/…
UCB police, aside from mutual aid by city police, maintains its own SWAT team and bomb squad.
"UC Berkeley has been working to accommodate a mutually agreeable time for Ms. Coulter's visit — which has not yet been scheduled — and remains committed to doing so. The campus seeks to ensure that all members of the Berkeley and larger community — including Ms. Coulter herself — remain safe during such an event."

Citing safety concerns, administrators called off Coulter's Thursday appearance, saying the university needed more time to find a "suitable venue." UCPD said it had credible, specific intelligence of threats to Coulter, attendees and protesters that could lead to a repeat of violence that preempted former Breitbart News editor Milo Yiannopoulos' February appearance.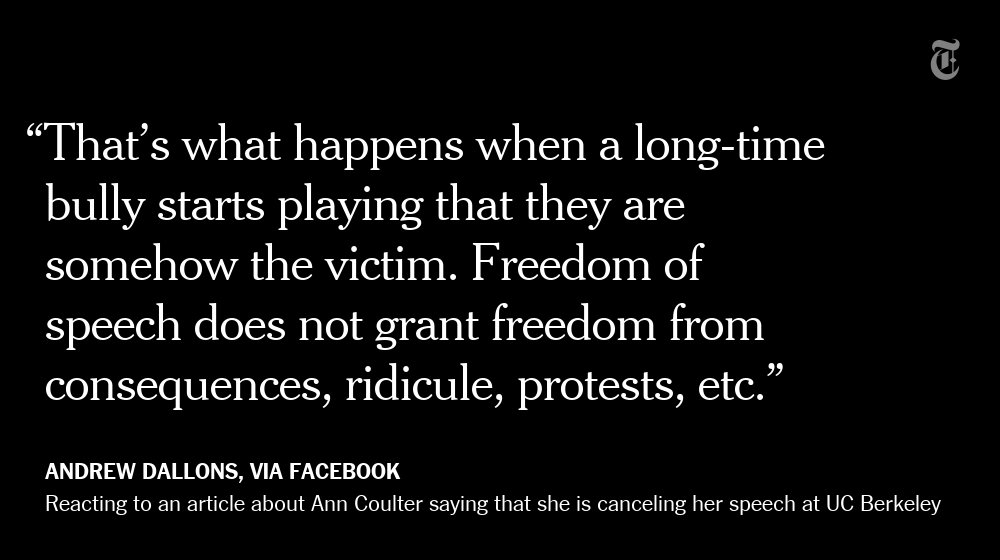 "Call it a victory for the Sharia snowflakes on campus." (Fox News's Greg Gutfield)