"He Went Ahead And Made A Digital Version Of His Face And Head"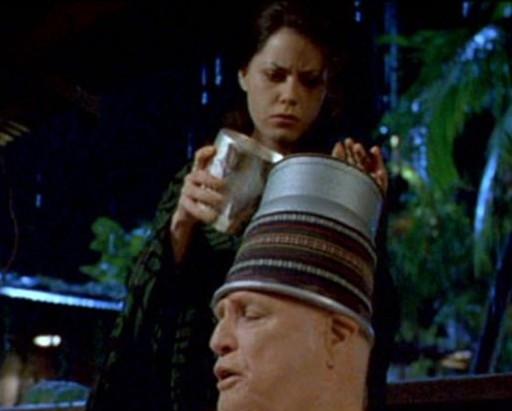 That excellent Wesley Morris writes for Grantland about the new Brando documentary, Listen to Me Marlon, which uses a digital version of the actor's head–a decapitation of sorts, as the writer notes–which is an apt metaphor for an actor who spent his later years trying to tear his flesh from fame and the burden of his own talent–a self-induced sparagmos in Greek-tragedy terms, and one that seemed to rob him of his sanity.
Brando created his 3-D doppelganger because he dreamed of completely detaching himself from his work. He was often barely there in his later performances, even great ones–reading cue cards from Robert Duvall's chest in The Godfather, clearly showing up solely for the paycheck in Superman. As Morris notes, the performer was making a mockery of the process and himself. Was that because his excellence hadn't made him happy? Or was he a deconstructionist child, breaking to pieces a formerly favorite toy to understand what it had been? Maybe both.
Morris' opening:
Maybe you've already heard, but in the future, actors will all just be holograms that directors will use as they see fit. That's what Marlon Brando thought, anyway. In the 1980s, he went ahead and made a digital version of his face and head at a place called Cyberware. At the time, it was a state-of-the-art rendering. That 3-D heads haunts Listen to Me Marlon, a documentary by Stevan Riley that opens Wednesday in New York. The film is guided by Brando's ruminative regret — about his fame, his talent, his worth as a father, about a life he felt he wasted. It combines news and on-set footage with material from Brando's private archive, including the many hours of audio recordings Brando made before he died in 2004. The recordings were attempts at therapy. More than once the movie cuts to the spinning gears of cassette tapes with titles like "Self-Hypnosis #7" and so on.

Listen to Me's wacky, spiritual power seems to emanate from that floating, rotating, mathematical arrangement of digital lasers that form Brando's visage, which an effects team has re-created from the Cyberware scans. It's a ghostly effect, intentionally incomplete — dated but hypnotically so.•
This entry passed through the Full-Text RSS service – if this is your content and you're reading it on someone else's site, please read the FAQ at fivefilters.org/content-only/faq.php#publishers.