"I'm Assuming That The Majority Of Those People Are Not Going To Be Replaced By Other People"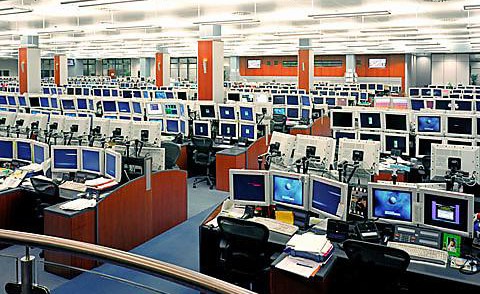 There are a lot of smart people on Wall Street, but the promise of giant payoffs often makes them behave stupidly, sloppily. Will automation in the financial sector instill discipline or will it lead to cascading mistakes that can make past meltdowns seem minor? Maybe both, at different times?
Regardless, machine intelligence may displace innumerable finance workers in the near-term, as the biz grows increasingly bullish on technology. In "The Robots Are Coming for Wall Street," Nathaniel Popper's excellent NYT Magazine article, the writer examines the new evolution through the person of Daniel Nadler, whose Kensho machine-learning software can execute in minutes tasks that required carbon-based beings days to complete. No one will likely shed a tear for Goldman Sachs workers losing salary and status, but their dwindling may presage the disruption of other industries built on sophisticated analysis.
An excerpt:
Within a decade, he said, between a third and a half of the current employees in finance will lose their jobs to Kensho and other automation software. It began with the lower-paid clerks, many of whom became unnecessary when stock tickers and trading tickets went electronic. It has moved on to research and analysis, as software like Kensho has become capable of parsing enormous data sets far more quickly and reliably than humans ever could. The next ''tranche,'' as Nadler puts it, will come from the employees who deal with clients: Soon, sophisticated interfaces will mean that clients no longer feel they need or even want to work through a human being.

''I'm assuming that the majority of those people over a five-to-10-year horizon are not going to be replaced by other people,'' he said, getting into the flow of his thoughts, which, for Nadler, meant closing his eyes and gesticulating as though he were preaching or playing the piano. ''In 10 years Goldman Sachs will be significantly smaller by head count than it is today.''

Goldman executives are reluctant to discuss the plight of their displaced financial analysts. Several managers I spoke to insisted that Kensho has not yet caused any layoffs, nor is it likely to soon. Nadler had warned me that I would hear something like that. ''When you start talking about automating jobs,'' he said, ''everybody all of a sudden gets really quiet.''

Goldman employees who lose their jobs to machines are not likely to evoke much pity. But it is exactly Goldman's privileged status that makes the threat to its workers so interesting. If jobs can be displaced at Goldman, they can probably be displaced even more quickly at other, less sophisticated companies, within the financial industry as well as without.•
This entry passed through the Full-Text RSS service – if this is your content and you're reading it on someone else's site, please read the FAQ at fivefilters.org/content-only/faq.php#publishers.