"It Summoned Agents Of The State To Beat Up A Customer"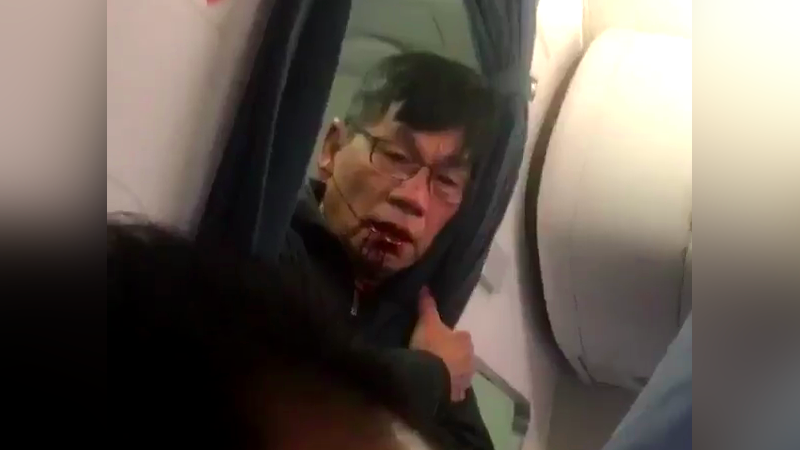 Life is cheap today in America, and cheap is often expensive.
At some point during the last few decades, we ceased being called "citizens" and began to be referred to as "consumers." The bitterly funny joke is that consumer protections were being stripped away all the while.
Price became everything. The lower the sticker number, the better, we were told. Facebook and Google and Internet giants are "free" to use. Except that the costs are hidden, if barely, as we trade our privacy for some "friends." Uber and Lyft are usually less expensive because the drivers aren't given benefits or basic protections. Cheap goods from Walmart of Amazon mean the expenses have been passed on to others. More and more, we're all others now.
United bloodying a passenger who refused to be removed from a flight resonated with so many because it doesn't feel like an outrageous outlier but a commentary on where we are now–and where we may be heading. 
· · ·
There's a scene in Wallace Shawn's latest play, Evening at the Talk House, about a time much like own in which America has descended into totalitarianism, and intellect and decency have become enemies of the nation. In an early scene, a character has been given a "short battering" by friends, a not uncommon occurrence in the new abnormal, because he was getting close to "crossing a line."
Robert:

I mean, really, Dick, this is amazing, how are you?

Dick:

I'm absolutely fine. Very very well. (A slight pause) What? Oh–this? (Pointing to his face) Well! No–I– (Somewhat more quietly and confidentially) No, don't worry about that! I was beaten, rather recently, by some friends, but you see, I actually enjoyed it very much, in the end. Really, it was great. No–I loved it! In fact, you should try it some time, Robert. It's now what you think. It was quite fun, I'm serious.

Robert:

My God, what happened?

Dick:

Well, it was a short battering. You know. Informal. A small group of my friends–we met, you know, and they just said, Dick, you see, you're getting a bit close to being "grr– grr— grr–" (He covers his mouth and makes a weird animal sound, miming odd animal-like behavior) so we have to "ergh" (Miming some punches) –and we have to "ergh" (More mimed blows) –and maybe a bit of "ergh" … (Mimed kicks)

Robert:

You mean they–?–

Dick:

They were right, obviously. I was getting to a point where I was about to cross a line, and this was sort of a case of, "Stop! Go back a few steps!" You know, that sort of thing.

Robert:

Crossing a line? But, Dick–my God, you were–you were always such a quiet, well-behaved little bastard when I knew you, Dick.

Dick:

I still am! (He laughs loudly) But that's what I find myself saying every day. I haven't changed. Everything else has changed Do you know what I mean?•
· · ·
From Matt Levine at Bloomberg View:
Yesterday United Airlinesprovided a nice demonstrationofthe propositionthat capitalism is built on a foundation of violence, when it summoned agents of the state to beat up a customer who insisted that United provide the servicehe had paid for. "Come and see the violence inherent in the system," hemight have yelled, had the police not knocked him out. ("He fell,"commentedthe police.)

United then went on to demonstrate that if you are a major airline in 2017, you don't have to be verygood at public relations, putting out aseriesof blasé statementswhose main message was "whatever, we are an airline, you will come crawling back." It was interesting to see people on Twitter talk about boycotting United over this incident, as though that was a possible course of action. Consider the revealed preferences: The man at the center of the incident, who was violently attacked for sitting in the seat that he had paid for, tried to run back onto the plane. He's not boycotting United! He just wanted to get home.

We talk a lot around here about the theory that increasingly concentratedcross-ownership of the airline industryby institutional investors has reduced competitionamong airlines, and I suppose youcould read this incident as proof that United isso insulatedfrom competitive pressures that it can afford to beat up its customers without losing any market share. But really this story seems more like the result of competition — but competition solely on price, not on service. If airlines compete solely on price, some passengers will get beaten up. "Investors seem impressed by the sadistic commitment to cost control," commentsMatt Klein. "By auctioning off overbooked seats, economist James Heins estimates that$ 100 billion has been savedby the airline industry and its customers in the 30-plus years since the practice was introduced."Ryanairwould introduce Beating Class if it could save money.

Anyway blah blah blah United should have run a fair auction and only removed people voluntarily at agreed-on rates of compensation,says the Economist, but of course from United's perspective that's not true. Why pay more to rescind a passenger's ticket, when you could just call in the cops?•