"Manufacturing Will Be Hit By An Identical Crisis To The Music Industry"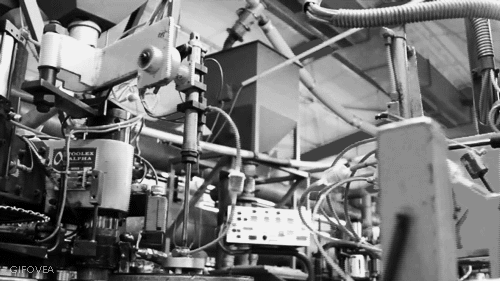 Think how strange it seems now: Until recently, one or several musicians would disappear for many months into an expensive recording studio and try to conjure something that would fill our ears, and, perhaps, blow our minds. They threw away the vast majority of the results and delivered a few dozen minutes of entertainment. There was a distribution system which not only supported this process but was even marvelously lucrative.
It was all a dream. The decentralization of the media not only usurped the record store but also the records, squeezing the financial value from these commodities, rendering them a mere promotional tool for the few touring acts that can fill arenas. Good luck with that.
During the halcyon music-business decade of the 1970s, one economist and theorist knew the precariousness of the arrangement, how this fraught ecosystem, still spectacularly profitable, was actually endangered. He was Jacques Attali, a Mitterand adviser who 39 years ago coined the term "crisis of proliferation" in his book Noise: The Political Economy of Music, which foretold the coming perfect storm that would soak the industry. 
In "The Pop Star and the Prophet," a new BBC Magazine article, singer-songwriter Sam York sought out Attali, wanting to know where the philosopher thought the future was heading. The quick answer is that while he maintains some hope for musicians, Attali thinks what happened to the recording biz is merely prelude. An excerpt:
Attali also had another big idea. He said that music – and the music industry – forged a path which the rest of the economy would follow. What's happening in music can actually predict the future.

When musicians in the 18th Century – like the composer Handel – started selling tickets for concerts, rather than seeking royal patronage, they were breaking new economic ground, Attali wrote. They were signalling the end of feudalism and the beginning of a new order of capitalism.

In every period of history, Attali said, musicians have been at the cutting edge of economic developments. Because music is very important to us but also highly adaptable it's one of the first places we can see new trends appearing.

He was right about the "crisis of proliferation"… but if music really does predict the future for the rest of the economy, what does he think it is telling us will happen next?

Attali says manufacturing will be hit by an identical crisis to the music industry, and this time it will be caused by 3D printing.

"With 3D printing, people will print their own cups, furniture," he says. "Everyone will make their own objects, in the same way they are making their own music."•
This entry passed through the Full-Text RSS service – if this is your content and you're reading it on someone else's site, please read the FAQ at fivefilters.org/content-only/faq.php#publishers.