more social division, more heightened contradictions as Trump scapegoats more minorities
x
The president just went on Twitter to attack 15,000 trans service members who are risking their lives to protect our freedom. How brave.

— Mark Takano (@RepMarkTakano) July 26, 2017
Desperately fatal detraction now afflicts Trump as his popularity craters and his campaign rhetoric approaches complete incoherence, taking GOP talking points from the RWNJ purity-wing of idiots like Steve King and Louis Gohmert.
The transgendered military or those interested in military service is still such a statistically small population that the absurdity of such executive action is designed to pander to RWNJs and their base, as well as foment media distraction from the now-clear treasonous and criminal collusion with Russians.
And then there's the malevolence of trying to divide the left yet again (see Bernie-Bros for Trump)
There are even those on the left who have such transphobic discomfort, making what should be an inherent belief in inclusion and diversity so much lip service.
There is so much wrong with trying to divide the left by Trump appealing to that portion of the LGBT community that is alas, transphobic. You know who you Milo-types are, especially in micro aggression, and especially when it comes to serving the nation. They're even in DK.
More absurd is that such bars to military service are not included in terms of citizenship and resembles the idiocy of the segregated pre-Korean War military. And those who claim it's a welfare scam need to examine what the GOP and Trump's doing to the entire VA system especially in killing the healthcare system.
x
Donald Trump, who dodged the draft 5 times, is trying to rally his base by targeting LGBT w hate. Shame on our military if they stay silent.

— Amy Siskind (@Amy_Siskind) July 26, 2017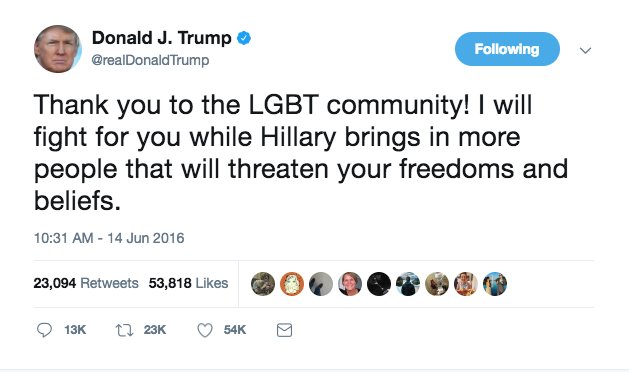 x
Went to lunch with Scaramucci last summer and he wouldn't stop talking about Caitlin Jenner and how the right needs to get over LGBT discrim

— Shane (@shaneferro) July 26, 2017

x
Last time I checked, M-16's, Tomahawk cruise missles and F-18's don't care if you're LGBT.

— Scruffy (@dixonshuman) July 26, 2017