"Parts Of It Were The Most Fun I Ever Had"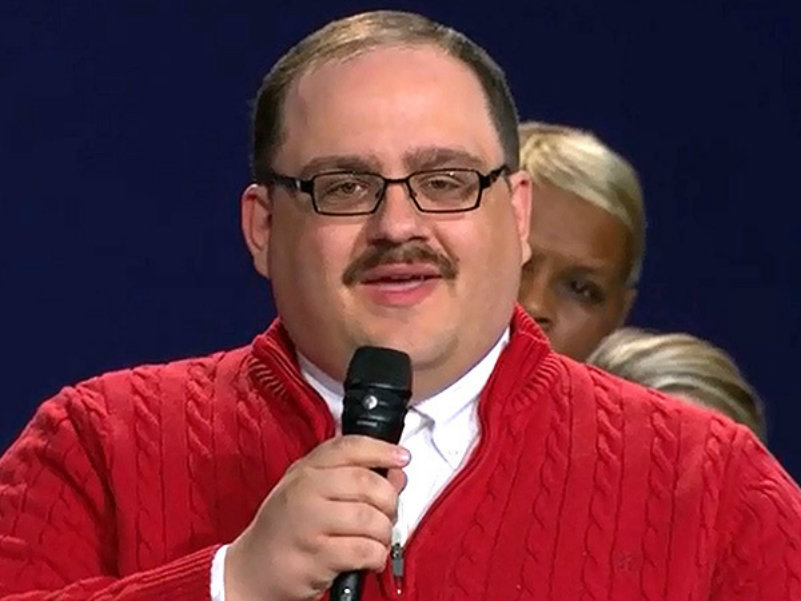 Fuck Ken Bone and the culture he rode in on.
Shame on the Undecided doofus of the 2016 Presidential debates himself for failing to take advantage of the endless educational opportunities in the country, remaining a barely formed adult fetus with the brain power of a bottle cap. Even more shame on those among us who felt it necessary to turn the red-sweatered sluggard into a meme, because Americans need to make every last goddamn thing into entertainment, to manufacture moments to fill the desperately dreary lives we've fashioned for ourselves, even if this stupidity can get us all killed.
Fuck the media for its role in the same, not only for making Bone a supporting actor in a national tragedy but for featuring as its star a racist, ignorant game-show host, helping to legitimize someone who should have been too low and louche to cut the ribbon at the opening of a brand-spanking new adult bookstore, let alone allowed to stain the sheets in the Lincoln Bedroom. And fuck the media again for continuing this dangerous bullshit. Should Mark Cuban run for President? How about Alec Baldwin? Will the Rock enter the race? Why aim so high? This comment is made with all earnestness: Our leadership is presently so dumb and dishonest that even Kim Kardashian would do a better job than our sitting President. Kim Fucking Kardashian.
The Illinois insta-celeb has apparently taken his eyes off of hacked Fappening photos of Jennifer Lawrence long enough to realize that Donald Trump isn't doing a stellar job as President. Perhaps the unnecessary suffering of Puerto Ricans and U.S. Virgin Islanders and refugees and immigrants and poor people and non-white folks and even the white dummies who voted for a Simon Cowell-ish strongman has finally reached the slow-on-the-uptake Bone? Who knows and who cares. More likely, he's just moving his mouth-hole again, making ignorant noises at random, because noise, not news, is what rules in this immature, ill-informed nation.
From Luke Mullins' CNN article about the man who knew too little:
No one is more perplexed by his fame than Bone himself. "It's almost over," he says, "and I still don't get it."

Bone has experienced the rush and perils of instant celebrity over the past year. He served as a special correspondent for ABC's Jimmy Kimmel Live and walked the red carpet at a Hollywood movie premier. But he's also witnessed police in bulletproof vests sweep his house for explosives and endured withering criticism for comments he made prior to his time in the spotlight.

"Parts of it were a real bummer," Bone told me. "Parts of it were the most fun I ever had."

It all started last fall, when Bone, a married father of one living in the St. Louis suburb of Belleville, Illinois, received a call from a Gallup poll researcher asking if he was committed to voting for either Clinton or Trump. He said he wasn't and agreed to have his name added to the pool of undecided voters under consideration to appear on stage during the upcoming town hall-style debate at nearby Washington University in St. Louis.

Bone, who works at a coal fired power plant, was eventually selected to participate. After CNN's Anderson Cooper, one of the debate moderators, gave him the floor, nearly 67 million television viewers watched an ordinary 34-year-old man ask a thoughtful question of two deeply-flawed candidates: "What steps will your energy policy take to meet our energy needs while at the same time remaining environmentally friendly and minimizing job loss for fossil power plant workers?"

Right away, Bone's red sweater lit up social media, with memes including one with a photograph of his chubby, mustached face above the question: "How will you protect my job as a card on Guess Who?" receiving tens of thousands of retweets. His name soon began trending online, and popularity increased further when video footage circulated of Bone taking photographs of the stage with a disposable camera. Less than an hour after the debate, New York Magazine declared that Bone's "vibrant red sweater, pure and earnest face, and enthusiastically delivered question about energy sources have boosted him to internet-celebrity status."•
Tags:Ken Bone, Luke Mullins