"The Design Is Brilliant"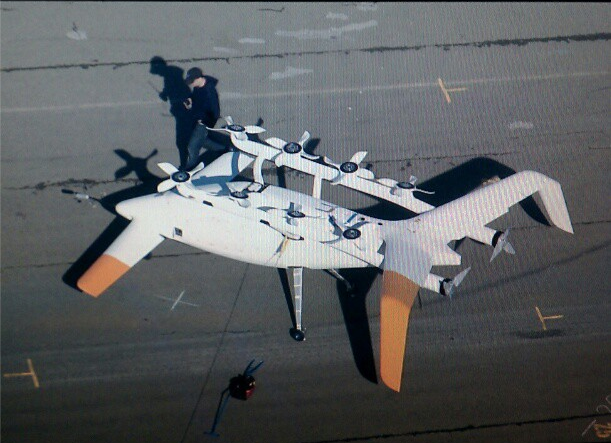 On the face of it, there doesn't seem to be many dumber uses for $ 100 million than trying to develop flying cars, which, even if doable, would end up being hybrids of bad cars and worse planes. Recent reports saying that Larry Page had spent that sum on realizing somebody else's 20th-century sic-fi dream seemed odd.
The truth is something substantially different, according to an article by Mike Elgan of Computerworld: The Google cofounder is actually working on affordable, auto-piloting, environmentally friendly consumer aircrafts. That could potentially be far more useful, even if it's also a vision from a different era, when there were predictions of almost every rooftop being a landing strip and screaming headlines that promised all Americans would own their own airplanes by the 1960s.
From Elgan:
Zee.Aero's first aircraft is a strange creature. It has wings at the very back of the fuselage that curve way down at the edges, as well as two rear propellers that provide forward thrust. Two additional wings grace the very front of the plane. Here's the strange part: Between the front and back and on either side of the fuselage are four small propellers on each side. Combined with the two at the back, the Zee.Aero plane has 10 propellers. These propellers aren't powered from a central engine. Each propeller has its own independent electric motor and controller system.

Page reportedly wants the Zee.Aero's plane to be "downmarket" — an affordable aircraft for ordinary people. Astonishingly, everything we know about Zee.Aero suggests that it's making all the right decisions.

The design is brilliant. A consumer airplane for the masses absolutely requires electric power, and for two reasons. The first is safety: If one or two of the propellers fails, for whatever reason, the rest can safely continue to operate. The second reason is that if consumer airplanes are to be flying around in large quantities near or over residential areas, they have to be relatively quiet.

Zee.Aero has a handful of patents for the innovative multiple propeller system, battery technology and for the airplane itself. One patent says that in "an alternative embodiment, aircraft 100 is an unmanned vehicle that is capable of flight without a pilot or passengers" and that "embodiments without passengers have additional control systems that provide directional control inputs in place of a pilot, either through a ground link or through a predetermined flight path trajectory.

Zee.Aero's prototypes are already flying at a nearby airport.•