Trump invents big-ass trophy for faux presentation to champion sumo wrestler
The WH edited out lifting the 60 pound trophy invented for this presentation (Trump needed help), but the Japanese got the last laugh, what with Individual-1 demanding to be seated in a chair and forced to wear sandals with socks. "Some members of the Japanese media suggested that the ring would now have to be reconsecrated after Trump's presentation, according to the Washington Post." Darn those cooties.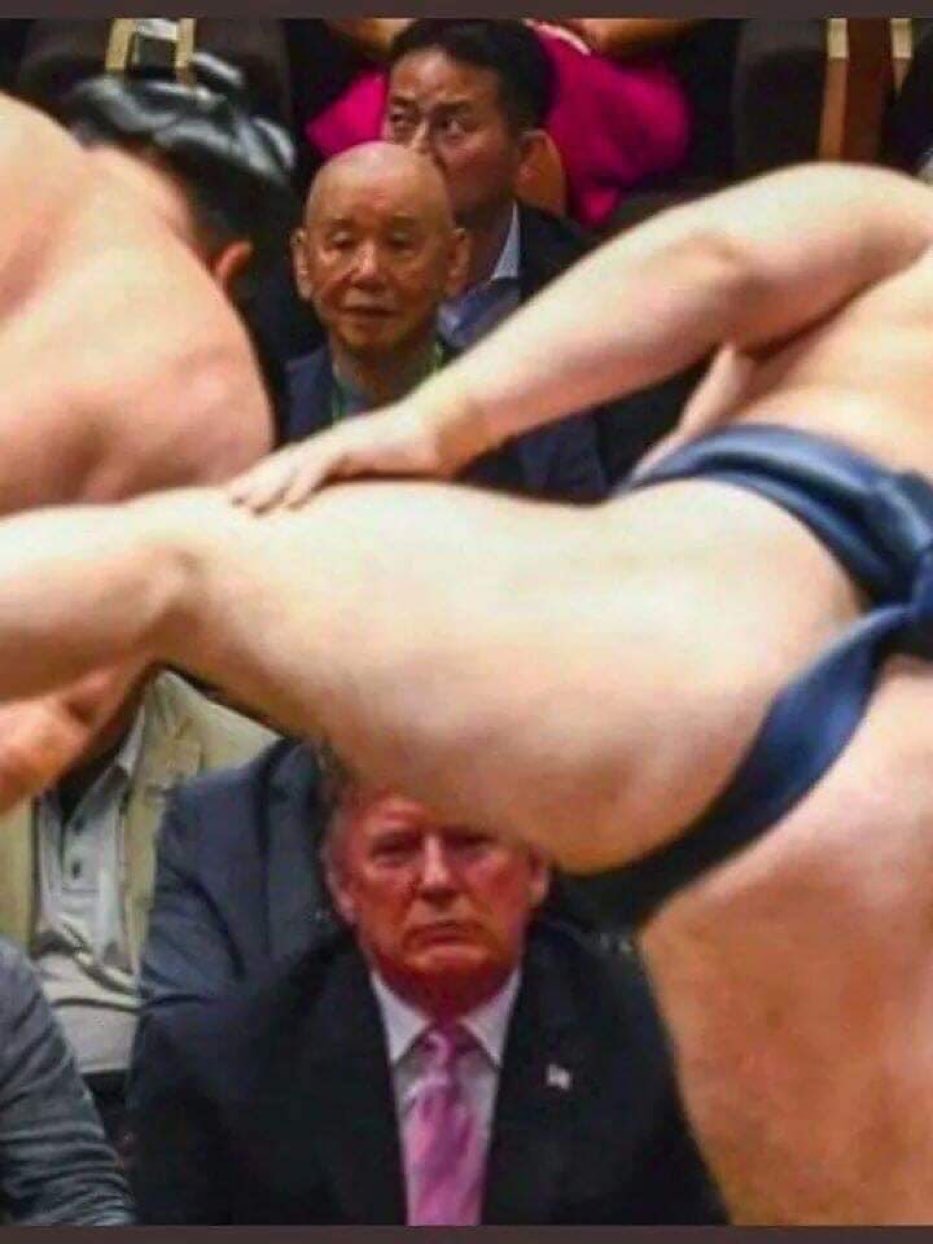 In sumo, referees' decisions can only be overturned by judges and the wrestler accepts the ruling. Even small gestures of dissent such as a tiny shake of the head could land a sumo wrestler in big trouble.

[…]

The hermetic world of the loincloth-clad wrestlers has been rocked by allegations of drug abuse, bout-fixing and links to organised crime. The bullying death of an apprentice wrestler in 2007 plunged the sport into crisis.

And faux sumo matches have also been staged as part of WWE wrestling shows, with wrestlers such as Yokozuna (sumo term for Grand Champion) entertaining the crowd.

Trump ribbed Toyota Motor CEO Akio Toyoda for the supposedly unfair advantage Japanese automakers enjoy in the US. "Japan has had a substantial edge for many, many years," Trump said. "But that's OK, maybe that's why you like us so much," Trump told chieftains of leading Japanese companies including Honda, Nissan and SoftBank.

The exchange exposed the dilemma facing Japanese officials: How do you negotiate with someone who seems to understand neither trade nor basic economics?

Japanese automakers directly employ upwards of 1.5 million Americans. Add in related industries in Alabama, Louisiana, Ohio and Tennessee and the number of jobs approaches 3 million. Also, US barriers to Japanese can also be prohibitive. The US, for example, taxes imports of light trucks at 25%.

When it comes to Washington-Tokyo trade dynamics, Trump doesn't know what he doesn't know. Japanese consumers don't buy cars based on nationalistic impulses, but quality and fuel efficiency. Until Detroit raises its game to Japan's levels, General Motors, Ford and others will continue to bleed market share.