#TrumpRussia … Jared "Danger" Kushner's secret comms are not diplomatic "back-channels"
Hotlines have existed between the US and many countries, but the major one has been the 1963 one established between the USA and Russia.
Apparently Mike Flynn and Jared Kushner wanted to set up a secret communications link using equipment at the Russian embassy although Russian non-governmental parties may have been involved …
What Jared Kushner wanted with secret communication using the Russians' equipment is a matter of conjecture, but we now see a variety of matters on which IC surveillance would have not been welcome in terms of espionage / treason.
These were not "back-channels" as they bypassed intermediaries and one's own IC resources by colluding with countries that have hostile intentions, even to using the foreign country's facilities. 
Ultimately it's still about the lifted Russian sanctions, giving Putin and his oilgarchs a massive financial windfall and all kinds of kickbacks for which Americans?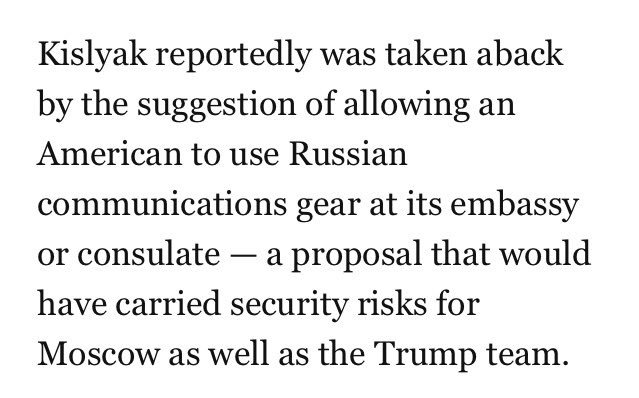 LET'S REVIEW: IT'S PERHAPS THE BIGGEST POLITICAL SCANDAL IN AMERICAN HISTORY.

A semi-hostile foreign government, controlled by a former KGB strongman and his inner-circle kleptocrats, weaponized the use of social media, disinformation and malicious hacking to interfere with our presidential election. And suspicion is mounting that the winning candidate, along with many of his closest advisers, may have criminally collaborated with this foreign government in that endeavor. Likewise, this winning candidate apparently has deep yet undisclosed financial ties, including possible money-laundering scams, with this foreign government and its various wealthy plutocrats…