"We Are In Need Of Another Round Of Deep Institutional Renewal: A Third Republic"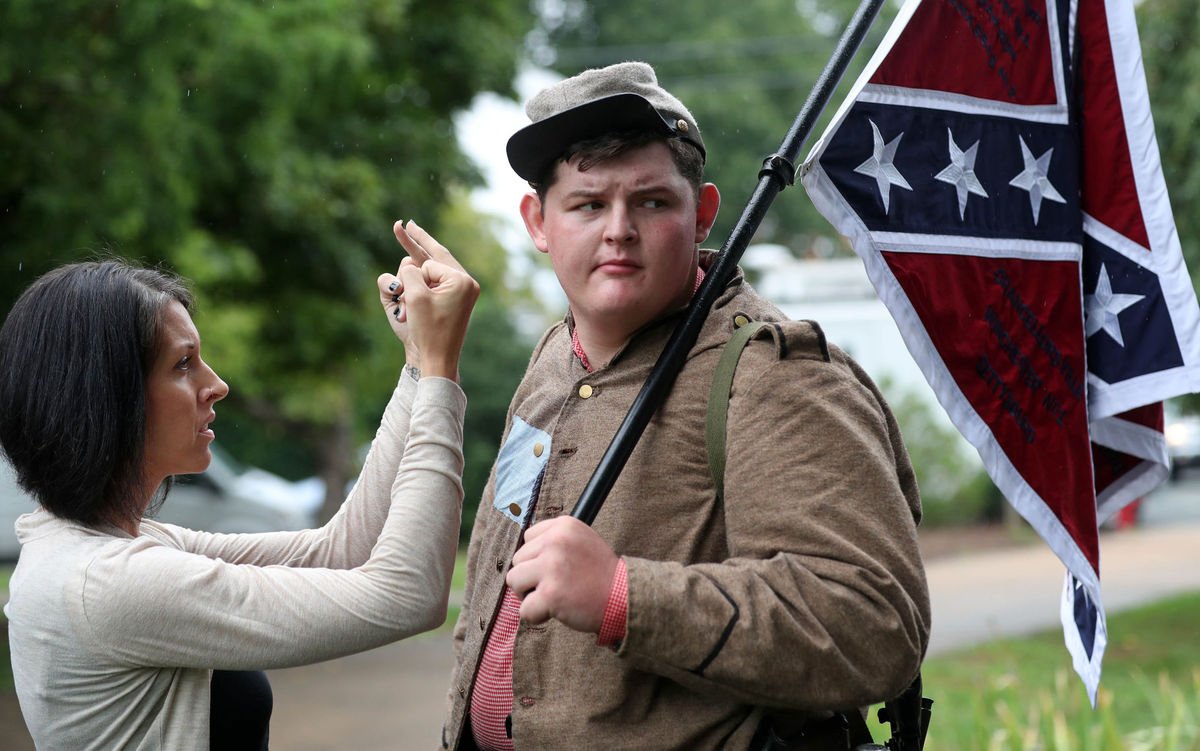 Donald Trump finally divined a means of removing media focus from the Russia espionage scandal that threatens to push him from power and perhaps into a waiting cell. The catch: Changing the subject was enabled by the orange supremacist acknowledging in his most frank manner yet that he's a white-nationalist sympathizer, one who believes there were "very fine people" among the Nazis who descended on Charlottesville and that the sculpted symbols of slavery are "beautiful." It was shocking enough to even back-burner a potential nuclear war with North Korea, which was all the rage before the latest rage.
The Simon Cowell-ish strongman's reprieve from media scrutiny in regards to Putin, financial crime and other illicit matters will only last for so long. A stunning proclamation of support for the "good ones" lined up with a mob chanting "Jews will not replace us!" may mean pundits redirected their attention in the short term, but the same can't be said for Robert Mueller or the Attorneys General combing through documents and records. The investigation may prove a disappointment–or it might be a Waterloo.
· · ·
Trump ending in disgrace—residing in an even deeper gutter than the one he now calls home—would be good for the country, but it won't cure what ails us. Our President is the most odious symptom of our malady but not the malady itself. Our ills are born of decades of anti-government propaganda, the fostering of white resentment by media outlets, wealth inequality, money consuming our political institutions, gerrymandering, the NRA, the pernicious aspects of social media, a steady diet of pseudo-events delivered by Reality TV, etc.
There's something else that's a deal-breaker: ideology. While the majority of the country isn't enamored with a Make America White Again philosophy, a large minority is, and they're not likely to abandon their reawakening should Trump fall. The dividing line seems to be those who wish to recreate the past and those who want to head into the future.
· · ·
The reason Thomas Friedman's "Golden Arches Effect" was doomed from the moment it was written was because potentially warring states aren't always driven by rational forces like money. Sometimes it's personal. That same dynamic is what allows for conflicts within a state. That doesn't mean America is headed for Civil War 2.0, but it is at the very least possible that Charlottesville may be prelude to an extended period of violent acts committed by domestic terrorists. There's no easy way to repair what has rent us apart, something that's valued differently than cash. We just disagree.
· · ·
In "It's Time to Found a New Republic," a Foreign Policy essay by Daron Acemoglu and Simon Johnson, the authors remind that America remade itself politically during the Gilded Age, when a technological boom last created yawning wealth inequality, and argue that we should once again take bold measures to reinvent our governance. They make some good suggestions as to what we can do to counteract negligible corporate income taxes in a globalized age, lagging productivity and other matters that prevent shared prosperity, but there's no mention that many among us simply don't want to share. An excerpt:
Today, faced with serious economic and political dysfunction, we are in need of another round of deep institutional renewal: a Third Republic.

The conditions that brought about the first transformation of American society are strikingly similar to those we see today. At the root of the problems confronting the United States by 1900 was a wave of innovation that sped up growth. The direct benefits of these new technologies accrued to a few, while many others became more uncertain about their economic future.

Early in the 21st century, we have reached a similar phase; the latest technology enables the offshoring of many of the manufacturing jobs that had previously been the mainstay of the middle class, or automates them out of existence. And we witness newly extreme concentrations of economic power, which are again making our politics less genuinely democratic.

There are differences too, of course. The modification of the American republic early in the 20th century would not have been feasible, for instance, without the Civil War, which tore down slavery. Still, there are lessons to be learned.

The prime driver of reform at the end of the 19th century was the progressive movement, itself a reaction to the accelerating technological change and the rise of oligarchs. If America as we know it — or, even better, a renewed, reinvigorated version of it — is to survive for yet another century, it will have to replicate the progressives' achievements. The first task will be to understand the degree of improvisation which accounted for those successes.•