Advanced Analytics in Telecommunications: Why the Lag?
Arguably no other industry has access to as much rich data about their customer base as telecommunications. Communication Service Providers (CSPs) are able to understand their customer location, habits, behaviours and marry this with contextual data. Advanced analytics in telecommunications can facilitate a huge range of insight that should enable them to effectively engage with customers on a personal level.
However, this is clearly easier said than done. Our global survey with TM Forum demonstrates that many CSPs are at a relatively early stage of developing these capabilities — and European CSPs appear to be further behind.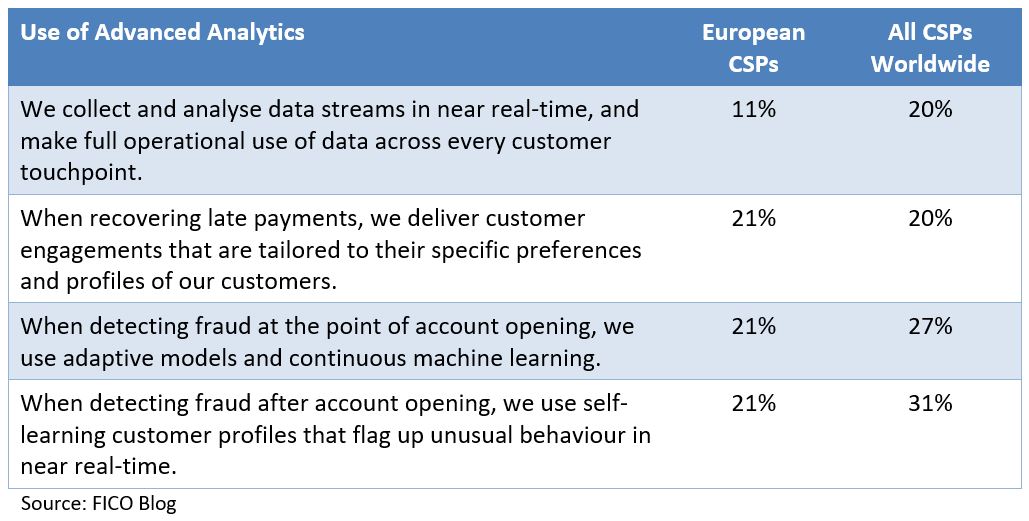 As the competitive battleground has shifted toward customer experience and retaining customers, there has been significant excitement across the industry about how the use of advanced analytics in telecommunications can help network operations maintain and exceed customer expectations through virtualisation. Yet there are currently relatively few examples of this being applied at sufficient scale.
The interesting element here is how the OSS and BSS sides of the business work together to transform not just the network operation, but how the network experience is translated into taking appropriate and personalised actions that are communicated in the right way to a customer.
For example, if a customer experiences some patchy coverage, or latency in data speeds, could this network data be fed into CRM systems to provide an action to apologise and give them "a coffee on us" or other reward according to their preferences? If network analytics predict that some preventative maintenance is required, how can this be communicated to the customer so they are not surprised by a short service interruption?
Using Advanced Analytics in Fraud, Collections and Credit
Further questions arise from looking at the lack of CSPs that are using advanced analytics within business assurance areas such as fraud management, collections and general credit management. We know that organised fraud perpetrators are beginning to use machine learning in order to probe and detect weaknesses in organisations defences. So why are some CSPs lagging behind in rolling out these capabilities, and reducing the reliance on traditional rule-based approaches?
It isn't easy by any means. Most CSPs are large organisations created by merger and acquisition and have a heap of legacy technical architecture to piece together. Many still operate in functional silos that provide different versions of "the truth", with individual areas being protective of their function's data assets rather than having a true holistic view of the portfolio and customers.
The good news is that CSPs are really thinking about how to address these questions and many more. That's what we are discussing with several European CSPs in a special forum today in London, where we're looking at opportunities for advanced analytics in telecommunications.
Screening out the noise to reveal the true insight, and then having the operational capability to transform that insight into an action that delights a customer, is a business challenge that will enable CSPs to recognise the potential of advanced data analytics.
For more information, read the Quick Insights report from TM Forum, Smart Analytics Pays Dividends Across the Customer Lifecycle.