Are You on the Right Path to Customer Experience Maturity?
In my last post, I discussed the eight disciplines critical for companies looking to improve their maturity in managing customer experience. With increased maturity comes a sustainable competitive advantage that is hard to duplicate. But it's important to note that no company will excel in all eight disciplines, even top performers like Zappos and Disney. To lead in an industry, you only need to mature to a greater degree (and preferably earlier) than your competitors.
One thing that can inhibit or promote the speed of a company's maturity is the path taken. This path determines the disciplines in which they focus their energy, and the priority they put on these disciplines. And, unfortunately, there are no shortcuts.
The diagram below is the order prescribed by FICO to optimize a company's use of time and resources to increase maturity, based what works – and what does not work – with our clients. The eight disciplines are contained within the large gray box with a key input coming from a company's business and brand strategies.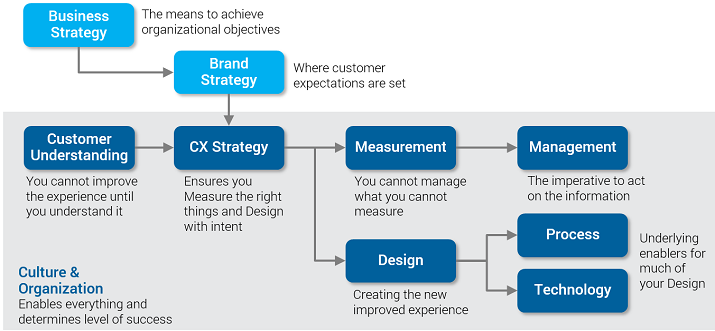 By no means does this diagram cover 100% of all situations, but as a general rule, most companies would be served well by the cadence presented. By and large, if you don't follow this logical order, you may end up wasting your company's efforts and time, and your goal of making your company more customer-centric could stall.
Below are five examples of where companies have started or focused in disciplines outside of this order and the resulting pitfalls they encountered: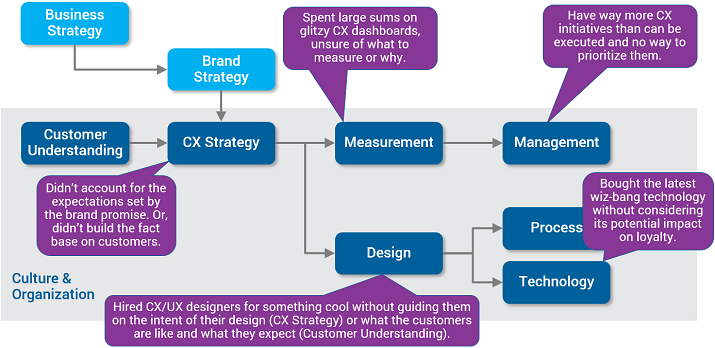 The good news is that you can course-correct by refocusing your energy upstream in areas where you're weakest, filling in the gaps. Or, if you're an early-stage startup or just getting started with CX, you have the luxury of starting down the optimal path.
Having observed what works and what does not in customer experience, I would urge you to evaluate where you are investing effort today against this path and ensure that those investments are being allocated in the right order.
You probably have a decent idea as to which disciplines your company does well and which ones require you to fill in gaps. If not, familiarize yourself here. Else, get started!
Next Tuesday, May 24th at 10:00 am Pacific/12:00 pm Central/1:00 pm Eastern, I will be holding a webinar titled: Measuring and Improving Your Company's Customer Experience Maturity where I will cover this and other related customer experience maturity topics. Please register here and join me. If you can't attend, sign up and we'll send you a recording.