Fast, Personalized Insurance Decisioning: Q&A with Infosistema
Infosistema, a business and technology consultancy, wanted to build a solution that would help its insurance company clients create a personalized experience for each prospect and customer. Working with FICO, the company now can build flexible and customizable auto insurance pricing and life insurance underwriting decision-making solutions, with advanced simulation capabilities, in eight weeks.
I recently had the chance to speak about this with Alexandre Lee, Partner and Board Member at Infosistema.
Q: Can you please tell me a bit more about Infosistema?
Alexandre: Infosistema is a consultancy focused on insurance and banking. We offer web portals, mobile applications, business process management solutions and service-oriented analytics to help insurance and banking institutions all over the world. Our focus is on staying innovative by investing a lot in research and development for our products.
Q: What business challenges were you looking to solve when you teamed up with FICO?
Alexandre: As a consultancy, we are in a unique position to see many different customers struggling with the same challenges. We noticed that our insurance clients were all coming to us to help them with the same issues: insurance quoting, underwriting, claims settlement or litigation processes. We wanted a way to cut down the time to customer value and ensure consistency. We were looking essentially for a solution that would give our business users a competitive advantage with technology that allows them to define, design, maintain and control the entire insurance decision flow process on their own – without being dependent on IT departments to make changes.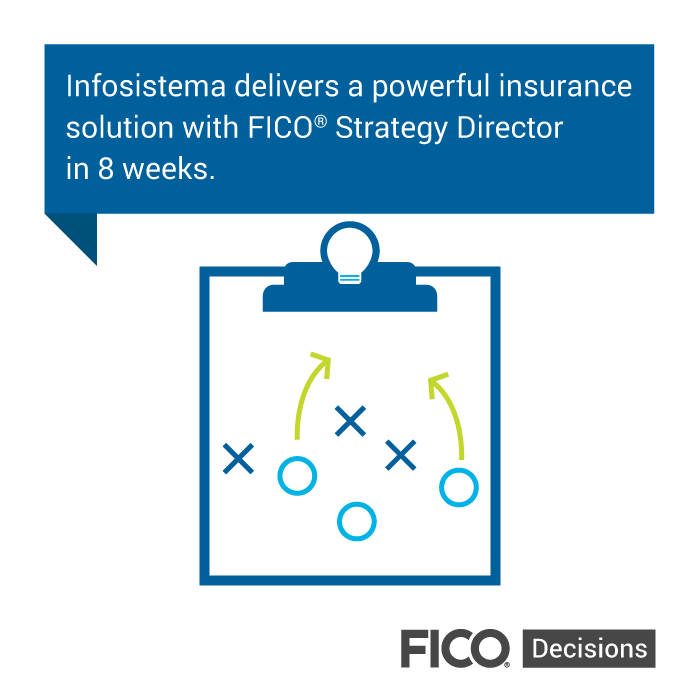 Q: How did FICO help you solve this challenge?
Alexandre: About the same time we were working with these insurance clients, FICO approached us about participating in the beta of a new product called FICO® Strategy Director. Strategy Director would allow us to apply our knowledge of the insurance industry, with FICO's analytics and software expertise, to create an insurance solution very rapidly. Delivering our solution with Strategy Director gave us a way to get an out-of-box, ready-to-run solution. We can tweak the configuration exactly to each client's specific needs. They can then test decision strategy outcomes on intuitive visual dashboards and reports.
Q: You mentioned that developing the solution on Strategy Director was fast – how fast?
Alexandre: I would say that to build a new reusable package in Strategy Director would take between 8‐12 weeks. Sometimes it depends on the complexity of the decision that we are trying to build, but I would say that is the average.
Q: How do you expect Strategy Director to improve business for your clients?
Alexandre: We are just now coming to market with our solution based on Strategy Director. We strongly believe that by giving the business user the capability and transparency of looking at how decisions are made for multiple processes, it will significantly decrease their time to market and help them be more agile in their businesses.
Q: How has your experience been working with FICO?
Alexandre: We've been partnering with FICO on other projects. Strategy Director is just one of them. We are thankful to FICO because their industry experts are always available to guide us down the right path.
We'd like to thank Alexandre for taking the time to speak with us. If you'd like to learn more about how Infosistema is using FICO solutions to manage risk in insurance, read the case study.