FICO Decisions Awards 2018 Now Open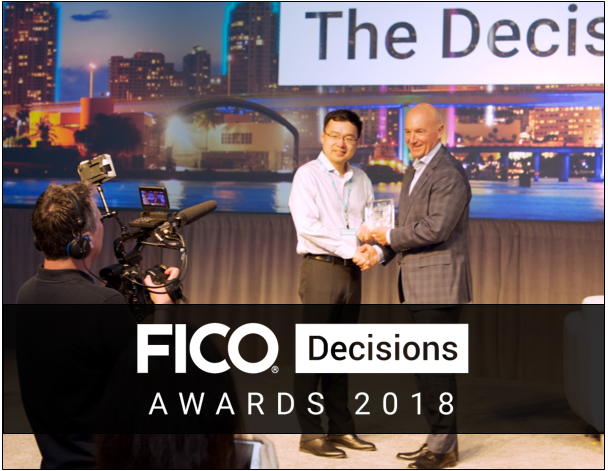 Companies that are achieving outstanding results using analytics and decision management solutions from FICO are invited to submit nominations for the 2018 FICO® Decisions Awards. These awards shine a spotlight on business leaders who are driving their business forward and improving the customer experience using decision automation, optimization, predictive analytics, AI and machine learning. Nominations are due November 14, and winners will be announced in December.
More information: www.fico.com/decisionsawards
A panel of independent judges with deep industry expertise will evaluate nominations based upon measurable improvement in key metrics; demonstrated use of best practices; project scale, depth and breadth; and innovative uses of technology. This year's judges are:
Sid Dash, research director at Chartis for risk management analytics
Tanya Andreasyan, editor at Banking Technology
Anna Milne, editor at Finextra
Julie Conroy, research director for Aite Group's Retail Banking practice
Andras Cser, principal analyst – security and risk professionals at Forrester
Mon Pernia, head of consumer collections, Globe Telecom (2017 winner)
John Rymer, principal analyst – application development & delivery professionals at Forrester
Awards will be presented in seven categories: AI and Machine Learning, Customer Onboarding and Management, Debt Management, Decision Management Innovation, Fraud Control, Financial Inclusion and Regulatory Compliance.
Winners will receive recognition at FICO® World, which will be held in November 2019. Winning implementations will be featured in conference activities, and two representatives of each winning company will receive complimentary conference passes.
"We witness some incredible innovation while working with clients to solve their complex business problems," said Wayne Huyard, senior vice president at FICO for Sales, Marketing and Services. "These companies and their enterprising individuals are champions of business and analytics heroes. These awards shine a spotlight on some of the biggest success stories from all over the world."
Last year's winning firms were Germany's Harry Brot / Asolvo (AI, Machine Learning and Optimization); China's Shanghai Pudong Development Bank (Customer Onboarding and Management) ; The Philippines' Globe Telecom (Debt Management); Malaysia's Credit Guarantee Corporation (Decision Management Innovation); Switzerland's UBS Card Centre (Fraud Control); Latvia's 4Finance and Britain's Vauxhall (Regulatory Compliance, dual winners); and North America's PepsiCo (FICO® Choice Award).