How Are Telecom Providers Managing Cybersecurity Risk?
Data breaches are in the news on an almost daily basis and telecom companies are not immune to attack – indeed, cyber-attacks have led to the loss of almost 50 million customer records in the past 10 years.
For telecom businesses it's not only the frequency and number of records that are breached that is of concern, it's also the type of data that can be lost. Telecom companies are guardians of a rich set of customer data, including financial information. They also hold a valuable set of behavioural data about their customers based on how they use their services. This rich data set is a honey pot for cybercriminals – particularly those using data to fuel identity theft.
We included telecommunications providers in the cybersecurity survey carried out on our behalf by independent research company Ovum. What did we find?
A full assessment of our findings for the Telco industry can be found in our e-book "Cybersecurity for Telecoms –Views from the C Suite." Here are some headlines:
Telecom companies have seen an increase in attacks
53% said they'd experienced an increase in attempted data breaches. The larger telecom businesses had experienced this more frequently – 71% of those with over 10,000 employees said they'd seen attempted breaches increase in the past year. They also expect the risk to carry on increasing; 81% said they expect attacks to increase in the coming year.
Telecom companies think they are doing very well at fighting cybercrime – but are they?
The majority of telecom industry respondents thought that their organization's cybersecurity was better than average, when compared to their competitors. In fact 39% rated themselves as top performers, recognized for their cybersecurity efforts. None thought they were below average.
This is statistically unlikely and a lack of objective measurement of cybersecurity might be to blame. 35% self-assess based on their own benchmarks and criteria and 6% don't carry out a measurable assessment. Objective measurement could well be a starting point for telecom companies that really want to understand and improve their cybersecurity position — taking a free trial of the FICO Enterprise Security Score will help!

There are gaps in the cyber-readiness of telecom companies
When we looked at specific measures that telecom companies could take to combat cybercrime, it became clear that not every telecom company had taken all the steps they could to enhance their cybersecurity posture. Perhaps most shocking was that only 54% of telecom companies had a tested data breach response plan — in Sweden it was only 38%. Telecom companies were doing better in regards to the other specific measures we asked about, but as the graph below shows there are still gaps.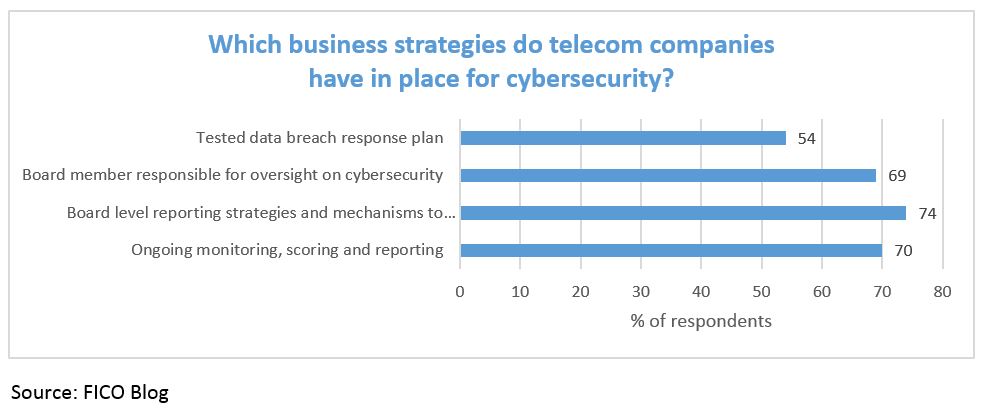 Next year the General Data Protection Regulation (GDPR) comes into force in Europe. This legislation means that the repercussions of a data breach will become more severe and include a substantial increase in the fines that can be imposed. Telecom companies cannot afford to relax their cyber-readiness efforts.
Download the e-book: "Cybersecurity for Telecoms –Views from the C Suite"