Meet the New Financial Crime Sheriff: Analytics
The sheer scope of financial crime—money laundering, evasion of sanctions, financing of terror and other transgressions—is shocking. The past couple of years have been punctuated with blockbuster events like corruption at FIFA, the governing body of international soccer; the Panama Papers; and the 1Malaysia Development Berhad (1MDB) scandal. All of these crimes were years in the making, which makes me think there are many more still out there, still gestating.
Recently the business press has done some excellent reporting on the challenges faced by banks in their de facto position as front-line financial crime fighters. For example, one global bank spent almost $ 3 billion on financial crime compliance in 2015, with a department staffed with 9,000 personnel. As a comparative data point, the bank's 2015 revenues were nearly $ 60 billion.
In another example, a Wall Street Journal article on terrorism financing said:
"[Suspicious activity report] filings on customers—arriving at the rate of 55,000 a day—come largely from banks and money-service businesses, but also casinos, stockbrokers and insurance companies. About 200 million of the 220 million reports collected since 2001 are required filings when customers make cash transactions exceeding $ 10,000.
"Government software combs through the data, extracting as many as 1,000 tips a month related to foreign terrorism, including Islamic State, which are turned over to investigators, officials said. Financial institutions reported suspicions of terror finance about 2,200 times last year."
The article is accompanied by this graphic, which shows you exactly how small, in 2015, the needle in this haystack was: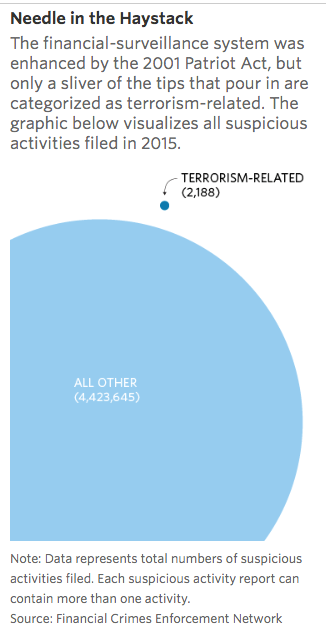 Analytic intelligence comes to the fight against financial crime
At FICO we realize how invaluable predictive analytics can be when applied to many aspects of the financial world. As the worlds of financial crime and fraud continue to blur, we see obvious synergies in applying behavioral analytics to help stem the tide of rising operational costs. It's not just about reducing costs, it's also about ensuring the right investigative resources are focused on the right problem areas.
We've proven analytics' utility in fighting card fraud, providing decision management support, optimizing credit originations and credit lifecycle management, and much more. In short, FICO has helped organizations all around the world harness the power of analytics.
Here are two key capabilities we will bring to the compliance/AML arena:
Prioritize investigative efforts – By tailoring analytics to help determine the likelihood of specific customer actions resulting in an SAR filing, we can ensure that investigators are reviewing the right situations. We can also cut down on false-positives.
Improved know your customer (KYC) coverage – Monitoring and assessing behavior has always been a trademark skillset for FICO analytics. Because KYC needs to stretch from initial due diligence to ongoing monitoring, behavioral analytics can help pinpoint the changes that are simply impossible to identify with rules alone.
In 2015 we acquired TONBELLER, an innovator in risk-based financial crime prevention and compliance. Like finding the relative handful of fraudulent credit card transactions in the billions that are processed daily, predictive analytics are enhancing FICO TONBELLER's solution portfolio, which runs the gamut from anti-money laundering, to know your customer (KYC), to sanctions compliance solution.
By helping banks pinpoint the small number of criminal transactions that occur in the flood of daily financial activity, we are proud to usher in a "new sheriff in town": the power of predictive analytics.
Next week Scott Zoldi, FICO's Chief Analytics Officer, will be blogging about our patents and intellectual property around anti-money laundering and compliance solutions. In the meantime, check out my FICO Fraud Minute video below, where I talk about strategies for enterprise crime. And follow me on Twitter @FraudBird. Thanks.