TBC Bank Wins Award for Omni-Channel Customer Engagement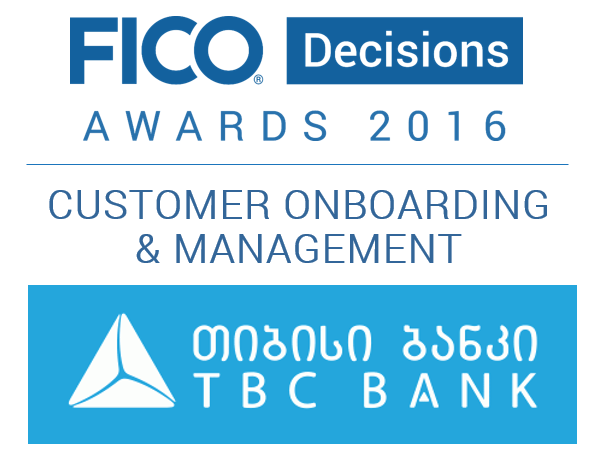 Omni-channel customer management is something you read about more often than you see it. That's one reason that TBC Bank won the 2016 FICO Decisions Award for Customer Onboarding and Management.
TBC Bank is the first in the country of Georgia to introduce omni-channel capabilities to improve its originations strategy. TBC customers can start origination processes through a call center and finish them in an ATM, kiosk or branch for ultimate convenience and efficiency.
In less than a year after deploying FICO® Origination Manager, TBC Bank has seen:
The loan approval rate rose from 50 percent to 70 percent, an increase of 40 percent
The time to decision a credit application decreased from one business day to 15 minutes
Time to market for application changes dropped by 85 percent, as 90 percent of the required system changes are done by the in-house development team
The cost to originate a loan decreased by 50 percent due to lowered manual review processes
The overall level of automation increased from 15 percent to 90 percent
"Developing a fully omni-channel, seamless process is very challenging," said Nicole Sturgill, principal executive advisor, CEB TowerGroup, one of this year's FICO Decisions Awards judges. "Being the first in the country to do so requires extra effort, as customers have to be educated and made comfortable with the new process. TBC Bank's increased sales and automation results definitively highlight the benefits to be gained from an omni-channel solution."
For more information on TBD Bank, watch this video: