Tag Archives:
1960sStyle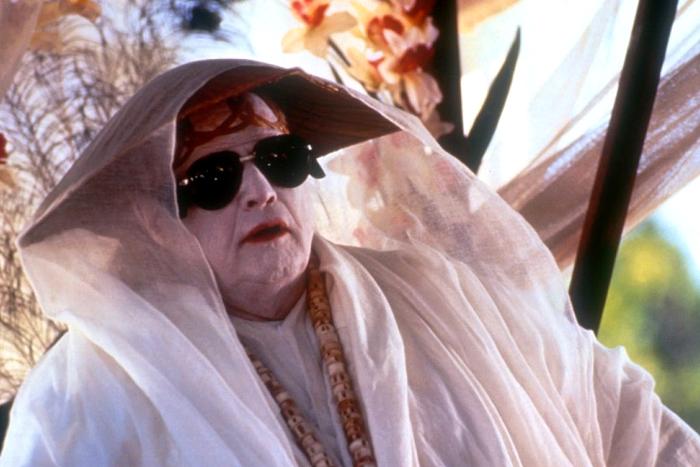 Only Marlon Brando could lure little people, Samoan wrestlers, Philippe Petit, Leonardo DiCaprio, Sean Penn, Whoopi Goldberg, Robin Williams and Michael Jackson to the same acting workshop, and that's what what he did near the end of his life, presiding over a Fellini-esque 10-day symposium displaying the type of leadership John E. du Pont utilized when coaching wrestlers–though thankfully there were no casualties at the Hollywood warehouse rented for the gathering. Brando agreed to teach the class to make money after abandoning a get-rich-quick scheme earthquake-proofing houses.
Benjamin Svetkey has an eye-popping piece in the Hollywood Reporter about the mad scene. An excerpt:
About 20 young acting students and a dozen established stars — including Sean Penn, Nick Nolte, Edward James Olmos, Whoopi Goldberg and Harry Dean Stanton — had gathered to learn at the feet of the greatest thespian of the 20th century. He didn't disappoint. When the doors flung open, the 78-year-old Brando appeared wearing a blond wig, blue mascara, a black gown with an orange scarf and a bodice stuffed with gigantic falsies. Waving a single rose in one hand, he sashayed through the warehouse, plunked his 300-pound frame onto a thronelike chair on a makeshift stage and began fussily applying lipstick.

"I am furious! Furious!" Brando told the group in a matronly English accent, launching into an improvised monologue that ended, 10 minutes later, with the actor turning around, lifting his gown and mooning the crowd.

And that, it turned out, would be one of the more decorous moments of "Lying for a Living," the wild 10-day symposium — as much a 1960s- style "happening" as it was an acting course — that Brando organized and led in November 2002, less than two years before his death. The event is little recalled today — and even back then it slipped mostly under the radar — but those daylong classes, where movie stars mingled with midgets, Madonna's ex-boyfriend nearly caused a riot and an Osama bin Laden look­alike almost gave Jon Voight a coronary, was a never-to-be-repeated moment of Hollywood letting its freak flag fly.

It also featured some of the strangest, and some would say finest, performances of Brando's later years.•
This entry passed through the Full-Text RSS service – if this is your content and you're reading it on someone else's site, please read the FAQ at fivefilters.org/content-only/faq.php#publishers.