Tag Archives:
Analytics&#039
Kenji Gjovig is VP of partnerships and business development at
Content Analytics.
In this exclusive interview, Gjovig offers his insights on managing the customer experience through effective content management.
Content Analytics
VP
Kenji Gjovig
CRM Buyer: What is content management, and what is the key to doing it effectively?
Kenji Gjovig: Content management is all about making sure that [a product] item page has all of the information that a customer needs to buy an item or have a good experience with it afterwards.
What goes into content management varies between retailers. A content management system has the ability to set up new items, post images and video, and create a robust title and detailed item description.
Ratings and reviews are really important, and also elements like size charts and product comparison guides that will help [customers] learn how to use the item and feel good about it.
You have to have all of the information on the screen. These enhanced content elements promote the best customer experience.
CRM Buyer: What are some common mistakes you see in the way companies manage their content, and how can these mistakes be avoided?
Gjovig: The biggest mistake we see is when a brand sees content management as an exercise in just checking the box. They treat it as a spectrum of bad versus good content. There's a huge spectrum of good and bad content, and the biggest mistake we see is when retailers don't deliver a good customer experience.
CRM Buyer: What is the relationship between managing content effectively and delivering a good customer experience?
Gjovig: I think they're directly tied together. If I don't have good content in my item pages, it's going to be a terrible customer experience. If there's a great description but no reviews, that's not good.
If I'm searching for further information, and there aren't good images, I'm not likely to make a purchase. Let's say it's food or consumables. I see the food, but I don't know the ingredients. There's a high correlation between more content and good content.
CRM: What are your recommendations for creating a good customer experience?
Gjovig: Items have to have good attributes and good description, so the algorithms work well. If a customer types in "televisions" on a retailer site, the search algorithm has to be able to serve up the best item for them, so the best analytics tools identify a lot of search options.
If you think about brick-and-mortar stores, the way we might find a product is walking down the aisles. We're physically and visually finding products. In e-commerce, it has to be all done virtually, and it has to be served up to us. If there's not good content on the pages, the algorithm can't serve up the right products, and that affects the customer experience.
CRM Buyer: What is "content health," and how can it best be measured or evaluated?
Gjovig: Content health is an objective measurement of something that is fairly subjective. We have an algorithm that identifies good or bad content. We measure all of the parameters and assign scores to each of these, and we evaluate individual item pages at scale. We're doing it across tens of millions of item pages across the Internet.
We then measure the quality of content based on objective measures. If I'm a particular brand, and I'm managing my content, I want to make sure that my brand is doing well compared to other brands on other websites. We look at things both in a vacuum and more strategically, relative to other brands and retailers.
CRM Buyer: How is the field of content management evolving and changing? What's in the future for content management?
Gjovig: The way I would describe it is that there is chum in the water, and all of a sudden the sharks are coming. That's what's going on now. Every brand and every manufacturer is thinking about how they go to market in e-commerce, and retailers are thinking about e-commerce differently.
When Amazon bought Whole Foods, every grocery store in the country paid attention. E-commerce is the only growing channel, and it's growing at double-digits. Everyone is trying to find a good content management system.
The best ones are those that give both the analytics and the ability to go fix problems. The demand for precise, real-time analytics is increasing, because e-commerce is growing. The need for data and assortment is only going to be more, which means the analytics will need to get better and better.
CRM Buyer: How is content changing and evolving?
Gjovig: The old form of user-generated content is that you submit a question, and the next day someone replies. The next generation is that you get the question answered immediately.
I would say that virtual reality is also on the horizon. You can imagine a future when everyone has a VR device, allowing you to interact with products. When I bought a playset, they had a video that had the camera going around the object 360 degrees.
With VR, you can do things at scale, so you can give the customer a more interactive experience, a virtual view, or a tour of products. We're going to see technology that will provide more interactive experience, giving the customer a better experience in the moment of the shopping experience.


---
SAN FRANCISCO – After a year on the market, Salesforce Wave Analytics, Salesforce's business intelligence platform, has gotten spruced up. But there are continuing question marks among customers and partners about where Wave fits into enterprises' broader analytics toolbox and the partner ecosystem.
The upgrades to Wave announced today aim to make the analytics tool even easier for business users and more native to Salesforce1, Salesforce's customer relationship management (CRM) platform, as well as partner applications. Users can take action directly from any Wave dashboard and use the application in tandem with other applications in the Salesforce1 platform, or with third-party applications.
The enhancements come on the heels of announcements about Wave apps designed specifically for the Sales and Service Clouds. New development underlying Wave creates greater consistency between its user interface and that of other Salesforce1 components. The UI is powered by Salesforce Lightning, the development platform Salesforce announced at Dreamforce last year.
Salesforce executives say that these improvements turn data insight into business action (see Figure 1).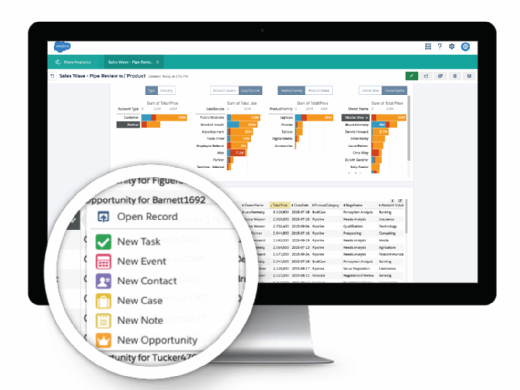 Salesforce Wave enables users to take action, such as create a task for a colleague, directly from the Wave dashboard, which prevents clicking back and forth between applications.
"What we've been working toward since launch is turning data into insights," said Anna Rosenman, senior director of product marketing for the Salesforce Wave Analytics Cloud. "What's next is closing the loop. How can we turn that information into action?"
From fits and starts to critical mass?
In development for two years, Salesforce Wave launched in 2014, after the company acquired BI tools EdgeSpring and RelateIQ. Prior to Wave's release, Salesforce suffered some false starts in the analytics market and was criticized for its weakness in the BI space. Its customers were clamoring for a native tool in Salesforce1 that made data business user-friendly, mobile-ready and fast.
At Dreamforce 2014, Salesforce answered that call with Wave, a mobile-ready analytics platform that shuns schemas in favor of the more intuitive search-based system. This architecture enables business users to easily query data sets and analyze the findings without the assistance of data analysts. At the time, Salesforce touted Wave as democratizing BI, characterizing it as "analytics for everyone." With the ability to handle various data formats and crunch large volumes of data in seconds, the market welcomed Wave with piqued interest.
Some customers aren't sure they want to give up [other tools] for Wave. Jeff KaplanManaging Director, THINKStrategies Inc.
Experts say that the Wave upgrades demonstrate Salesforce's continuing commitment to making data actionable and digestible for the business side. "Salesforce is investing a lot of time and effort into making it a reality and making it of value for customers and ISV partners to build upon," said Jeff Kaplan, managing director at THINKStrategies Inc., an IT consultancy.
Promise and pitfalls in Wave's first year
At the same time, customers and partners are cautious about Wave. Customers may be hesitant to pay the steep price ($ 125 per month or $ 250 per month for the Explorer User and Builder User licenses, respectively), particularly if they have already invested in alternative BI tools.
At Dreamforce last year, while some companies said they were considering Wave, they also noted they were hesitant to dump other BI tools in favor of Wave given its cost and their existing investments.
In 2014, Matt Estes, director of enterprise CRM technology at Managed Health Care Associates Inc. in Florham Park, N.J., said that a major issue was Wave's cost. While MHCA used the Sales Cloud and the Service Cloud, Estes was concerned about spending thousands of dollars for an adequate number of Wave licenses. "The price is too steep at this point," Estes said.
Partners continue to watch Wave's development with circumspection, in some cases because it could unseat their own position in the Salesforce ecosystem.
Recent developments at Salesforce also suggest the company may be modifying its Wave strategy to boost adoption. Salesforce's head of Wave, Keith Bigelow, who was hired from SAP in 2014 to preside over the analytics platform, stepped down in early September. And in August, according to a Morgan Stanley note, Salesforce was entertaining the prospect of Wave discounts.
"On Wave Analytics," the report said, "Salesforce.com is experimenting with pricing and thinking of removing the upfront platform license, leaving just the monthly subscription fees, as a way to drive wider adoption." Both moves suggest a rocky first year for Wave.
Experts agree that pricing and existing tool sets will continue to dictate Wave's adoption curve. "There are customers," Kaplan said, "who aren't sure they want to give up [other applications] in favor of Wave, and partners [who] are apprehensive about how far Wave is going to go. Is it just a modest enhancement to what SF offers, or is it really a competitive threat to what they are offering as partners?"
Kaplan said adoption may continue to be incremental. "Momentum may build only in a modest fashion over the coming months," he said.
For more, check out all our SearchCRM Dreamforce 2015 coverage.
This entry passed through the Full-Text RSS service – if this is your content and you're reading it on someone else's site, please read the FAQ at fivefilters.org/content-only/faq.php#publishers.