Tag Archives:
Aster®
Speeds time to value and benefits big data users everywhere as the most advanced multi-genre analytics can now build on any investment
Teradata Corp. (NYSE: TDC), a leading analytics solutions company, today announced important new deployment options for Teradata Aster Analytics, the world's most advanced multi-genre analytics engine: Teradata Aster Analytics on Hadoop and Teradata Aster Analytics on Amazon Web Services (AWS). Although previous versions of Aster Analytics required dedicated systems, now companies have the flexibility to accelerate valuable analytic insight from their data wherever it resides, building on their existing investments in Hadoop.
This flexibility supports Teradata's strategy for a Hybrid Cloud architecture, the next generation of agility, flexibility, and integration between systems – and a more open approach to advanced analytics. Massive volumes of data from the Internet of Things (IoT), including sensors and digital mobile devices, have resulted in custom-tailored architecture that includes Hadoop and cloud. Teradata now provides significant options for a hybrid approach.
"Many businesses are looking for a way to integrate advanced analytics into their existing infrastructure in an orchestrated, multi-tenant environment. Teradata has just made this possible with Aster Analytics on Hadoop and Aster Analytics on AWS," said Nik Rouda, Senior Analyst, ESG Global, who covers big data analytics. "These new options allow users to provision an analytic environment and start analyzing data they already have in a data lake or in the cloud. With the AWS option, they can forego large CapEx investments and pay as they go while they experiment with advanced analytic technology. In either case, these choices allow businesses to accelerate time to value and meet the analytic demands of their respective user communities – with significant economic advantages."
Click image to enlarge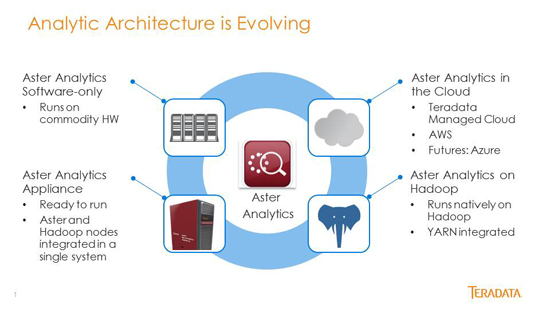 In general, open source advanced analytics packages are not designed with business analysts in mind; they require specialized skills to use, deploy and maintain. And while such tools have been adapted to work with Hadoop, they are not specifically designed to run on Hadoop and, as a result, they typically require data to be extracted into a dedicated platform. These solutions are insufficiently scalable in terms of users, data and use cases.
"A core strength of Apache Hadoop is its extensibility and ability to embrace alternative analytic and processing engines. The addition of Teradata Aster Analytics to the industry's offerings is a genuine advancement and gives customers a powerful new choice for demanding analytic applications," said Mike Olson, Chief Strategy Officer and co-founder of Cloudera, Inc.
Teradata Aster Analytics provides text, path, pattern, graph, machine learning and statistics–all within the same interface and syntax. The new options bring flexibility, with clear benefits:

Teradata Aster Analytics on Hadoop
Broadens the use and value of the Hadoop data lake – Aster Analytics makes Hadoop accessible to general business analysts with SQL and R skills. Aster supports more users across the analytic community.

Runs natively in Hadoop – Rather than move data out of Hadoop into an analytic server, users can eliminate costs, delays and security risks associated with data movement and accelerate the process.

Quickly operationalizes analytics in Hadoop – Users can instantiate development sandboxes and production environments on the same Hadoop cluster against the same data. In addition, Aster provides AppCenter to help analysts build web-based interfaces for business users.
Teradata Aster Analytics on AWS
Speeds time to value – Businesses can quickly provision an analytic sandbox on the cloud and leverage Aster's prebuilt SQL-based analytics to accelerate development. If the model demonstrates value, users can move the same analytics into "production" on the cloud. 

Boosts analytic agility – Provides the analyst with a powerful set of multi-genre analytics at scale to experiment and iterate on massive volumes of data for as long as they have the need. 

Provides financial incentives – Allows businesses to experiment with prebuilt advanced analytics functions and their data assets without the costs of new hardware, setup or implementation.
"The ability to run Aster Analytics natively on Hadoop is a major industry breakthrough and can dramatically accelerate the return on any company's Hadoop investment," said Chris Twogood, vice president, Product and Services Marketing, Teradata. "Aster has always been about connecting analysts with big data at scale. But now for the first time, advanced analytics on Hadoop is fully democratized, so that business analysts as well as data scientists can access the data and analyze it with path, machine learning and graph algorithms. Our new Hadoop and AWS deployment options put business-ready, agile analytics into the hands of more users, at a faster pace, with minimal cost and risk,"
Teradata Aster Analytics on Amazon Web Services will be available in mid-September, 2016. Teradata Aster Analytics on Hadoop 7.0 will be generally available in October 2016.
Relevant News Links
Teradata (NYSE: TDC), the big data analytics and marketing applications company, today introduced the Teradata® Aster® Connector for Spark, an industry-first integration of Apache Spark analytics with Teradata Aster Analytics. The connector enables pre-built analytics functions from both solutions to be executed from Aster Analytics to form a truly multi-genre advanced analytics environment. The result is that virtually anyone who can use Aster Analytics can also run advanced analytics on Spark without the need to learn or know Scala.
The Teradata Aster Connector for Spark democratizes big data through self-service, business- focused, analytic solutions. By enabling ease-of-use for many business users, companies can more quickly identify revenue-driving insights and accelerate business performance. Specifically, the Teradata Aster Connector for Spark gives users many choices and benefits:
1) Customers can now use techniques from both Aster Analytics and Spark (example, Teradata Aster nPath®, used for pattern matching, and deep learning neural network analysis with Spark), and can choose the technique for implementation that generates the best insights upon evaluation.

2) Customers can pipeline various functions together in one workflow that can be executed in Aster Analytics. For example, a text parser function from Aster Analytics can be invoked, followed by a Spark machine learning algorithm, to support the development of an illuminating data model. This sequence can be replicated for other function types.

3) Customers can run a clustering algorithm in Aster Analytics, and a similar one in Spark, and compare results to see which approach is preferred.
"There's huge interest in the in-memory performance and analytical capabilities of Spark, but the universe of data professionals with Spark skills and experience is still quite small as compared to those with SQL skills," said Doug Henschen, vice president and principal analyst, Constellation Research. "Customers seek an ensemble of analytical capabilities expressed in SQL and SQL-like expressions. Moreover, they want in-memory performance and analytical capabilities while abstracting users from complex and unfamiliar Spark interfaces and coding."
Raghu Chakravarthi, vice president of Teradata Aster Engineering, emphasized the value of use cases enabled by the Teradata Aster Connector for Spark.
"The beauty of the Teradata Aster Connector for Spark is its application for a variety of use cases in just about any industry," said Chakravarthi. "For instance, Aster can be the repository for customer data and finance data. Once Aster pre-processes these, machine learning from Spark can be applied to create automatic credit ratings for each customer. Analysts could then use these credit ratings as one variable in a predictive model that ascertains the likelihood of, say, this customer purchasing a new automobile in the next 12 months."
Another use case arena for the Teradata Aster Connector for Spark is The Internet of Things, where large volumes of sensor data are ingested and pre-processed using Aster Analytics. This data can be passed on to Spark for analysis using deep learning techniques. Data on home sensors and thermostats can be combined with other information such as geo-location, resident demographics, and weather conditions to determine usage patterns, to predict instrument wear and tear, and to proactively activate household appliances in response to changing environmental conditions.
Chakravarthi also noted examples in the retail sector, where customer transaction information could be passed to a clustering algorithm like k-means to create product groups – and combined with customer comment data or product reviews to create new insights. He also said financial institutions could mine interaction information to understand the distinct set of conditions that could result in churn. Using Spark to ingest parsed and transformed data from Aster Analytics, additional analytics could be run to determine churn drivers.
The Teradata Aster Connector for Spark will be generally available on a global basis in the fourth quarter of 2016. This announcement is being made at the Spark Summit 2016, where Teradata is a Silver Sponsor and offering demonstrations in Booth C2.
Relevant News Links