Tag Archives:
catastrophe
On Wednesday, the US had the worst day ever for the pandemic, setting new records for Covid-19 cases, hospitalizations, and deaths.
Yes, it is bad in the US. In just one day, 3,656 people died from Covid-19 (more than the number who died from the terrorist attacks on 9/11).
The US will pass 17 million cases today. In two states, more than 10% of the population have contracted the disease.
In some states, hospitals have run out of beds for new cases and are now rationing. Health care workers are overworked and burned out. The number of cases is doubling every two months, so this will get much worse.
Be safe. Stay home. Wear a mask if you have to go out. Thanksgiving was a super-spreader event. Christmas will be even worse. We are not out of the woods yet, and vaccinations will take many months to have a significant effect.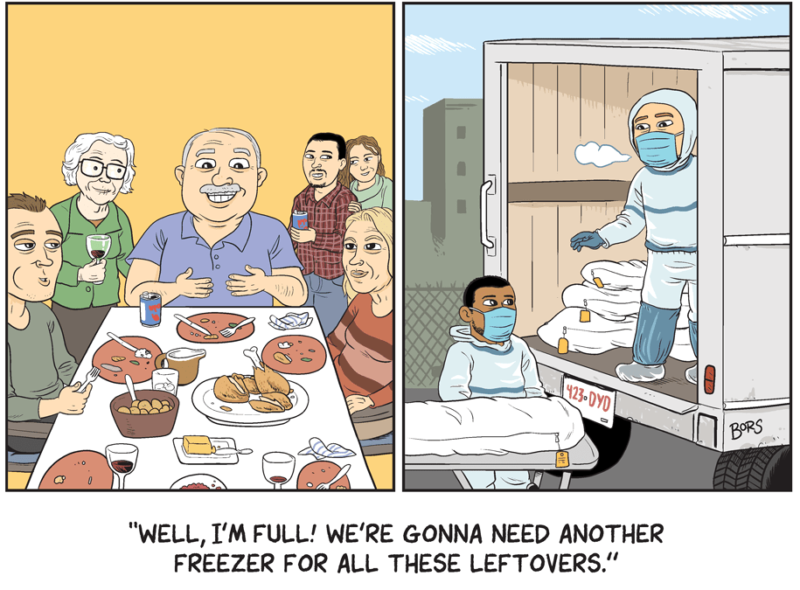 Ahead of today's primary election in New Hampshire, UMass Lowell polled Democratic voters in NH and asked them the following question:
Which of the following outcomes would you prefer occur on November 3, 2020?
– Donald Trump wins re-election
– A giant meteor strikes the earth, extinguishing all human life
You can see the question on page 11 of the poll results, which were that 62% would prefer a meteor extinguishing all human life, compared to 38% for a Trump victory.
Apparently, women are more angry at Trump, voting 68% for the meteor, versus men who are 53% for the meteor.
Likewise, voters who consider themselves moderates were more likely to vote for the meteor (69%) compared to either liberals (59%) or conservatives (28%).