Tag Archives:
Colorado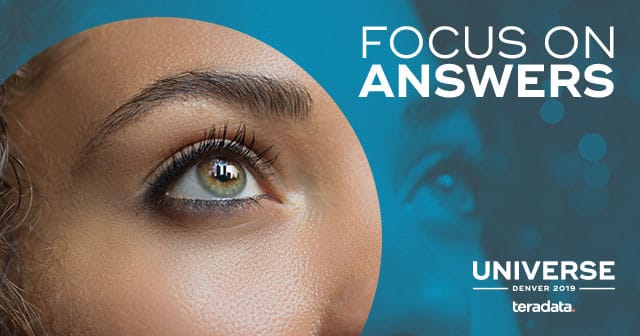 Daily keynotes with industry thought leaders, hands-on training workshops, face-to-face networking events and more, make Teradata Universe one of the best analytics conferences globally
Teradata (NYSE:
TDC
), the industry's only Pervasive Data Intelligence company, today shared new and expanded elements for this year's
Teradata Universe
, the conference where customers, business leaders, experts and innovators come together to focus on the possibilities, opportunities and challenges of next-gen analytics. With a goal of using data and analytics to find answers to the toughest business challenges, this year's event will include thought-leading keynotes from industry pundits, nearly 100 sessions about real-world implementations of Teradata solutions and significantly expanded education offerings throughout the week.
Held Oct. 20-24 in Denver, Colorado, Teradata Universe will host thousands of attendees with business, marketing or technical backgrounds, who select, implement and use analytic data solutions. Heralding from more than 45 different countries, companies of all sizes, and across all industries, attendees will gain a plethora of new contacts in the space, thanks to the conference's natural ability to draw the best data and analytics professionals to daily networking events.
"We're proud that Teradata Universe is
the
essential data analytics conference for people interested in using data to change the way they do business," said Martyn Etherington, Teradata's Chief Marketing Officer. "Session tracks feature cutting-edge technology topics like Cloud, Artificial Intelligence and deep dives into our flagship Vantage product, but also include the often-forgotten, crucial building blocks to making those technologies operational, such as Data Governance and instilling a Culture for Analytics. With a complete understanding of how these elements work together, attendees will come away from Teradata Universe with the insight and skill to implement changes in their own companies – ensuring they get answers from their analytics."
Conference activities include:
Keynotes:
Teradata Universe attendees will be treated to keynote speeches from Teradata CEO Oliver Ratzesberger, as well as Teradata customers and external thought leaders like Cathy O'Neil, author of the New York Times bestselling book Weapons of Math Destruction: How Big Data Increases Inequality and Threatens Democracy, and Erik Brynjolfsson, director of the MIT Initiative on the Digital Economy, Schussel Family Professor at the MIT Sloan School and research associate at NBER.
Additional sessions will include speakers from Forrester Research, IDC, Oxford University, Ventana Research, The Wharton School at the University of Pennsylvania, Radiant Advisors, University of North Carolina, University of Amsterdam, Hired Brains Research, Intelligent Solutions Inc. and The Data Warehousing Institute (TDWI).
Sessions:
Teradata Universe includes access to more than 200 sessions, nearly 100 of which will be best practices shared by other Teradata customers. Topics include:
The New Vantage Platform;
All Things Cloud;
Artificial Intelligence;
Data Governance;
The Future of Advanced Analytics;
Culture for Analytics;
Customer and Marketing Insights; and
Leading Edge Architectural Strategies for Success.
With both technical and business-level tracks, each attendee will come away with tangible ways to improve, augment or innovate on their existing analytic ecosystem.

Networking:
Interspersed throughout each day are networking breaks and social events designed to encourage attendees to learn from thought leaders and talk with peers.

Expected attendees have titles including CIOs, CMOs, Chief Data/Analytics Officers, Architect/Data Engineers, Business Analysts, Data Scientists, Data Warehouse Professionals and AI Professionals.

Hands-on Training:
With three times as many workshops as in previous conferences, this year's Teradata Universe offers significant education opportunities. Tracks include several sessions on using Teradata Vantage for data science with SQL, Python and R, as well as complimentary classes on the Cloud Experience, Driving Outcomes with Vantage and a Teradata Developers Certification Overview. Given the interactivity and hands-on nature of these courses, advanced registration is required and attendance is limited.

Innovative Expo Hall:
Get an up-close look at state-of-the-art new software, technologies, and tools from leading-edge data and analytics companies in the Expo Hall, including Teradata, GE Aviation Digital, Ab Initio Services LLC, Alation, Dataiku, Micro Focus, Minio, SAS, Teradata Education and Certification, Informatica LLC, SUSE, Tableau, Thales, Celebrus, HVR, MANTA, QuerySurge, RStudio, Veritas, WhereScape, AWS Marketplace, International Institute for Analytics, Microsoft and NetApp.

Registration is now open and additional information about Teradata Universe 2019 is available at https://www.teradata.com/Events/Universe
Both Paraguay and Uruguay have a Colorado Party, but their origins and values are very different. Paraguay's
Asociación Nacional Republicana – Partido Colorado
was founded in
1887 by Bernardino Caballero, and is staunchly conservative. From
1947 to 1962, it ruled Paraguay as a single-party state. Uruguay's
Partido Colorado
was created in 1836 as a moderately liberal party, and reigned over the period where stability was established through the country. In recent years, there popularity has waned.