Tag Archives:
Comment
Trump mentioned his cameo in Home Alone 2 now two days ago as a minor aside while referring to the film as a Xmas classic during a video conference.
Twitter decided to make it trend especially among Trump's Canadian anti-Trudeau followers, still triggered by the NATO leaders' gossip that compelled Trump's early exit from their recent meeting.
Mass snowflakery among Trumpists reigned, as Trump-bots whined that the Canadian government "revenge-edited" an extra with a seven-second speaking part named Trump in the 27 year-old movie, Home Alone 2, aired in Canada.
This got amplified as disinformation in other media like Fox News, even as Trump decided to joke about it, reminding us in a tweet that he was "just kidding".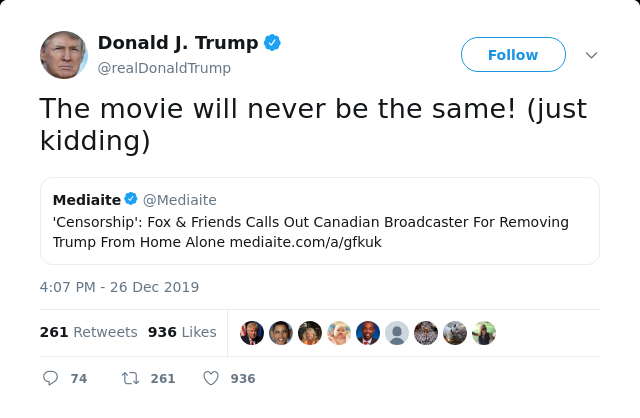 Because no amount of trivia can be omitted from Trump propaganda, and Trump loves to show that he has shtick, even if the film location contracts required Trump cameos for the use of his facilities. CNN had to do what is an obligatory fact-check for a monumental waste of social media.






(CNN)

President Donald Trump tweeted Thursday night about a matter that had been percolating in pro-Trump media circles all day: the Canadian Broadcasting Corp. (CBC) editing him out of "Home Alone 2: Lost in New York."

Trump made a cameo appearance — about seven seconds long — in the beloved 1992 Christmas comedy. But his supporters noticed that the cameo did not appear in the version that aired on the CBC this December.

Facts First: The CBC edited out multiple scenes from "Home Alone 2″ to shorten the two-hour movie for television — eight minutes in all, the CBC says. The CBC's deletion of scenes entirely unrelated to Trump is confirmed by a search of viewers' complaint tweets. Trump was not cut as Canadian retribution for his policies in office: He has been omitted from the CBC version since at least 2015, the earliest we could find viewers tweeting about the deletion. CBC says it actually cut the Trump cameo in 2014, before Trump launched his presidential campaign in June 2015.
Murdoch's NY Post ran with the lie:
Action main-d'œuvre, un organisme à but non lucratif ayant pour mission d'aider les personnes à besoins particuliers à intégrer le marché du travail, cherchait une façon plus efficace de gérer ses opérations que l'utilisation de documents papiers, de documents Word et de tableurs Excel.
L'information portant sur les participants, les membres du personnel et les partenaires n'était pas connectée, ce qui rendait la création de rapports longue et fastidieuse. L'ouverture d'un second centre à l'autre bout de la ville a aussi augmenté les problèmes causés par le fait de n'avoir que des documents papiers sur les participants au programme.
La vision d'Action main-d'œuvre consistait à:
Consolider tous les détails des participants
Effectuer le suivi des activités antérieures et actuelles
Compiler l'information nécessaire aux divers rapports de façon plus efficace
En plus de ces trois buts, ils avaient besoin d'un système pas trop coûteux, n'ayant pas d'exigences trop élevées en matière d'infrastructure et auquel le personnel pourrait facilement s'adapter. Microsoft Dynamics CRM Online répondait à toutes ces demandes.
En implantant les modules centraux de Dynamics CRM ainsi que quelques entités personnalisées pour leurs besoins d'affaires spécifiques, Action main-d'œuvre a pu bénéficier de:
Un niveau d'autonomie plus élevé pour ses utilisateurs
Des temps de réponse plus courts auprès de leurs participants et partenaires
Une réduction significative du nombre de tableurs Excel et documents Word utilisés
Une augmentation de la vitesse à laquelle ils peuvent créer des rapports
Une diminution de leur utilisation de papier
Action main-d'œuvre a été en mesure de migrer l'ensemble de ses opérations vers le système Dynamics CRM. Grâce à une formation du personnel, l'utilisation du système est devenue un réflexe à travers l'organisme et toutes les informations sont maintenant capturées dans le CRM. L'équipe est fière de dire qu'elle a pu se « sortir d'une culture papier démodée et passer aux dernières technologies. »
Un an après l'implantation du système, Microsoft Dynamics CRM Online continue à répondre aux besoins internes initiaux et le personnel s'y est complètement ajusté. Action main-d'œuvre estime que la solution a réellement aidé à structurer l'organisme et à optimiser les services offerts tant aux participants, aux employeurs qu'aux divers partenaires.
Ce que les membres de l'équipe ont le plus apprécié du système est la facilité avec laquelle ils ont pu effectuer le changement. Ils sont convaincus d'avoir trouvé un système qui leur ressemble et qui est réellement adapté à leurs besoins et à leurs activités.
Action main-d'œuvre attribue le succès de cette implantation aux facteurs suivants:
Faites vos recherches pour avoir une meilleure idée de vos besoins
Ayez une vision claire de ce que vous voulez et élaborez un plan
Établissez des échéanciers réalistes pour vous et votre équipe
Prenez le temps de bien connaître le système
L'organisme a également encouragé les utilisateurs à réserver du temps dans leur calendrier pour se familiariser avec le système. En sachant qu'une période d'apprentissage et d'adaptation était nécessaire et normale, ils se sentaient plus à l'aise de prendre leur temps, ce qui a ultimement assuré le succès du système.
Lisez l'étude de cas complète: Comment un organisme à but non lucratif a pu optimiser ses opérations avec Microsoft Dynamics CRM
Apprenez également comment d'autres organismes à but non lucratif ont bénéficié de Microsoft Dynamics CRM et découvrez 17 expériences clients remarquables qu'offrent les entreprises avec Microsoft Dynamics CRM
Par JOVACO Solutions, spécialiste de l'implantation des solutions Microsoft Dynamics CRM et Microsoft Dynamics 365 au Québec