Tag Archives:
courage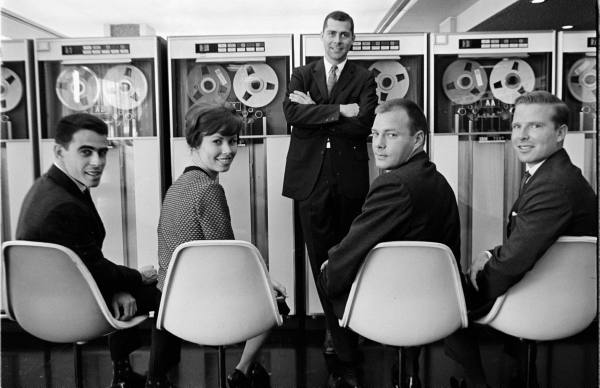 Despite his intelligence–or perhaps because of it–philosopher Nick Bostrom could have just as readily fallen through the cracks as rose to prominence, making an unlikely space for himself with the headiest of endeavors, calculating the likelihood of humans to escape extinction. He's a risk manager on the grandest scale.
Far from a crank screaming of catastrophes, the Oxford academic is a rigorous researcher and intellectual screaming of catastrophes, especially the one he sees as most likely to eradicate us: superintelligent machines. In fact, he thinks self-teaching AI of a soaring IQ is even scarier than climate change. In a New Yorker piece on Bostrom, the best profile yet of the philosopher, Raffi Khatchadourian writes that the Superintelligence author sees himself as a "cartographer rather than a polemicist," though he's clearly both.
In addition to attempting to name the threats that may be hurtling our way, Bostrom takes on the biggest of the other big questions. For example: What will life be like a million years from now? He argues that long-term forecasting is easier than the short- and mid-term types, because the assumption of continued existence means most visions will be realized. He refers to this idea as the "Technological Completion Conjecture," saying that "if scientific-and technological-development efforts do not effectively cease, then all impor­t­­­ant basic capabilities that could be obtained through some possible technology will be obtained."
My own thoughts on these matters remain the same: In the long run, we either become what those of us alive right now would consider a Posthuman species, the next evolution, or we'll cease to be altogether. A museum city can linger for a long spell, beautiful in its languor, but humans doubling as statues from the past will eventually be toppled.
An excerpt:
Bostrom has a reinvented man's sense of lost time. An only child, he grew up—as Niklas Boström—in Helsingborg, on the southern coast of Sweden. Like many exceptionally bright children, he hated school, and as a teen-ager he developed a listless, romantic persona. In 1989, he wandered into a library and stumbled onto an anthology of nineteenth-century German philosophy, containing works by Nietzsche and Schopenhauer. He read it in a nearby forest, in a clearing that he often visited to think and to write poetry, and experienced a euphoric insight into the possibilities of learning and achievement. "It's hard to convey in words what that was like," Bostrom told me; instead he sent me a photograph of an oil painting that he had made shortly afterward. It was a semi-representational landscape, with strange figures crammed into dense undergrowth; beyond, a hawk soared below a radiant sun. He titled it "The First Day."

Deciding that he had squandered his early life, he threw himself into a campaign of self-education. He ran down the citations in the anthology, branching out into art, literature, science. He says that he was motivated not only by curiosity but also by a desire for actionable knowledge about how to live. To his parents' dismay, Bostrom insisted on finishing his final year of high school from home by taking special exams, which he completed in ten weeks. He grew distant from old friends: "I became quite fanatical and felt quite isolated for a period of time."

When Bostrom was a graduate student in Stockholm, he studied the work of the analytic philosopher W. V. Quine, who had explored the difficult relationship between language and reality. His adviser drilled precision into him by scribbling "not clear" throughout the margins of his papers. "It was basically his only feedback," Bostrom told me. "The effect was still, I think, beneficial." His previous academic interests had ranged from psychology to mathematics; now he took up theoretical physics. He was fascinated by technology. The World Wide Web was just emerging, and he began to sense that the heroic philosophy which had inspired him might be outmoded. In 1995, Bostrom wrote a poem, "Requiem," which he told me was "a signing-off letter to an earlier self." It was in Swedish, so he offered me a synopsis: "I describe a brave general who has overslept and finds his troops have left the encampment. He rides off to catch up with them, pushing his horse to the limit. Then he hears the thunder of a modern jet plane streaking past him across the sky, and he realizes that he is obsolete, and that courage and spiritual nobility are no match for machines."•
This entry passed through the Full-Text RSS service – if this is your content and you're reading it on someone else's site, please read the FAQ at fivefilters.org/content-only/faq.php#publishers.
To marketers, social media and other forms of consumer data represent new struggles. To turn these struggles into viable strategies, marketers need fresh and innovative approaches — but they should also follow the example set over 70 years ago by a World War II-era mathematician.
In 1943, near the time World War II momentum shifted against the Axis powers, the Allies faced a particular problem: They were sending a lot of planes on bombing runs over Germany, but not many of them were coming back.
The dilemma eventually fell to Abraham Wald, an Austrian-born Jew who'd earned his PhD at the University of Vienna before emigrating to the United States as the war broke out. Once in the U.S., he joined the Statistical Research Group, a collection of mathematics luminaries tasked with helping the Allies to solve complex questions that could win the war — such as how to mitigate aircraft losses.
---
From VentureBeat
Customers don't just get irritated when you screw up cross-channel personalization. They jump ship. Find out how to save your bacon on this free research-based webinar with Insight's Andrew Jones.
---
Before coming to Wald, researchers from the Center for Naval Analyses had performed a study of returning planes. At first brush, the researchers' conclusion seemed reasonable and intuitive: The Allies needed to add armor to the parts of the planes that drew the most gunfire.
Wald turned this idea on its head. He argued the Naval researchers were mistaken to analyze only the planes that returned from battle. In all likelihood, these planes survived because they absorbed gunfire in places that were already adequately protected. By not considering the planes that were shot down, the researchers lost sight of the central question they needed to solve: Which parts of their aircraft were most vulnerable to enemy fire?
Wald reasoned that surviving planes didn't show damage in certain places because the damage would have been fatal. Instead of improving armor where Naval researchers saw lots of bullet holes, in other words, the Allies actually needed to fortify areas where the surviving planes hadn't been hit.
As marketers who face mounting pressure to make data-driven decisions, here are three ways we can learn from Wald's example.
1. The only thing worse than the wrong answer is the right answer to the wrong question.
The Naval researchers erred by asking the wrong question. The correct question wasn't where surviving planes had been hit; it was where the planes that didn't survive had been hit, and why the damage had been so devastating.
Suppose a piece of marketing content receives a large volume of likes or retweets, for example. Many marketers would assume the content must be effective. But a marketing piece's goal generally isn't to accrue likes; it's to increase revenue. Revenue doesn't correlate with retweets any more than the number of bullet holes on a 1940s bomber correlated with vulnerabilities in the plane's design. When a marketer celebrates retweets and likes without understanding how they affect revenue, he or she is just like the Naval researchers who saw a cluster of bullet holes and assumed, "We should put more armor there."
2. The best insights aren't prescriptive. They combine data and human curiosity.
Wald didn't rely solely on common sense to refute the Naval report. His reasoning can be summarized into something that sounds like simple logic, but to get there he completed a range of complicated calculations. That is, he used a combination of analytical thinking and human intuition.
The moral for marketers: Instead of expecting analytics to be prescriptive, think of them as muses for your own creative process. The goal isn't to find an algorithm that spits out complete, neatly-packaged strategies. Rather, the goal is to find the meaningful signals in the data and to use this information as a starting point for creative strategies. If you have a hunch, validate it through data. If you're unsure how to proceed, stories in the data can put you back on the right path.
3. It takes courage and conviction to be data-driven.
When data defies what everyone expects, marketers have to boldly stand their ground, just as Wald did.
Suppose a movie isn't tracking well. The studio can use a variety of data science and natural language processing techniques to course-correct before opening day. By correlating financial histories with language patterns in consumers' online statements, for example, the studio could identify what's working and not working in its current ads and make adjustments. When the studios do this, they sometimes have to discard ideas in which they've already invested millions in P&A expenses. This is neither an easy nor a comfortable thing to do, but it can save millions more in the long run.
To use Wald's example for today's data problems, ask the following questions to evaluate data strategies:
Am I asking the right question? Am I measuring the factors and using the correlations that will answer this question?
Are my analytics complementary to my human intuition? Can I explore my data while engaging my curiosity and creativity?
Do I have the conviction to turn my data into a strategy? When the data points in unexpected directions, will I stand firm? Or will I revert to the status quo?
Joshua Reynolds heads marketing for Quantifind. He has been spent the last 18 years advising senior leaders at disruptive companies across multiple sectors how to accelerate market adoption by focusing on an authentic purpose. Prior to joining Quantifind, he served as CEO at Blanc & Otus. Previously, he served for five years as the Global Technology Practice Director for H+K Strategies. He began his technology career as a Gartner analyst.
This entry passed through the Full-Text RSS service – if this is your content and you're reading it on someone else's site, please read the FAQ at fivefilters.org/content-only/faq.php#publishers.