Tag Archives:
enablers
Someone has been hired so Trump can tell shit from Shinola
---
Red Hens look out, Zombie Roger Ailes comes to the White House and "Necessary Evil" has a new doorman.
Bill Shine will know what to do with random citizens yelling at Cabinet members and even bloody-eyed media members as state-run media looms… Imagine Molotov coming to mix cocktails or Goebbels coming to help Hess decorate his cell.
Shine's usefulness will be measured in Scaramucci units as #TrumpRussia gets closer to Lord Dampnut. He's already been on the job for a few days and reported to be accompanying Agent Orange to Montana today and we'll see if the schitck changes. Imagine how he'll take John Kelly's place.
Propaganda needs its clerks, too. Lord Dampnut only trusts those discards from the Roger Ailes regime, and Murdoch wants his own back-channel into the Oval bedroom.
Shine's experience suppressing sex crimes will be important as the Stormy Daniels and Summer Zervos lawsuits move forward, likely revealing more 45* character flaws.
Perhaps the MSM can start asking Bill about his past at Fox News, covering up for BillO and Hannity. Or will it go all WWE with Shine attacking Carlson for kafaybe effect.
Shine

is notorious for telling female executives that sexual harassment at

@FoxNews

was a "necessary evil"
"A growing number of women at Fox News have alleged,"

@davidfolkenflik

has reported (

https://

n.pr/2u74biv

),

Bill

Shine

"was aware of deeply inappropriate behavior against them and deflected, ignored or sought to suppress their concerns."

---




www.mediamatters.org/…



"Just Smoke"

I was in his office for one of our chats. On the wall across from his desk was a deck of TVs showing all the news networks. The volume on each was turned off. Shine was sitting at his desk, and I was in a chair facing him. The televisions were behind me. In the middle of our conversation, Shine said, "Excuse me." He picked up the phone and dialed an extension. I heard his end of the call: "Why did you change the shot? Why did you cut away from the fire?…OK, OK. Go back to it, and stay on it." Polite but firm. He hung up.

What was that about? I asked. Shine explained that there was an underground electrical fire near the Gateway Arch in St. Louis, and Fox had been airing a live shot of smoke rising through a grate. When Shine noticed that the director had switched to other news, he called the control booth. Shine wanted to stick with the happening-now images of billowing gray smoke—even though this was far from a dramatic image of a major blaze. It was simply smoke coming through a hole in a sidewalk. No flames. No heroic fire-fighters battling a conflagration. No soot-covered victims. Just smoke. The network followed Shine's command and returned to the shot.

Why do you want to broadcast that? I inquired. With a wide grin on his face, Shine explained: "People will sit on their couches and watch a live shot of a fire for hours and hours. They will not switch the channel. Flames are the best. But smoke is the next best thing. We have smoke. We stick with smoke."

He'll fit right in.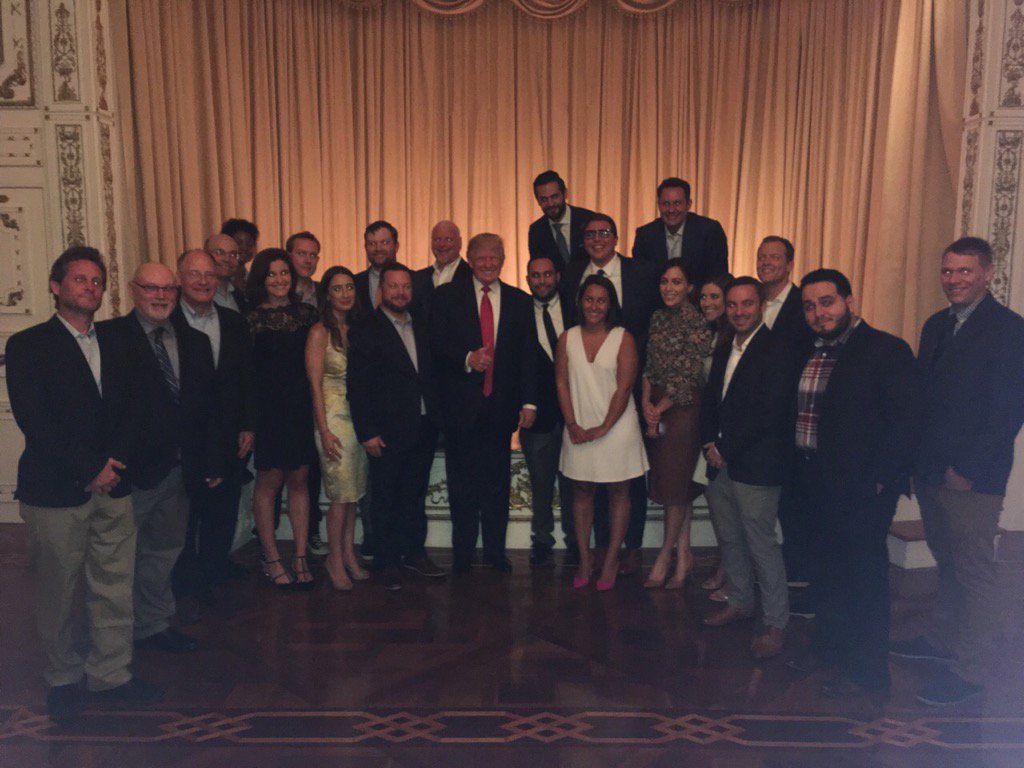 Are these "journalists" blinking hostage messages in Morse code while having off-the-record drinks with Gasbag?
So the two guys who gave us "Game Change" the movie, book, dessert topping and floorwax, are now simply "jocular" as their program "With All Due Respect"  bit the dust.
As blocked as Mark McKinnon's LBJ hat, Halperin & Heilemann reached the end of their professional journalism careers to become Beltway game show hosts in their Showtime series "The Circus".
As we now see on the eve of Orange Gasbag's regime, these Siamese twins playing the role of Steve Wilkos in a bad political imitation of the Jerry Springer show. 
Their future as whipping boys for Amber Wighat will come with whatever hagiography emerges soon.
On the other hand we get something we sometimes get with Anthony Bourdain, snarkiness over expensive dinners. Only in the case of HalHeiny, they give us the usual Beltway cynicism derived from enabling the kleptocracy's ideology du jour, which in this cycle it's that Dixiecrat revisionism that keeps the less polite terms for ethno-nationalism still in power. Do HalHeiny ever talk to POC.
The Circus: Inside the Greatest Political Show on Earth

 "The Circus reveals a more human side of the candidates and paints a clear picture of how grueling life can be on the campaign trail, yet the show fails to provide the type of candid analysis and discourse it alludes to during this incredibly unique and cantankerous election cycle."[4] 
Definitely not "Woodstein" as in Woodward & Bernstein.
Mike Bloomberg has a fun pet name for the pair of journalists who are the face of his company's politics coverage, two big spenders whose 5 p.m. weekday show is "entertainment," he said.

At a town hall on Thursday at Bloomberg LP's Washington bureau, according to several sources with knowledge of the meeting, the former New York mayor said he refers to Mark Halperin and John Heilemann, who host "With All Due Respect" on Bloomberg TV, as "Haldeman and Ehrlichman." (Bloomberg has since apologized for his remarks. See update below.)

That's a reference to two of Richard Nixon's most notorious deputies who eventually went to jail over the Watergate scandal…

In a memo to staff Bloomberg Politics staff, Bloomberg apologized for making the Haldeman/Ehrlichman reference, saying it was a "jocular comparison" that was not meant to be disparaging.