Tag Archives:
"Go
Jesse Ventura has decried how stupid Americans are, but without so many dummies, would he even have a career?
Pat Buchanan has been called the precursor to Trump because of their shared white nationalist platforms, but Ventura is more precisely the orange supremacist's spiritual forefather despite being five years his junior. Like Trump, Ventura crawled from the wreckage of U.S. trash culture, pro wrestling and talk radio, to win a major public office (Minnesota governor) by utilizing off-center media tactics to portray himself as some sort of vague "outlaw truth-teller" while running against the "establishment." He was an "anti-candidate" who made politics itself and the mainstream media his enemies and the public got swept up in the rebellious facade of it all. His great joy in the process seemed to be that his upset victory, to borrow a phrase from Muhammad Ali, "shocked the world," as if surprise and entertainment were the goals of politics and not actual good governance.
After a dismal term in office, Ventura bowed out of politics and fashioned some sort of career from Reality TV (just like Trump), peddling asinine conspiracy theories (another thing he shares with Trump) and making appearances on Howard Stern's radio show (yet one more similarity with Trump.) He did these things in part to make money but also because he's an exhibitionist in need of a surfeit of attention. Sound familiar?
Now both men seem to have the same boss—an often-shirtless guy named Vladimir—as Trump suspiciously refuses to say a bad word about the adversarial nation that greatly helped his candidacy, and Ventura has decided to marry his egotistical horseshit to anti-Americanism on RT, Putin's propaganda channel. The checks must be clearing because the fake wrestler announced on the inaugural episode that Russian interference in our election is fake news. "Where's the proof?" Ventura asks. He'll no doubt remain in a state of disbelief even should Robert Mueller provide copious documents and recordings. The murderous dictator that employs him will demand it.
· · ·
An excellent Daily Beastreport by Ben Collins, Gideon Resnick, Kevin Poulsen and Spencer Ackerman uncovered another aspect of the Kemlin's extraordinary influence on the U.S. election, in the form of the Facebook group "Being Patriotic," which promoted pro-Trump rallies in numerous U.S. cities. The opening:
Suspected Russia propagandists on Facebook tried to organize more than a dozen pro-Trump rallies in Florida during last year's election, TheDaily Beast has learned.

The demonstrations—at least one of which was promoted online by local pro-Trump activists— brought dozens of supporters together in real life. They appear to be the first case of Russian provocateurs successfully mobilizing Americans over Facebook in direct support of Donald Trump.

The Aug. 20, 2016, events were collectively called "Florida Goes Trump!" and they were billed as a "patriotic state-wide flash mob," unfolding simultaneously in 17 different cities and towns in the battleground state. It's difficult to determine how many of those locations actually witnessed any turnout, in part because Facebook's recent deletion of hundreds of Russian accounts hid much of the evidence. But videos and photos from two of the locations—Fort Lauderdale and Coral Springs—were reposted to a Facebook page run by the local Trump campaign chair, where they remain to this day.

"On August 20, we want to gather patriots on the streets of Floridian towns and cities and march to unite America and support Donald Trump!" read the Facebook event page for the demonstrations. "Our flash mob will occur in several places at the same time; more details about locations will be added later. Go Donald!"

The Florida flash mob was one of at least four pro-Trump or anti-Hillary Clinton demonstrations conceived and organized over a Facebook page called "Being Patriotic," and a related Twitter account called "march_for_trump." (The Daily Beast identified the accounts in a software-assisted review of politically themed social-media profiles.)

Being Patriotic had 200,000 followers and the strongest activist bent of any of the suspected Russian Facebook election pages that have so far emerged. Events promoted by the page last year included a July "Down With Hillary!" protest outside Clinton's New York campaign headquarters, a September 11 pro-Trump demonstration in Manhattan, simultaneous "Miners for Trump" demonstrations in Philadelphia and Pittsburgh in October, and a pro-Trump rally outside Trump Tower last November, after his election victory.•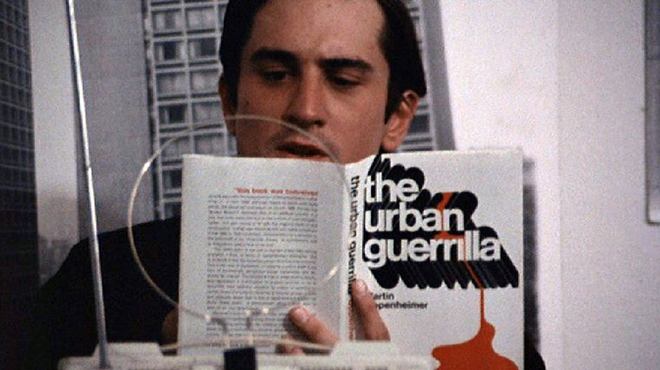 New York City was always about money, but it wasn't only about it. Now it is. 
The economist Tyler Cowen believes American cities will be only for the rich in the not-too-distant future, and that we'll look back in wonder that poor people used to actually live in such glamorous places. I still don't believe that's true–or don't want to believe it–but the NYC non-rich are being treated like suspects and moved out to the edges until they fall off. And it's a long way down from there.
Real estate prices are booming, a global market snaps up addresses, Airbnb helps move rental stock off the market and subsidized rents are quickly disappearing. Sometimes I still like it here, walking in Soho or buying books at the Strand, but I do increasingly feel like an expat in the city where I've always lived.
From Michael Greenberg's New York Review of Books piece about the documentary Homme Less:
The spike in prices has profoundly altered the psychology of these neighborhoods, threatening the security of thousands of long-term residents, many of them families with working parents. The transformation has been dizzyingly abrupt. The process of repopulating a neighborhood with a wealthier class of residents that took twenty years on the Lower East Side during the late 1990s and early 2000s can now occur in five years or less in some parts of Brooklyn and Queens.

In August 2013, for example, Burke Leighton Asset Management bought 805 St. Marks Avenue, a pre-war, six-story building with two hundred apartments in the Crown Heights section of Brooklyn, for $ 22 million. In May, a little more than a year and a half later, they sold it to a Swedish real estate company called Akelius for $ 44 million. Akelius's CEO said that he decided to invest in Crown Heights when he saw an increasing number of young people with "single-speed bicycles" in the neighborhood. I've no knowledge of Akelius's plans for the building, but the only sure way to derive a reasonable return from this level of investment would be to find a means to deregulate the rent-stabilized apartments, and this invariably involves dislodging the families who live in them.

Over the past fifteen years New York has lost more than 200,000 units of affordable housing—20 percent of the current stock. The rate of loss has accelerated in recent years, putting the future of the city's remaining rent-regulated apartments in grave doubt. What becomes of a city that economically bars its working class from living in it? New York may be in the process of finding out. Once apartments become deregulated, they never come back.

Where do the dislodged go? And how many are there?•
This entry passed through the Full-Text RSS service – if this is your content and you're reading it on someone else's site, please read the FAQ at fivefilters.org/content-only/faq.php#publishers.