Tag Archives:
Hates
Eric Trump doesn't hold back, and tells Sean Hannity what he really thinks about Democrats:
I've never seen hatred like this. To me, they're not even people. It is so so sad. Morality is just gone. Morals have flown out the window. We deserve so much better than this as a country. It's so sad — you see the Democratic Party and they are imploding. They're imploding, they have no message. You see the head of the DNC who is a total whack-job. There's no leadership there. And so what do they do? They become obstructionists because they have no message of their own.
Watch him say it:
Wow. What level of hatred is it to say that Democrats aren't even people, to completely dehumanize them? That would be like if I posted this screen grab from the interview, and said that Eric Trump is clearly not human, and is a vampire about to feast on Hannity's blood and steal his soul.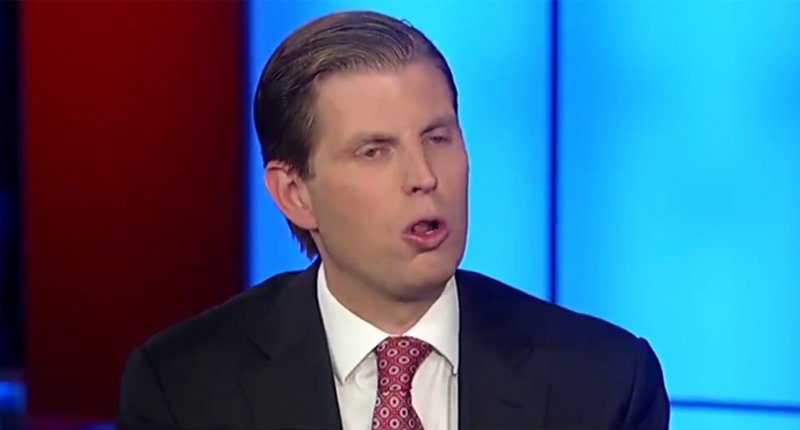 But I would never say such a thing. Because I'm not sure if Hannity has a soul any more. His ratings are way down.
In fact, the ratings of pretty much all Trump-supporting media are down. Worst off is Breitbart News, whose site traffic has dropped 53% since November, and their advertisers and sponsors have plummeted from 242 as recently as March down to 26 (that is not a typo — an order of magnitude) in May. I guess Breitbart's base was happier back when they were publishing anti-Obama propaganda instead of the current pro-Trump propaganda.
The same thing seems to be true of Sean Hannity. In the video above you can hear Hannity interrupt as soon as Eric Trump stops attacking Democrats and starts defending and praising Donald Trump and his family (i.e., himself).
My question is, does Eric Trump have a message of his own? Because his whole family seems to be imploding.
Does the engagement on your Facebook page seem too low? And does it seem like it shouldn't be that way, especially when you've done well in the past and/or took all of my advice on how to do social with the little time you have?
Facebook has made some News Feed changes and because of that, you're going to have to make some changes. But don't worry – you still have a fighting chance if I have anything to do with it.
The deal on Facebook's News Feed changes
Your engagement levels are at risk! I repeat: your engagement levels are at risk!  Once again our friends at Facebook changed the social game with their latest January 2015 News Feed Update. After much surveying and analyzing feedback, they've decided to control the volume of organic promotional posts that people see. Anyone posting the following types of posts should see a dramatic decrease in engagement:
Posts that solely push people to buy a product or install an app

Posts that push people to enter promotions and sweepstakes with no real context

Posts that reuse the exact same content from ads
Feel a little indignant
Are you thinking, "How could Facebook do this to us?!" Before you throw your computer across the room and curse the Facebook gods for their new rules [and by gods, I do mean Mr. Zuckerberg and his developers], let's chat about why they did this.
The latest update wasn't to ruin the chance for Pages to succeed in news feeds; what Facebook really wants is a better experience for audiences on their platform. While I want to be mad since this update makes it harder for small business owners like you and me to market to our customers, can we blame them? They are listening to users and giving them more of what they want.
Yes, I said it (grudgingly): Facebook did something right! I'm not a Facebook hater, but let's be honest, Facebook doesn't make it easy to like them when engagement on your page is dismal; it actually makes you feel like they never want people to see your content. But that's not the case – they want users to see the content they want to see. It's right for users, but it's going to be right for you too.
Facebook called your bluff, so raise your stakes
Maybe you got around having to pay for Facebook ads with promotional posts to get customers to opt in or buy. Well, Facebook is onto you. No more promotions or ad-like gimmicks through organic posts. News Feeds are meant for relevant content, not spamming people. So you can fold that sales pitch you were holding on to.
But wait – this is actually a really good thing! Facebook is giving you the opportunity to raise your stakes and show your worth.  Instead of using Facebook for sales or promotion pushing, try this instead:
Become a resource: When all you do is talk about yourself, people get bored. Share relevant content and solutions that could help your customers. Tips, tools, news, and industry trends are all things fans will appreciate more than a sales post.
Build relationships: Listen to and be part of conversations, and share behind the scenes look at your business. Gain your fans' trust by being honest and entertaining.
Serve your potential and current customers: Let prospects and leads know what they are missing out on by sharing customer success stories, case studies or statistics – but don't boast, people don't like big egos! To serve current customers, use your page as a customer service portal by addressing issues quickly and graciously.
Have fun: Don't be too stuffy – that might be why your engagement is down in the first place. Post funny or inspirational items to connect with your audience in a creative and light hearted way.
Optimize your page: Utilize all of the creative space on your page in new ways and test often. Use the cover photo and create custom content tabs (like below) with your calls to action, as we did on our GroSocial page. The News Feed is for creating relationships, the page is for selling! 
So, where's the silver lining?
The fans have spoken; it's time to listen. If Facebook realized there was enough feedback to make a change for their customers, you should get on board! They may be forcing your hand by dinging engagement levels, but so be it if it better serves their audience; and after all, their audience is your customers/fans. So, here's the good news for you:
Spam marketers won't be hogging precious space on your followers' newsfeeds, giving you a chance to fill those slots.
You'll be giving customers/fans what they've asked for which will make them much more willing and likely to engage.
Planning and changing now will save you time, money and energy later.
Unlike rates will come down now that your fans are receiving high quality interactions from your business.
And about that silver lining … Facebook doesn't really hate you; think of it as tough love. They don't want businesses bombarding fans with sales pitches and bogging down newsfeeds with irrelevant content. They love and value businesses with pages because it drives traffic by the billions. So take on their latest challenge and be better for your fans: It's what they're asking for.
Recommended article: Chomsky: We Are All – Fill in the Blank.
This entry passed through the Full-Text RSS service – if this is your content and you're reading it on someone else's site, please read the FAQ at fivefilters.org/content-only/faq.php#publishers.