Tag Archives:
Outreach
In today's busy world, our target customers are constantly being bombarded by ads and messages wherever they go, making them almost immune to these tactics. As a result, most of these efforts are often interpreted as background noise and easily ignored at times when customers just don't have time to engage. That is why time is one of the most crucial factors impacting the success of your marketing efforts.
Knowing when your customers are ready and willing to pay attention to what you have to say will increase your chance of captivating them, guiding them through the customer journey, and motivating them to choose you when the moment arrives to make a final decision. Better yet, you should be prepared to make a good impression when your target audience comes looking for you.
Reaching your customers at the most appropriate time can be immensely challenging, especially for those of us dealing with various customer segments in different geographical locations. To help you determine a recipe that works for your customers, we've compiled these strategies so you can ensure that you always strike while the iron is hot with your marketing efforts.
Ensure Your Messages Get Read by Optimizing Your Sending
Timing is extremely important when it comes to ensuring the success of your email marketing efforts. You can craft the perfect subject line, message, and CTA, but if your email is sent at the wrong time, it can easily get lost in the clutter. Thankfully, there exist methods to determine the optimal sending time for your audience.
Segmenting your audience based on geographic location is a good place to start when it comes to determining the optimal sending time. This practice will help you ensure you are reaching out during working hours, when your contact is most likely to be online and taking care of business.
Testing and analyzing your email send times can help you gain a better sense of when your target audience is more likely to engage with your messages. You can do this by sending similar messages to the same audience at different times, and then reviewing your results to see which send times resulted in higher open rates.
Better yet, Act-On's marketing automation platform features Adaptive Sending, allowing you to adapt to the preferred email viewing time for each contact on your list. This advanced technology predicts the best time to send your email to each audience member based on their previous history and makes sure your message land in your recipients' inbox at the optimal time for improved engagement.
Contact Customers on the Go with SMS Marketing
Most marketers know that keeping their marketing efforts mobile-friendly is a best practice to attract and engage their target audiences. While most of us apply this rule to email and websites, we often forget that SMS marketing is also an option.
What makes SMS marketing effective is that it ups the chances of your messages getting seen and read. While your contacts may ignore their email for days, turn off their social media notifications, or forgo opening web browsers on their phone, chances are they are constantly keeping up with their text notifications while they are on the go. This provides the perfect opportunity for you to place your offerings on their radar and get noticed.
As with all your marketing efforts, not all are created equal. If you really want to get noticed and encourage engagement from your audience, try making your messages more personal. For example, Banana Republic is extremely successful with their SMS marketing efforts by appealing to their audience by using casual terms like "friends" and "yours" and promoting local events (1). These tactics resonate with their audience members and motivate them to engage.
Deliver Web Content Appropriate to Their Current Stage in The Customer Journey
Websites continue to be at the center of the customer journey, and it's where your customers are most likely to go when they want to find out what you're all about and how you can help them. Enabling them to see value in what you have to offer requires that you provide them with a personalized experience that resonates with what they want and where they are in the sales cycle. The best way for marketers to do that is to match their customers with relevant content that answers their current questions and keeps them wanting more, moving them along from one phase of the buyer journey to the next.
While in the past website personalization seemed out of reach for most marketers, it is now achievable for any business or organization thanks to today's advanced technology. Act-On's Adaptive Web solution makes it easy for any marketer to leverage machine learning to deliver web content relevant to their customers' interests and current stage in the sales cycle.
Take Advantage of Micro-Moments by Creating Content That Answers Your Audience's Most Pressing Questions
The concept of micro-moments has been trending the past few years as more and more consumers are turning to their phones looking for immediate answers and solutions to whatever is occupying their mind at the current moment. These moments when your audience members are looking for answers provide the perfect window of opportunity for you to appear in their search engine results, offer answers to their questions, and stand apart from your competitors.
Landing pages are a great tool to use to provide curated content that addresses your customers' pain points and introduces them to your brand. Gating at least one piece of content behind an adaptive form on your landing page allows you to collect your target customer's contact information so you can continue to engage and nurture them in the future. If you're wondering what question or topic your landing pages should address, try looking at top keyword searches in your Google Analytics reports to gain a sense of what your customers are looking for.
If you'd like to learn more about how you can take advantage of micro moments, check out this blog post.
An Omnichannel Approach Is Essential
If you want to reach your customers at the best time, you can't rely on a single marketing tactic and expect engagement. Engaging your contacts wherever they are and a time that works for them requires you to cast a wide net by adopting an omnichannel approach. Providing your customers with a personalized experience through every possible channel will make you recognizable and increase your chances of capturing their attention and the conversions you crave.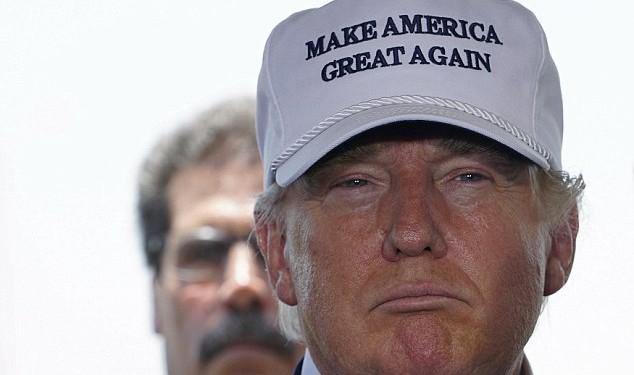 Donald Trump, a gout-ish dummkopf who makes Juggalos blush, has no interest in being President, a position that requires commitment, foresight and maturity, qualities he sorely lacks. He jumped into the race impetuously during one of his many glucose spikes, demanding attention for his man-baby ego, and has been unable to disqualify himself from the odious GOP race no matter how disgraceful his behavior. The fledgling fascist will just have to keep upping the ante as he tries to dream up some exit from the trail.
Early in the campaign, Edward Luce of the Financial Times made a prediction already realized: The miserable mogul may accomplish an egress after sullying the season, but the hatred he stirs up isn't going anywhere.
From Ben Schreckinger at Politico:
The Ku Klux Klan is using Donald Trump as a talking point in its outreach efforts. Stormfront, the most prominent American white supremacist website, is upgrading its servers in part to cope with a Trump traffic spike. And former Louisiana Rep. David Duke reports that the businessman has given more Americans cover to speak out loud about white nationalism than at any time since his own political campaigns in the 1990s.

As hate group monitors at the Southern Poverty Law Center and the Anti-Defamation League warn that Trump's rhetoric is conducive to anti-Muslim violence, white nationalist leaders are capitalizing on his candidacy to invigorate and expand their movement.

"Demoralization has been the biggest enemy and Trump is changing all that," said Stormfront founder Don Black, who reports additional listeners and call volume to his phone-in radio show, in addition to the site's traffic bump. Black predicts that the white nationalist forces set in motion by Trump will be a legacy that outlives the businessman's political career.•
This entry passed through the Full-Text RSS service – if this is your content and you're reading it on someone else's site, please read the FAQ at fivefilters.org/content-only/faq.php#publishers.