Tag Archives:
sensitivity
In my previous post, I looked at how pricing optimisation is more necessary than ever to address the need for auditable pricing controls, additional segmentation for vulnerable customer groups, and the growing number of pricing and operational constraints needed to meet fairness rules and satisfy the regulator. The UK's Financial Conduct Authority have recently launched investigations into the fairness of using price sensitivity in pricing decisions for financial services products for consumers in the UK, and released their initial discussion paper on the subject on 31st October 2018.
Setting the right price for each customer is arguably fairer than a one-price-for-all approach when customers and their behaviours can be so vastly different. For example, in the lending space, without a risk-based segmentation and pricing strategy, the outcome might mean that lower-risk customers end up subsidizing higher-risk customers, which one would anticipate would fall outside of the FCA's view of fair treatment. For 'at risk' customers, optimisation engines may be used to segment pricing and communication strategies, or set volume or price thresholds, on those customers most likely to attrite, to go bad, or those with attributes that may identify them as vulnerable.
Price Sensitivity Is Just One Factor
The view that pricing optimisation outcomes focus squarely on a customer's price sensitivity may be short-sighted. While it is true that the more commoditized a service is, the more price becomes a key decision lever, financial services organizations in the UK are working hard to differentiate themselves with new innovations and services. Consumers are looking for services to be relevant and interesting and to be perceived as delivering value, and firms are looking at how to provide that value-add.
Pricing is only one of the classic four areas of marketing that influences a customer's decision to take up a product – proposition (which includes brand and service), product (the type of product and its design), price and promotion (the communications and messages used to present the product to the customer). There remains a valid argument that a customer will only pay the price that is aligned with their perception of value and that a higher rate may be a fair trade for the value they receive. Price optimisation looks at the value/price trade-off that is at the heart of value-based pricing. You could argue that, far from being discriminatory, pricing optimisation simply gives the customer what they are most likely to want.
An understanding of how all of these competing factors interplay is necessary to devise the right price for a customer segment at the right time, and the approach needs to be explainable. As well as being able to solve for a value-based approach, optimisation enables the future delivery of the right price, for the right product, with the right message, at the right moment, to the right customer, and provides the supporting business insights and audit trail to be able to defend the strategy to the regulator.
Complex Models for Price Optimisation
Optimisation models can look at historical response data to all of the things that make up a product or service, including the price. These sophisticated models look at a blended response to the combined product, pricing, communication and service features both for the firm in question and against their competition.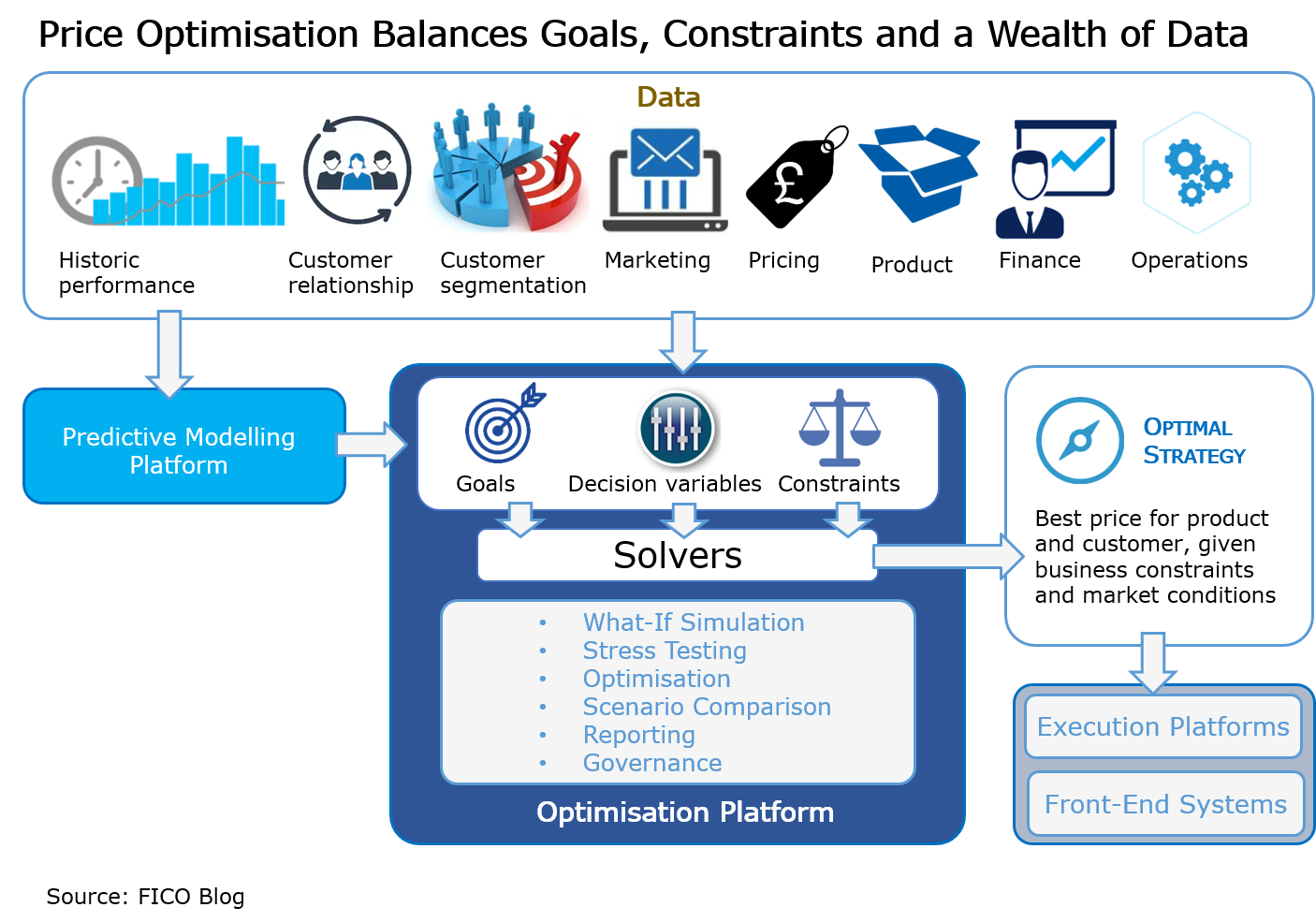 Optimisation can be used, for example, to set marketing spend budgets by channel, rather than just manage a price. The variables underpinning the modelled behaviour may include marketing spend and channel, customer persona (used for marketing message segmentation), economic factors, competitive environment, and product features, as well as an individual's budget, financial strength, breadth of relationship with the financial institution, customer service preferences and other attitudinal indicators, as well as their price sensitivity. It is key to leverage all of this data. Not including these elements can limit the degree of understanding and potential for the decisions being made.
Avoiding Pricing Discrimination
As the FCA states, it is not always straightforward to judge whether pricing discrimination has occurred. One of the reasons for this is that setting the right price (alongside the right communication strategy and product design) is an incredibly complex problem to solve. It requires the mining of lakes of data, the balancing of multiple variables, requirements and rules, and efficient pricing and re-repricing functions and processes.
Senior leaders in banking and finance are wondering how the FCA's investigations might impact them. Far too many are reliant on manual processes. Far too many are at the mercy of siloed, tactical analytics that cannot hope to solve for all of the variables across the bank or financial institution, to demonstrably set a right and fair price for each customer for each product. Far too many are struggling with siloed product, pricing and marketing functions acting independently, with differing views of the customer.
To really deliver the right offer to each customer at the right time, and not just make a proposition or pricing decision based on how they respond in one product area, requires a complete customer view, taken from all the areas that the customer touches across an organization. This requires the ability to pull in and use up-to-date customer data from all areas of an organization and to use that to identify a customer's wants and needs in a holistic manner. The answer lies in optimisation and enterprise-scale streaming and data processing technology. As capabilities develop, machine learning and AI can be applied to further drive efficiencies in the modelling and decision execution processes.
Pricing optimisation solutions are no longer for those finance leaders just looking to be innovative. They are, with the right advice and application, the most efficient, easily executable and transparent way to respond to the amplifying call from customers and regulators to put the customer at the heart of all product, pricing, marketing and service decisions.
Effective HR data analytics requires close collaboration between data scientists and business managers, according to experts from Chevron, Morgan Stanley and Wal-Mart who participated in a recent panel at the HR Technology Conference & Exposition in Las Vegas.
The panel was moderated by Brian Kelly, president of Vestrics, a maker of cloud workforce analytics software based in Chapel Hill, N.C. In the first part of this panel report, the experts explained how they use HR analytics for workforce optimization.
HR data analytics and business teams must work together
Jeremy Shapiro, an executive director in HR and head of global talent analytics at New York-based securities firm Morgan Stanley, shared the nuances of getting HR data analytics staff to work effectively with the business side.
"In an organization with 55,000 people, there's complexity, and it's really hard to understand all the business drivers for that many businesses all at the same time," Shapiro said. "Many times we don't know what the business problem is [before] walking into a meeting with a senior leader."
It's almost as if there are three partners, he said: business leader, analyst and the sheet of statistics they're going over. "Most of the time, we're able to find nuggets together," which can make business leaders more committed to the analysis and comfortable drawing their own conclusions from the data, he said. 
RJ Milnor, manager of planning, analytics and reporting at Chevron Corp., an energy provider based in San Ramon, Calif., advocated a similarly soft touch when collaborating with business managers. "Sometimes we feel like we need to provide the answer for the business," Milnor said. "The business really doesn't like that. Most business leaders actually know their business really, really well. What works well for us is helping the business ask questions they may not have asked before."
Chevron's analytics group functions like internal consultants, Milnor said. "It's providing the strategic questions back to the business for them to consider and providing them new options to achieve their business objectives. And that has worked extraordinarily well." It helps to bring the HR data analytics team into the conversation at a senior level, he added.
Sometimes using HR data analytics effectively requires trial and error, Milnor said, recounting a time his group set out to analyze a learning and development program to understand its impact on Chevron, running multiple regression analyses on the effect on attrition and productivity.
"There weren't any [effects], which kind of surprised us," he said. The problem was Chevron had taken a data-mining approach — throwing a lot of data and seeing what came out — instead of a hypothesis-driven one employing root-cause analysis or some test of the hypothesis.
"We put our engagement data in there, and we saw a nice relationship between engagement and safety measures, which we didn't know existed before," Milnor said.   
Kelly stressed the importance of understanding that predictive analytics can't be precise, which CFOs know well from their financial forecasts.
"There has to be a mind shift to be able to walk in and feel comfortable with a dialogue," Kelly said. "It's not always about the math. It's about the story the business is looking for.
"There's really not a science to move from reporting to predictive to optimization," he continued. "It's more of a process and a dialogue and a comfort level with being incorrect with some numbers and going back and re-optimizing the models."
Choosing software, managing data
Kelly outlined several options for approaching HR data analytics. "There is enough packaged software that exists within your [human resource information systems] to handle the reporting. When you start to move into predictive, there are [a] number of ways that you can look to approach this."
First, decide what types of statistical tests to apply to each situation, and whether to use hypothesis- or data-driven approaches. Build a team and bring in resources from finance, strategic planning or HR: It will be tougher to scale and not always efficient, but more learning is possible. Hiring a consultant is another route, but the methods will be harder to repeat.
I've never worked in an area where the data is perfect. Elpida Ormanidouvice president of global people analytics,   Wal-Mart
The panel consensus was that data doesn't have to be perfectly clean, and what analysts need instead is knowledge of how much accuracy is required for each problem.
"I've never worked in an area where the data is perfect," said Elpida Ormanidou, vice president of global people analytics at Wal-Mart Stores Inc., the retailer based in Bentonville, Ark. "A really good analytics person will be able to assess what is good enough. … You can make a lot better decisions from good enough data than no data at all."
Kelly said never to start with data cleanup because it's a never-ending process.
It's better to decide first how much the data inconsistency influences the model and tell senior managers why it's worth cleaning up the data.
Analytics will always involve probability-based models, according to Kelly. "You'll never get to the point where a software vendor will be able to say, 'Here is the future, and therefore you should plan for this.'" Instead, "futurists" can propose what-ifs and ranges of likely outcomes.
"At the end of the day, it always goes back to the business person saying, 'I believe this is the most likely path forward, and we'll plan for this, and we'll calibrate along the way.'"
This entry passed through the Full-Text RSS service – if this is your content and you're reading it on someone else's site, please read the FAQ at fivefilters.org/content-only/faq.php#publishers.

SearchBusinessAnalytics: BI, CPM and analytics news, tips and resources