Tag Archives:
Strengthens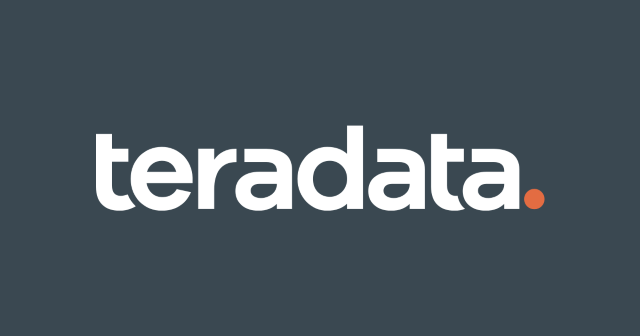 Continued investments in the cloud improve performance, security, availability, operations, ease-of-use and integration

As-a-service offerings for Teradata Vantage will soon be available across the top three public cloud providers, including Google Cloud Platform, in 2H 2020
Teradata (NYSE: TDC), the cloud data and analytics company, today announced a myriad of enhancements to its as-a-service offerings for Teradata Vantage on public cloud providers Amazon Web Services (AWS) and Microsoft Azure. The improvements will also apply to Vantage on Google Cloud Platform (GCP), which will begin limited availability in July 2020. The collection of upgrades, as well as the expansion of public cloud offerings, demonstrate Teradata's ongoing, strong cloud commitment and underscore the company's critical role in migrating enterprises to the cloud with easy and low-risk hybrid cloud deployments.
Business leaders are increasingly looking to cloud services to access and use software rather than take on the responsibility, cost and effort involved with owning and maintaining IT infrastructure. With the cloud offering new standards of speed, massive (and low cost) storage and scale – in addition to greater flexibility and more expansive service capabilities – it's easy to understand the cloud's rapid growth. Teradata enables enterprises to take full advantage of the cloud with quick and low-risk migrations and expansions, offering the industry's most scalable hybrid cloud and multi-cloud deployments. Because Teradata Vantage software is consistent from one environment to the next, the process is greatly simplified and risk to analytics performance, security, availability and operations is mitigated.
"Teradata is heavily invested in the cloud and the sheer number of improvements we are introducing is a testament to our determination to continue providing customers with the lowest risk, easiest path to the cloud," said Hillary Ashton, Executive Vice President of Teradata Products. "For many companies, hybrid cloud deployments are an ideal way to benefit from the cloud's speed and scale without abandoning on-premises investments or regulatory compliance. Hybrid cloud and multi-cloud offerings remain an area of strength for Teradata and these updates advance our cloud offerings across the board."
With Vantage delivered as-a-service, in the cloud, companies can start small and elastically scale compute and storage independently, and only when needed. The combination of pricing model flexibility with software tier choice enables Teradata's cloud customers to match features and performance with diverse business requirements.
Through the enhancements announced today for Vantage on AWS, Azure, and soon also GCP, Teradata cloud customers gain access to the following improvements:
Performance: Customers can experience reduced network latency via Teradata's growing global footprint. With upgrades to compute instances and network performance, Teradata customers will also see improved query response times.
Security: Teradata now offers support for customer-managed keys for both Vantage on AWS and Vantage on Azure. This alternative to the default of Teradata-managed encryption keys increases security options for Teradata customers.
Availability: The service level agreement (SLA) for availability is now 99.9% for every as-a-service offering. Guaranteed, higher uptime leads to improved business productivity and increased customer satisfaction.
Operations: Quicker compressed data migration times are the result of Teradata's new data transfer utility (DTU) tool, yielding improved reliability and 20% faster transfers. Improved automation accelerates the submission and resolution of cloud customer requests.
Ease of Use: Teradata upgraded the self-service web-based console with expanded options for monitoring and managing as-a-service environments, providing greater ease of use for as-a-service customers.
Integration: Through co-development with engineering teams at AWS and Microsoft, Teradata provides greater convenience for customers via the integration of Vantage with multiple first party cloud services, including:
Amazon Kinesis (data streaming);
Amazon QuickSight (visualization);
Amazon S3 (low-cost object store);
Amazon SageMaker (machine learning);
AWS Glue (ETL pipeline);
Amazon Comprehend Medical (natural language processing);
Azure Blob (low-cost object store);
Azure Data Factory (ETL pipeline);
Azure Databricks (Spark analytics);
Azure ML Studio (machine learning);
Microsoft Power BI Desktop (visualization); and more to come over time.
Teradata Vantage is the leading hybrid cloud data analytics software platform that enables ecosystem simplification by unifying analytics, data lakes and data warehouses. With Vantage delivered as-a-service, in the cloud, enterprise-scale companies can eliminate silos and cost-effectively query all their data, all the time, regardless of where the data resides – in the cloud, on multiple clouds, on-premises or anywhere in-between – to get a complete, integrated view of their business. Vantage delivered as-a-service subscriptions include Vantage software, high-performance infrastructure, and environment management in one convenient bundle.
Availability
Enhancements to the as-a-service offerings for Vantage on AWS and Vantage on Azure are available now to all Teradata cloud customers on these public cloud providers. Similar enhancements will be available to Teradata customers in the Vantage on GCP limited availability program starting July 2020.
Joanne Olsen brings significant cloud experience, including a mix of sales, support and product management
Teradata
(NYSE:
TDC
), the leading cloud-based data and analytics company, today announced the election of Joanne Olsen to its board of directors, effective June 15, 2018. The new appointment expands the board from 10 to 11 directors and adds new enterprise-scale cloud expertise from one of the industry's most senior leaders.
Most recently, Ms. Olsen served as Executive Vice President of Oracle Global Cloud Services and Support until she retired in August 2017. In that role, she drove Oracle's cloud transformation services and support strategy, partnering with leaders across all business units. Ms. Olsen led a team of cloud customer experience experts, covering customer success, implementation success, consulting, support, education, and managed cloud services. She previously served as Senior Vice President and leader of Oracle's applications sales, alliances, and consulting organizations in North America. Ms. Olsen began her career with IBM, where, over the course of more than three decades, she held a variety of executive management positions across sales, global financing and hardware.
"We are pleased to welcome Joanne Olsen to our board," said James Ringler, Chairman, Teradata Corporation. "Joanne is an industry thought leader who truly understands how the cloud can lead to greater customer success, and she has a long history of transforming large organizations. Teradata is on the leading edge of cloud-based analytics, and we know that Joanne's experience in managing global cloud services will greatly contribute to our leading position in the market."
Ms. Olsen was selected following a comprehensive search conducted by the board. She joins the Teradata board as a Class III director. Ms. Olsen's expertise will assist Teradata in maintaining its position as the leading cloud-based data and analytics company. With business solutions that help customers analyze anything, anywhere, Teradata gives its customers the most reliable, secure and proven path to the cloud using the trusted gold standard for enterprise-class analytics and innovative licensing structures designed to de-risk the buying decision.
"Joanne brings a strong mix of sales, support, and product management experience to our team, along with a keen understanding of scale, SaaS business models, and enterprise technology go-to-market strategies," said Victor Lund, President and Chief Executive Officer of Teradata Corporation. "We are pleased to welcome her to the board as we continue to develop the world's most powerful data and analytics solutions."