Tag Archives:
Surge
Posted by Barney Beal, Content Director
Here's a quick dare. Head to www.elope.com. Search for any of this combination of the company's custom-designed hats: the light up anglerfish jawesome hat, the racing reindeer plush helmet or the delightfully simple (and best-selling) pig kit.
Now, try to not smile.
Making sure no one could win that dare and that "Everybody's Laughing on Planet Earth" (which is what "elope" stands for) was the mission of Kevin and Keith Johnson when the brothers launched the company as a kiosk in a Colorado Springs mall decades ago.
The brothers created elope "to share their love of laughter and style with the world," according to the company's website. And "more than 25 years later, that same joy of adventure, desire to make people happy and passion for creative costuming inspires every decision we make."
It's not too surprising then, that the product line has grown to 1,000 hats, costumes and accessories — half of which are original elope products and half of which include licensed material of the likes of Harry Potter, Dr. Seuss, and dozens and dozens of universally known franchises. The company has also grown to 45 employees at its Colorado Springs headquarters, and continues to expand its contract manufacturer in China.
When it comes to its business, a funny thing about elope is that, despite its B2C beginnings, for much of the first part of its story, it was a B2B shop. It sold products to businesses and retail partners like Walmart and Target, and did quite well. But like so many manufacturers and wholesale distributors, with the advent of ecommerce and its entrance onto Amazon some three years ago, that business model came full circle. Now, a full 50 percent of its sales come direct from consumers, with a strategy focused on growing that segment.
No Laughing Matter
Delivering "fantastical service," is a key company mantra. But while it may have appeared fantastical to customers, executing that first year on Amazon required something akin to whooshing one of those Harry Potter wands to wield magic on the back end.
That was the year Eli Rustenbach joined the company as the Strategic Analysis Team Lead. She remembers those orders pouring in from Amazon leading up to that first Halloween, the busiest time of the year for the company. With a 12-year-old Sage system that Rustenbach describes as being "manipulated within an inch of its life to do what we needed it to do," the company got everything out correctly and on time, but it was a Herculean (or perhaps Gryffindor-ean) feat.
"We were manually uploading thousands of orders, minute by minute from Amazon," she said. "It was a mess."
After that Halloween, the company knew it needed to change its ERP system. Aside from the inflexibility of the Sage system, there wasn't a strong partner community building connectors and tools to extend it.
"When Amazon came along, Sage was by no means ready, and they're not going to be ready for a while," she said.
SuiteSuccess a perfect fit
Driving process improvements with technology would enable elope to focus on more strategic activities, like conducting keyword research to boost Amazon sales and finding ways to improve its customer experience on its own ecommerce website. At the same time, the company was eying expansions to eBay and Walmart.com.
Attracted to its fixed rate implementation and the opportunity to implement best practices from industry leaders, as well as configure the system to its own needs, elope implemented NetSuite using SuiteSuccess.
"Because we had been with Sage for so long, we lost ourselves in our own band aids, and didn't know what was needed anymore," she said. "We were excited to have different ways of doing things from NetSuite's industry experience."
Virtual warehouses, real growth
With a single source of data, elope leverages virtual warehouses and real-time stock information for demand planning across 1,000 SKUs for B2B and B2C sales, and to optimize fulfillment from its warehouses in Colorado Springs. With the ability to easily expand its business to eBay and Walmart.com, the company has already paid for the NetSuite implementation.
B2C sales are up 40 percent year over year, while automation, prebuilt reports, and real-time inventory data access enable elope to analyze and plan growth strategy. The company is now eyeing international expansion in Europe.
Reflecting on the Amazon debut, Rustenbach mused about the possible next "game changer," of course not knowing what that may be. But she does know that this time, elope won't be coming at it with a system that is old hat.
"I don't know what that next thing is. But I know they're going to build a connector for NetSuite," she said.
For more, get leading practices for wholesale distributors.
Posted on Fri, February 15, 2019
by Barney Beal
Participants and Influencers throughout the mortgage ecosystem have been told by the three main US credit bureaus through their jointly owned and controlled credit scoring firm, VantageScore, that the VantageScore can enable millions more consumers to gain access to a mortgage. It's an appealing story — but is it true?
Claim: Loosening credit scoring criteria will bring lenders an additional 3.4 million potential borrowers, over 2.6 million of whom will qualify for mortgage credit.
Truth: Very few new people will both qualify for mortgages and want mortgages.
The "innovation" VantageScore claims can score more people is simply the weakening of credit score criteria. The minimum criteria needed to produce the FICO Score aren't arbitrary — they are the result of decades of research into risk assessment. As a reminder, reliable credit scores can only be calculated from credit files with at least one open credit account for at least six months and that have had an update reported to the credit bureau in the last six months. These criteria are necessary because credit scores need to reflect a person's true creditworthiness to a sufficient degree that lenders, regulators and consumers, themselves, can rely on them.
Frankly, it's just not possible to produce an accurate credit score based on too little data, or data that's very old. If two consumers score the same, lenders should expect their risk to be the same — but if one score is based on robust data and another on scanty or old data, these scores don't mean the same thing.
But let's set that aside, and look at the numbers to judge this claim. In a previous post, I pointed out that our research showed around 7.4 million Americans who don't have a FICO Score today (because they don't meet the minimum criteria) could receive a research score of 620 and above if we weakened the credit score minimum criteria to all credit files except credit reports that were noted as deceased or inquiry only.
7.4 million sounds like a lot of new borrowers. But let's dig deeper.
Age
First, let's remove the people under 25. I think we can all agree that consumers under the age of 25 are generally more concerned about getting their first job and paying off their student debt than buying a home.  Our research shows that over half of the population between 18 and 25 has at least one open student loan and more than half of those owe more than $ 8,000.
Now, let's remove the people over 65. These people are focused on planning for retirement, not taking on a 30-year mortgage.
So focusing on the 25-65 group takes our 7.4 million down to 3.2 million. This makes perfect sense, as my last post showed that people who scored above 620 are predominantly in the Credit Retired segment, with a median age of 71.
Already a homeowner
People who already own their homes are not the target market for mortgage expansion. These people are in the system already. Still, removing them from the newly scored takes us down to 2.05 million.
Delinquencies and collections
Consumers that experienced a foreclosure in the last 24 months, had a 90-day delinquency or have collections only on file will not make it through the mortgage underwriting process given existing policies. There aren't many of those scoring above 620 even with the reduced-criteria research score, so we're only down to 2 million.
Inactive/stale
Of the 2 million consumers remaining, about 1.8 million are not actively using credit and have no recent update (no update in the last 6 months) to their credit file.  In fact, more than 65% of this population have not seen an update to their credit file in over 48 months. They don't get a FICO® Score because of this long absence — information over 4 years old no longer reflects a person's current credit risk. Making a decision regarding a consumer's mortgage application today using a credit score calculated on an active credit file 4 years ago is unacceptable – all market participants require a current score.  (For mortgages the credit report and score may not be older than 120 days at the time of closing.)  In the same way, making a decision regarding a consumer's mortgage application on a current credit score but calculated on data that is 4 years old is equally unacceptable.  Further, while VantageScore chooses to produce a score on them, we know that these consumers are not seeking credit.  In our prior blog, Will Looser Scoring Standards Help Millions More Americans Get Mortgages, typical application rates are very low, under 4%.  More detail and can be found in Figure 1.
We're now down to fewer than 200,000 potential mortgage candidates.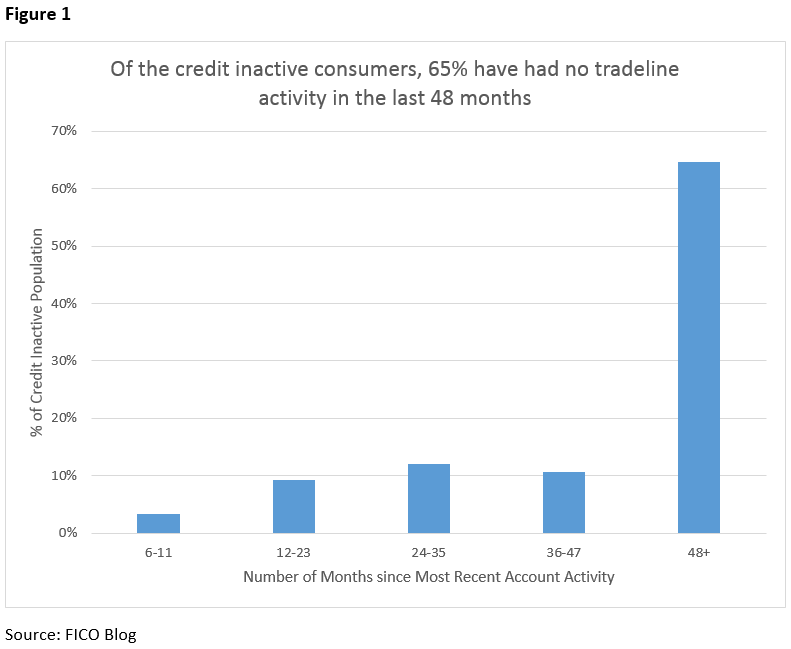 New to credit
Our final group of 200,000 consumers is in the mortgage seeking segment, they don't already own a home, are not seriously delinquent and do have an active credit product being reported to the national consumer reporting agencies.  So far, so good.
But, they do not have FICO scores because they do not have at least 6 months of history with their very first credit product.  .  So, the reasonable question now is: Do these consumers have sufficient credit experience to handle a 30-year mortgage?
In fact, 73% of the new to credit consumers are managing less than $ 250 of debt, and 72% have never managed a credit limit of more than $ 1000. A mortgage would be a big leap up the credit ladder. In reality, these people will typically need more credit experience before they're ready for a mortgage, and by that time they'll have a FICO Score.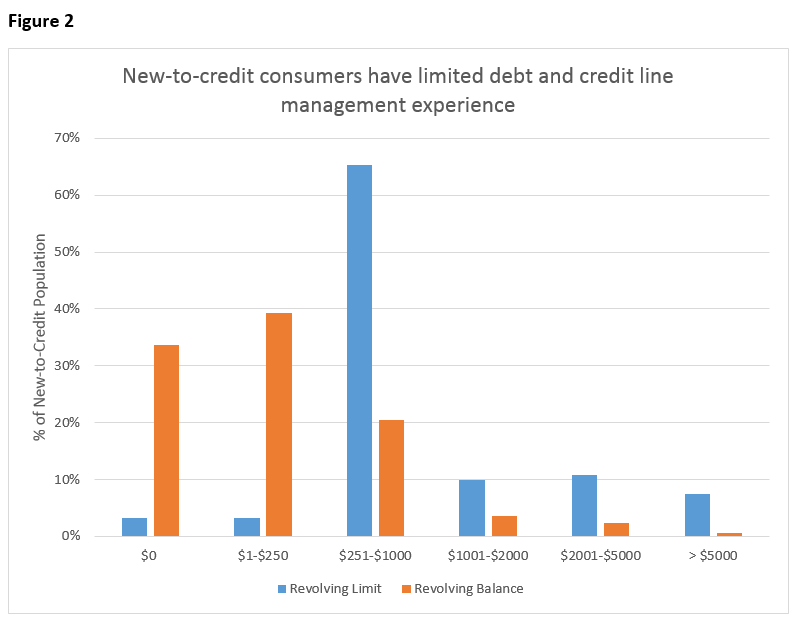 What's the final tally?
Applying common sense to the equation takes our 7.4 million newly scorable Americans down to just a few thousand potential mortgage applicants. Most of them aren't ready for a mortgage yet. Scoring more consumers by weakening the minimum scoring criteria is not a game-changer for America's mortgage system.  In fact, it can actually be harmful to consumers and delay their return to mainstream credit products.
Conclusion: Lowering credit scoring standards will not create sustainable homeownership.
The primary obstacle for many consumers to qualify for a mortgage is insufficient income to meet required debt to income ratios. Rather than weakening our risk management measures, the more impactful goal for the industry is to find ways to help consumers improve their financial picture through legitimate credit counseling so that they qualify for a mortgage. The only party that benefits from weakening the minimum scoring criteria is the company selling these scores.
How DO we find more creditworthy consumers who might be in the market for a mortgage? Read our white paper Can Alternative Data Expand Credit Access?, which shows that we can score more consumers safely and soundly by scoring alternative data. Credit counselors can play an active role in this journey, and FICO has recently extended our FICO Score Open Access program to credit counselors, to help them work with consumers seeking to qualify for a mortgage, ensuring that the dream of homeownership doesn't turn into a nightmare for consumers unprepared for such a major shift in their overall finances.
Watch for the next post in this series, where we meet claims with facts.